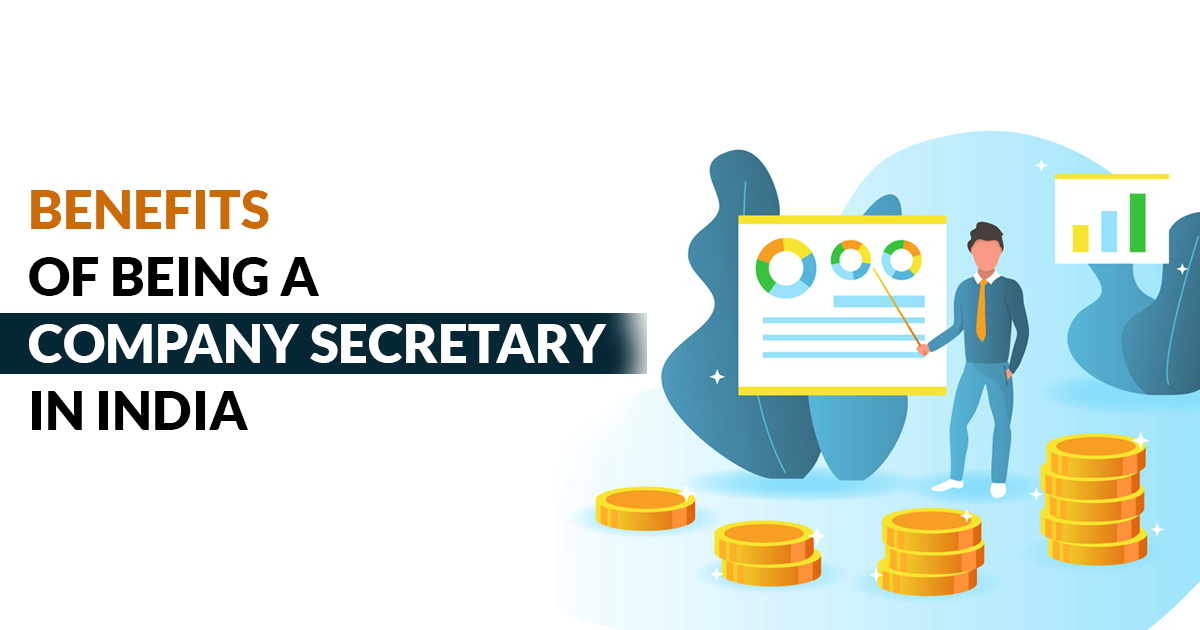 Company secretary takes an upper-level position in in all the organizational matters including security market, company law, corporate strategies and related cases. Also, the CS maintains regulatory compliance and company administration smoothly.
The company secretary also holds the important tasks of upkeeping the records of the company. Apart from the duties, the CS can expect good pay of 25,000 to 40,000 per month in any Indian company.
Starting a career as a Company Secretary brings many Duties & Responsibilities and apart from this, they play a significant role in company reputation as they handle legal matters.
It is required before starting a career as CS that you understand the role and be aware about the pros and cons attached to the position. The company secretary takes care of the onus of the company in different responsibilities and completes everything in time.
The significance of a company secretary is often felt when there are multiple responsibilities of a company towards any statutory compliance.

Let Us Understand The Advantages of An Company Secteraty in Every Company:
#1. Professional Profile:
Company Secretary is a professional course. With the completion of the degree, one gets a job at companies with a professional designation. This degree can be completed along with the graduation as well and do not require your full-time involvement at premises like other degree courses.
#2. No Stress:
Company Secretary does not have any stress regarding meeting requirements and deadlines. The administrative work is required to be done but there is no such limitation of time. It is not that tough like other jobs where you feel stressed and gets problems related to health and dissatisfaction from the job.
There are various websites for CS which can help the CS in maintaining their work for clients in an easy manner.

#3. Paper Work:
There is the wrong mentality that a company secretary deals with a lot of paperwork and he/she has to spend most of his/her time typing papers and hours for long documentation. But, in reality, with the technology enhancement, they only deal with software and hardware data which are stored in electronic document format.
With the responsive web design, the CS firms' work becomes easy and it is easy to bring more clients to them.
Read Also: Duties & Responsibilities Handled By A Company Secretary
#4. No Age Restriction:
There is no such age restriction that the students should not have crossed a particular age as anyone can face this competitive environment and fight for the degree achievement. A person with good job experience, attitude, positive team player and decision making skills can go for an opportunity to become a Company Secretary.
#5. Higher Job Satisfaction:
Many people do not feel satisfied with their job and they have many complaints such as salary, profile, knowledge, and growth, but with company secretary profile, these all doubts go invisible. They handle a more authoritative position which provides opportunities and space for ideas and opinions.
This job provides many perks and job satisfaction is one of them, CS gets a higher management position quite early in the career. So, they as well obtain recognition in a good working environment.
#6. Flexible Timing:
Company Secretary has flexible working hours. With other jobs, it is hard to balance work and life, but it is not the case with a career in CS.
They can establish a good balance between personal and professional life as they do not have heavy working hours and stress to submit the project before the date. There is no need of overtime unless and until there is something very important regarding documents and papers that need to be filed as soon as possible. So, in a true sense, they enjoy life and manage their precious time for family and professional life equally.
#7. Connection With Higher Authorities:
They generally deal with higher authorities. This favours its reputation in the company for colleagues. There are much to learn from higher authorities as they have very good experience in the field. With the management engagement, their growth is certain with the company.
So, this is how the Career of Company Secretary brings many advantages over the other professional job profiles.