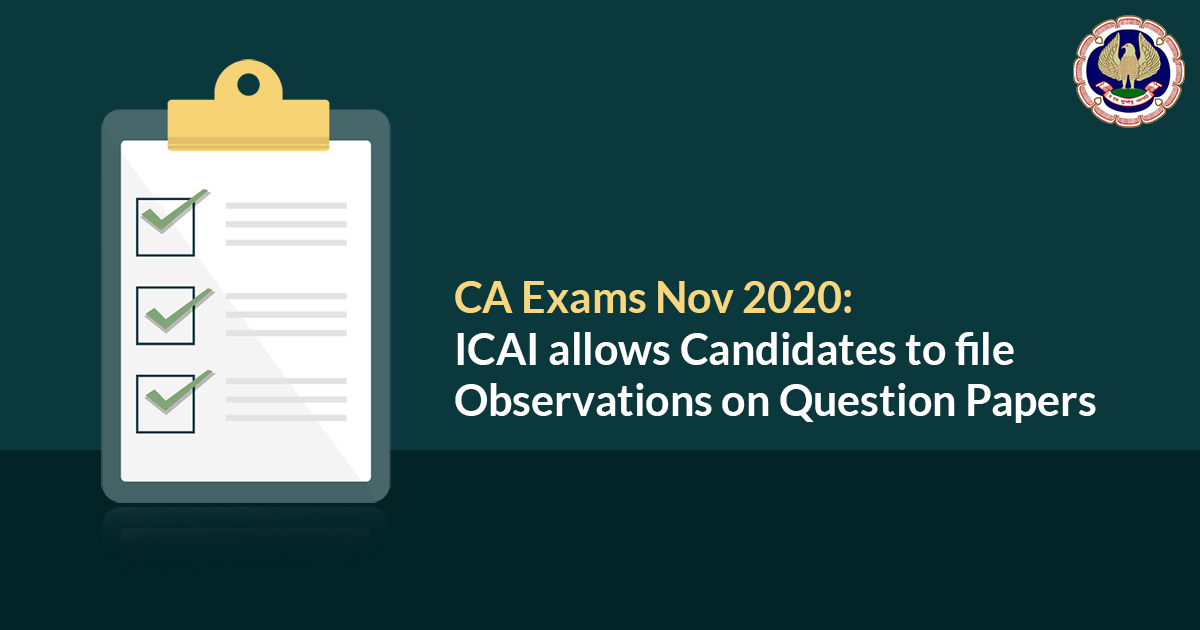 The Institute of Chartered Accountants of India (ICAI) has released the Views of the students on the question papers of CA examinations in November 2020.
ICAI told that the candidate has brought the notice from the exam council, in their views if they have any objectives on the question papers with respect to CA exams which is ruled in November 2020 by email at examfeedback@icai.in or by the letter given by the speed post on the address so that it will reach by last 15th/Dec/2020.
ICAI is ready to initiate the CA exams which include foundation, intermediate, and final from November 21 to December 14.
More than 30k students take the opt-out Scheme, to appear in the next exam cycle
Read Also: ICAI Announcement for Nov 2020 Exam And the Notifies listed date for Jan/Feb CA Exams
More than 31,500 CA students have chosen to go for the opt-out option and decided not to sit for the ICAI CA exams in November 2020.
ICAI CA November 2020 exams are initiated to conduct from tomorrow i.e. 21st November 2020.
After seeking the unwanted consequences due to the covid-19 pandemic the institute has granted the candidates who are positive with covid-19 or their relatives are affected by it chooses the opt-out option so as to miss the November exam and then give the same in January or May session.
The students also raised objections against the ICAI CA November 2020 exam who have been asking for the offline format of the exam to be converted to online. As the number of positive cases of covid-19 rises, the students who are preparing for the CA exams gets feared from the next wave of the coronavirus.
Opt Out Facility (Foundation,Final,Final-New,IPCE,IPCE_New – November 2020);
Now Apply : https://icaiexam.icai.org/
| | |
| --- | --- |
| Start Date | End Date |
| 07-11-2020 | 14-12-2020 |
Various candidates had started protesting online against the ICAI for conducting the offline CA November 2020 exams. Candidates who are availing the objections against the 18 day offline exams which will take them into risks. But ICAI has also taken care of and puts preventive measures such as social distancing several exam centers have divided into blocks and have more than 400 students.