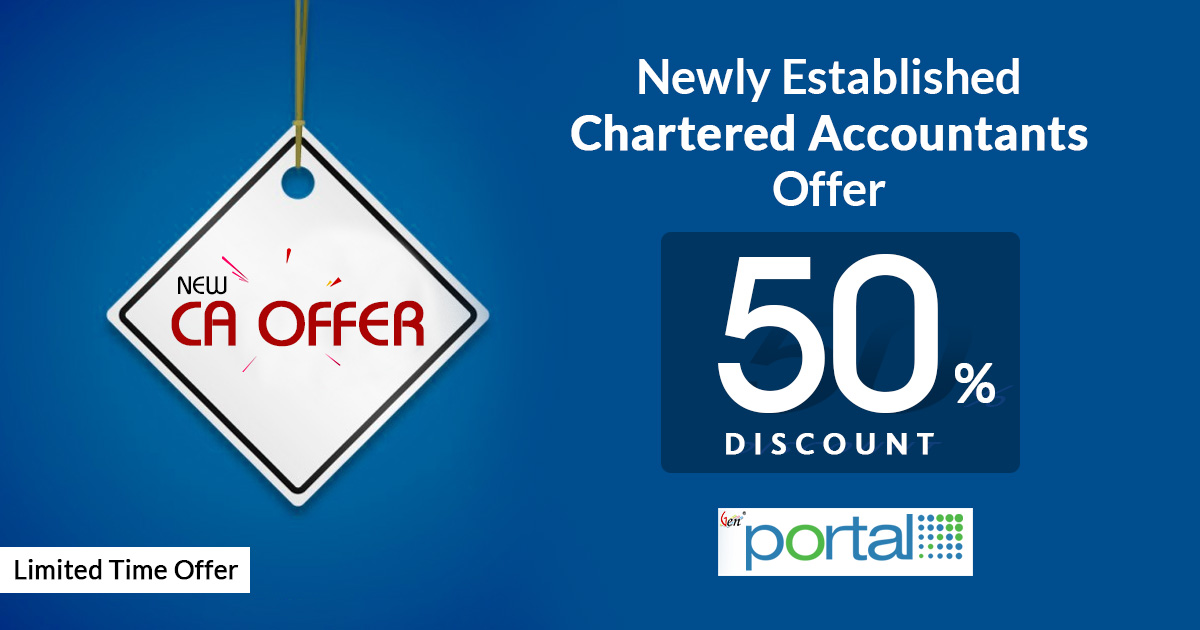 CA portal is the leading website developing agency for all the tax & legal professionals like CA, CS and lawyers. We create best website templates for the professionals so that they can attract multiple clients in a quick span of time. We have been working on a website template from years and have gained expertise in all types of designs.
The CA Portal is available at offers for ca professional with 50% flat concession to all the newly appointed CA's after 1st Jan 2020.
It is the matter of importance for us to introduce the offer of the month i.e. New CA offer for all the newly appointed CA's from 1 Jan 2019, providing flat 50% discount on SAG Infotech tax software portfolio including Gen GST, Genius package, Gen CompLaw, Gen XBRL, Gen CA Portal.
Another offer in our list is the Specific Region Offer, i.e. all the tax & legal professionals like Chartered Accountant (CA) from the selected regions will be eligible to avail the flat 50% discount from SAG Infotech Tax (Income Tax + TDS + GST) Return Filing & Payroll Software.

---
Offer 1 – Combo Offer – Genius + GST (INR 9500)
All those who buys both the Genius and Gen GST software will only have to pay Rs. 9500 for the complete order.
Offer 2 – Big Dhamaka Offer
Gen Payroll (INR 10000)
Gen XBRL (INR 10000)
Gen CompLaw (INR 15000)
Buy Gen Payroll complete HR & payroll management software at a flat INR 10,000 for a limited time period.
Offer 4 – Gen GST Offer – Gen GST INR 4000+tax with Free Updation
Get Gen GST software package with Free Updation at just Rs. 4,000.
We suggest you don't miss these offers!
Read Also: How to Create a Chartered Accountant Website As Per ICAI Guidelines
Terms & Conditions:
There are certain terms and conditions which are applied for this offer which needs to be discussed and they are:
CA membership ID required at the time of Theme and software purchase.
Registration facility is offered only to individual/proprietorship firms and not the partnership firms.
GST & other applicable taxes are out of the discount
Along with website development, the offer is also available on domain + hosting.
Payment and Registration work is required to be done within office working hours.
The scheme is applicable on new website purchases only and not to your already running website.
Invoice once generated cannot be transferred to any other professional entity or business firm