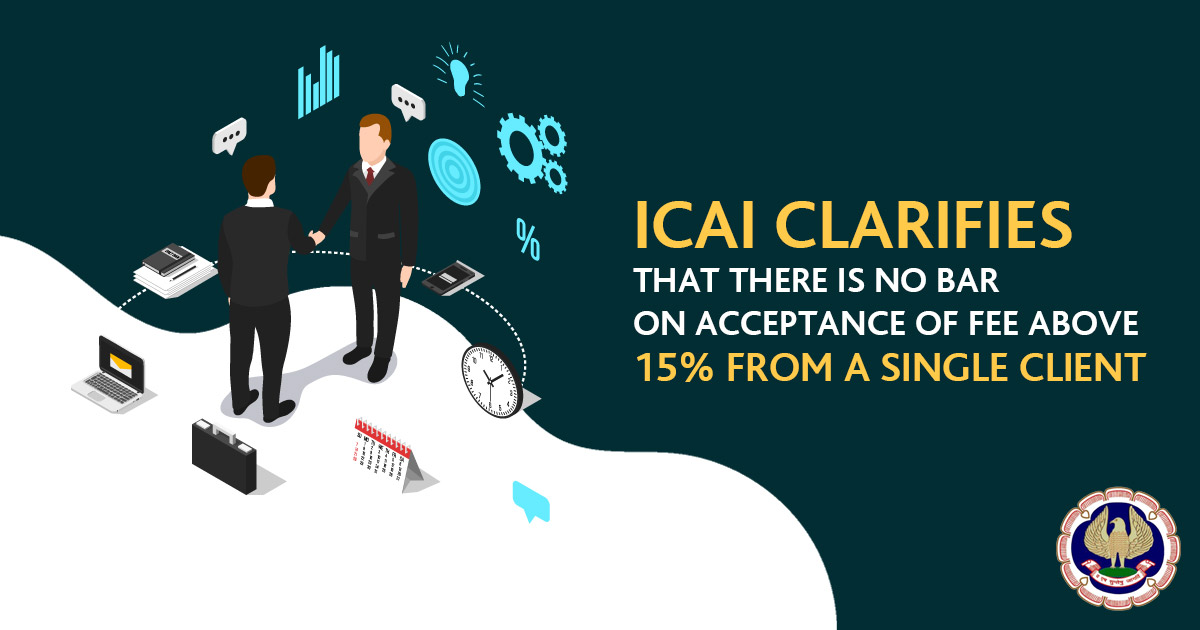 The matter is related to the revised Code of Ethics which is expected to come into effect from 1st July 2020. Recently some members have expressed their concern regarding one Paragraph R410.4 of the Volume-I which is focused on the dependence of Fees from a single client.
The Institute of Chartered Accountants of India ( ICAI ) has issued a clarification statement with subject "Clarification on Fees from a single client" and declined the rumour of putting a restriction on acceptance of fee above 15 per cent from a single client.
ICAI Stated that "It may be clarified that there is NOT a bar in the revised Code of Ethics on acceptance of more than 15% fees from a single client.
Read Also : ACCA to introduce Remote ACCA Qualification Exam-Taking
There is the only requirement of disclosure, and taking safeguards prescribed therein, if the total gross annual professional fees from the audit client and its related entities represent more than 15% of the total fees received by the firm expressing the opinion on the financial statements of the client for two consecutive years."
ICAI added that The Audit can be continued as per the paragraph while taking safeguard. The announcement also stated that This rule is only applicable when the fees are received from an Audit Client.
And it doesn't apply where the fee is received from Government Companies, nationalized banks, public financial institutions, or public undertakings. Additionally, the rule is also not applicable where appointments are done by the Government or where the total gross annual fees are below Rs. 5 Lakh of the Firm.