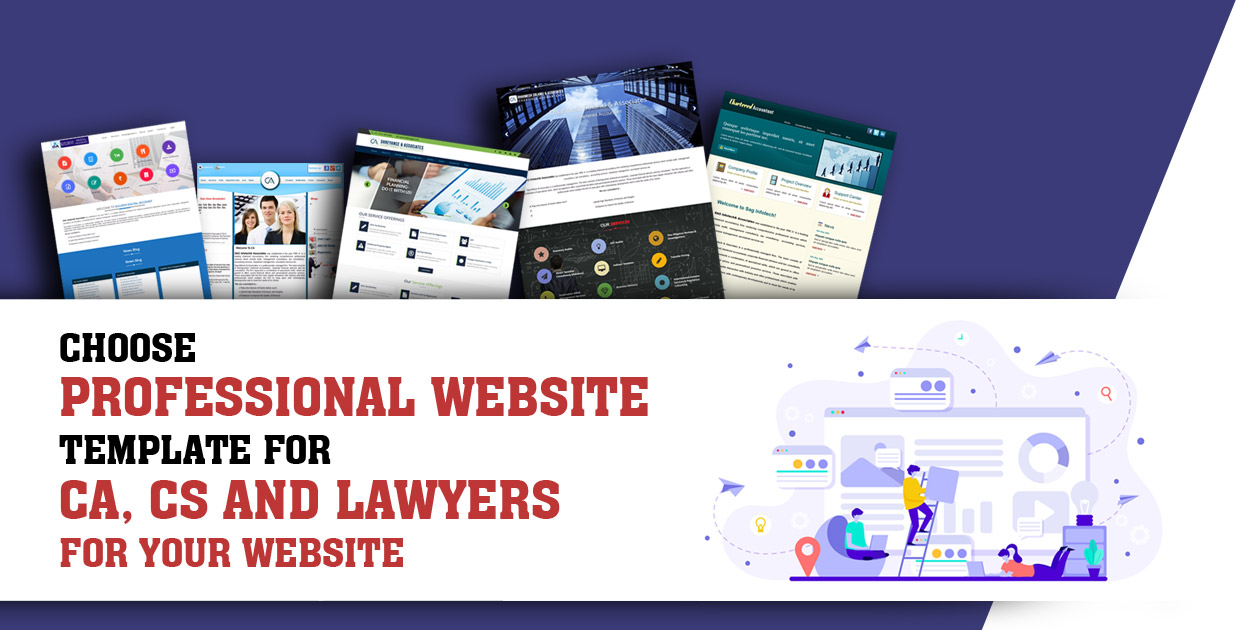 The layout and appearance of the website play a key role in attracting more clients and enable people to give positive vibes about your business. Nowadays, online presence is very important in a business, firm or a website. Gone are the days when people believe to do not judge the book by its cover, now the most suitable proverb for your business is "seeing is believing". The more attractive and quality website you have, the longer you will go. This makes the importance of selecting the perfectly suitable theme for your business. There are many Professional website templates are available, but choosing the appropriate one for your business is also important as all the themes do not go with all sort of businesses. CA portal provides extremely relevant templates to perfectly suit your professional career.
Here is the detailing on how to choose perfect themes for CA, CS and LAWYER website:
Important Points To Consider Before Heading Up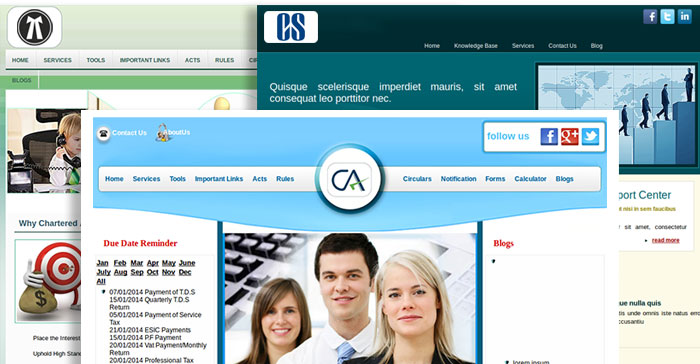 When you consider the layout in a certain way, it does matter that it should be specific because even the color of your website plays an important role for the onlookers. The layout of them for your online store shows the relevancy of your product and brand.
It just shows the appearance of your business and products meant for. In addition, it has a relevant impact on the working of the online store considering trustworthiness and conversion rates.
The power to control the specific theme layouts, style, and more information is aligned with your fingertips. For example, the users are more attracted to an "F" shaped pattern of the website where they get the most information in the header, sidebar and left-hand side of the page.
Another important point to consider is that the website design and theme are the strong indicators of trustworthiness. Approximately, 94% of the users leave the website seeing the website design they find not trustworthy. A shady looking website creates a negative impact on the business.
A Website With Perfect Template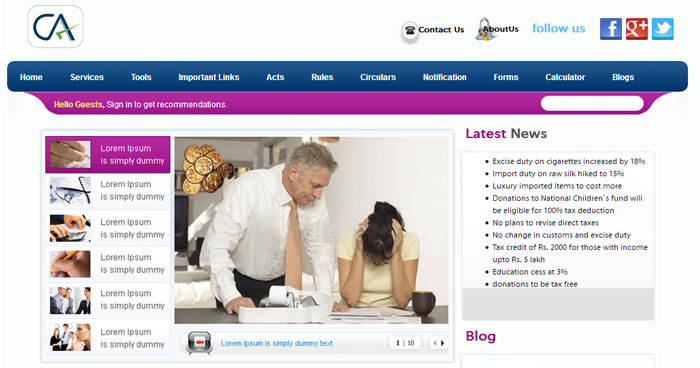 For an example, Speck and Stone is a business which sells beautiful products with the beautifully designed themes. They customized the Brooklyn (free) theme to perfectly fit into the business and brand relevance. When we have a look at the website, it just appears right.
It is not easy to elaborate the experience with the theme, but by having the look at it you will get to know the feeling. So, before landing any theme, it requires to go in deep research.
CA Portal provides various themes which you can see in the image provided below consisting CA panel, CS panel and Lawyer panel along with some information about the features they render such as modern design, 24/7 support, 100+ responsive layouts and well-documented themes. One of the important things to notice is choosing the theme which is relevant to the potential customer and exactly matches with their requirements. The CA Portal provides extremely unique and visual appearance to the relevant products which supports a simple navigation and apparent call to actions. So, with the perfect Professional website templates, you can make your business or firm to grow and attract potential clients.
Ahead Of Choosing A Theme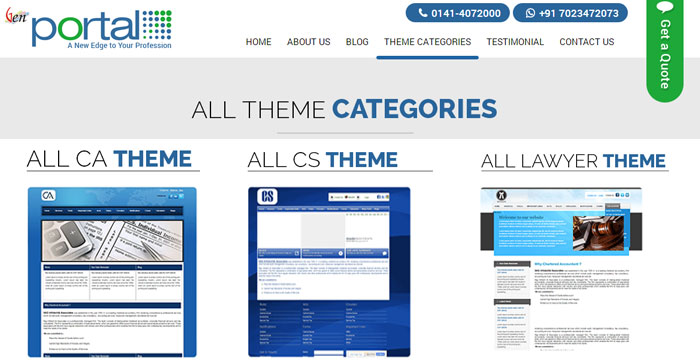 Choosing a theme is not that easy as it seems and for some, it is an extremely difficult task too. If it is just a startup and you are creating an online store for the first time, it is very difficult to set the best suitable theme for your business. A CA Portal has different stores under a roof consisting CA, CS and Lawyer themes. Here you can begin with a default theme and choose to customize it, make further changes, or start with the fresh theme.
You can even start with the fresh theme and without any customization from a theme store as there is nothing wrong with it. It will as well perform good and it is also good to get the knowledge about the different style and theme features. Just start playing around it to make an incredible theme design ahead of proceeding for other themes. The CA Portal consists of all sort of themes for CA website, CS website and Lawyer website. The professional website templates attract more clients and serve the purpose of why they are created.
Ask these questions before going into detail about the themes:
What are the features I want to include in my store?

Do I Want a free or a paid theme?

How many products do I want to show in my store?

How do I wish to display my products?

What are the competitors of my website doing to attract clients and what should I follow?

What sort of experience do I want to deliver to my client?
Recommended: Why CA, CS & LAWYER Professionals Need Their Own Website
Additional Tip
Do not choose any theme based on fonts and colors as they are easy to customize later.
By answering these questions, it will be easy for you to go forward. You will be able to unlock some relevant points for your theme choice, which will lead you to the perfect theme for your business.
After answering the questions as mentioned above, now you can proceed with the theme store and start searching the relevant theme from available different themes. If you want to start with something very unique, you can take the help of experts to create extremely different and unique theme. If you have sufficient money, then you can go with investing capital and make your theme designed by an expert.
With the theme stores, you can choose from 100+ theme options. With the in-house team and third-party developers creating themes, you will be able to get what you desire for your website.
Verdict
A theme can never be perfect for all businesses and it is not a good approach as well as it sounds not relevant to any business. Every business has its own meaning and purpose, so no one can decide better than you that which theme will be better for your website. But, with the help of a theme store, you also get a chance to create your desired theme and that's comforting.