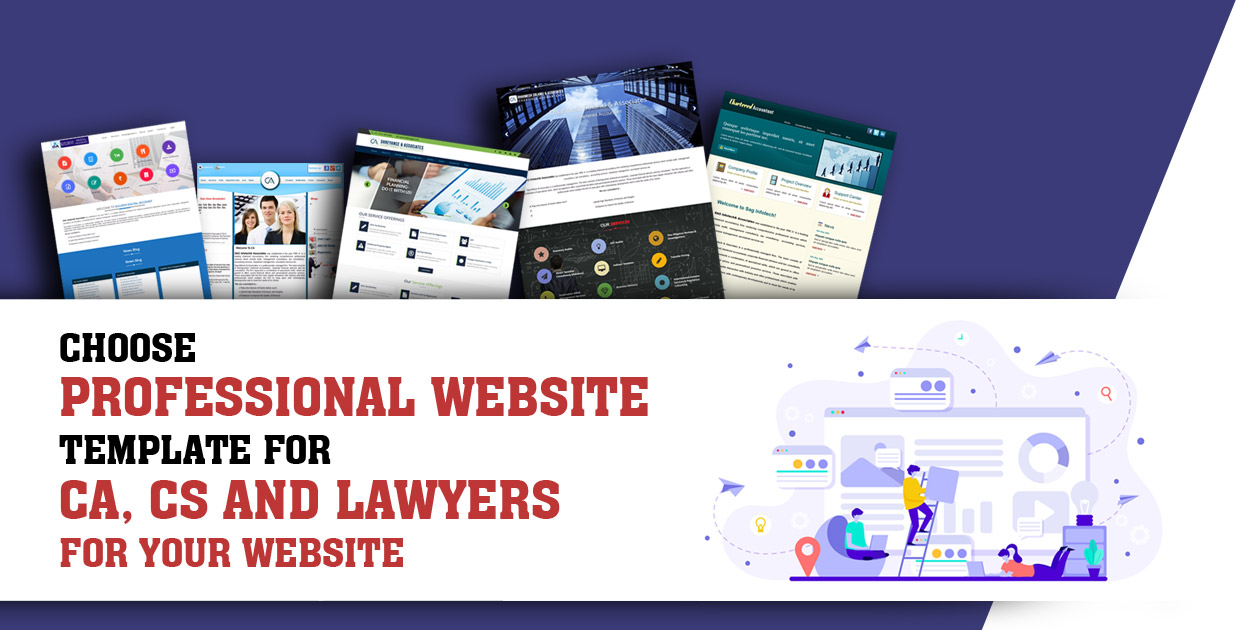 Your website is the digital face of your brand and business, it carries your goodwill, your business potential, what products or services you are offering to your clients, and how it will benefit your clients. Basically, you need to create an urge in the mind of the users so they buy your products or services.
Well as it is said, your website is the digital face of your brand so invariably it has to be subtle yet presentable so that it successfully allures the clients. This calls for a need to have just an ideal theme for your website. A professional and effective website is a boon for your business that will be a perfect marketing partner for your business.
CA portal is one such expertise that will help professionals like CA, CS, Lawyers, and others with relevant templates and website development that will complement their business/profession.
Landing on to the Perfect Theme (style and color) for Your Website
Talking about the layout of your website, you need to keep in mind every little detail like the color of your website might also have an effect on your client. Some might even judge your services merely from the layout of your website.

You can easily create a blend of style, color, and much more for your professional website. Like several users find 'F' pattern search the most convenient. Such people are looking for the elementary information in the Header, sidebar, and the left-hand side of the page.
The design and theme of the website help in enhancing the goodwill of your brand and lets more and more users get attracted to your services. As per the stats, 94% of the users quit the website only by looking at the first sight of the website (theme and design). A website with an unbalanced proportion of colors might be uninteresting for the clients directly affecting the business of the person.
Example – Speck and Stone is a business that sells great artworks with beautifully designed themes. This clearly says that they have a lot to do with beauty and high presentation. They have chosen to customize Brooklyn (free) themes that exactly go with their brand and deals.
So the first look at their website is welcoming to the potential audience and is just the right choice for their brand. Well, it is not possible to assess the entire history of the business by merely looking at the website of a particular brand but by looking at the website one has a bit of intuition about the services.
CA Portal Can Help you With Your Search
For professionals like CA, CS, and Lawyers, CA Portal has in stock several themes that are just perfect for your profession/business. Along with that some features such as modern design, 100+ responsive layouts, online expert assistance, and well-documented themes. 
A website owner needs to choose the correct theme suitable to the nature of the work he/she is doing and is relevant for their targeted audience. And to help you with the task, CA Portal gives you an extremely unique and visual appearance to the relevant products which support simple navigation and apparent call to action. Our Domain+Hosting+Website services are A Complete three-step solution that will serve all your and your clients' needs for CA website purchase.
CA Portal – Website Themes for Diversified Needs
Selecting a theme is not that easy as it appears in words. This might be a cumbersome and time-consuming task. Above that, if you are just a startup and you wish to create the first online store for your services. Well to your surprise, CA Portal has several online stores for the clients' diversified needs. Unique themes for services rendered by CA, CS, and Lawyers.
If you are not willing to select a pre-build theme then you have the option, to begin with, the default theme, customize it (as per your preference) and make final omissions and additions, or start with a fresh theme.
READ ALSO : 2021 Best Responsive Website Themes for Accounting, Corporate & Law Firm Website
You can start from scratch by working on a fresh theme from the theme store. This will give you a lot of insight into different styles, color combinations, theme features and much more. Consider yourself a professional and start customizing your website design perfectly complimenting your services/business.
CA Portal consists of such themes for CA, CS and Lawyer genres. The professional website templates attract more clients and serve the purpose of why they are created.
FAQs that will surely help you get a more clear picture of a professional website
Q.1 – Is the website theme SEO optimized?
Ans: One must always make sure that the theme they have chosen after spending too much time and effort is SEO optimistic. SEO is something that helps your website rank higher on the google page when people type the keywords that match your website.
Most of the themes are by default SEO friendly but one must still re-assure the same.
Q.2 – Suggest some better domain extensions?
Ans: Foremost preference has to be .com extension and by any chance, if the extension is not available then one might opt for equivalent domains like .in, co.in etc.
Q.3 – Is it possible to get web hosting services from CA Portal?
Ans: Yes, one can easily get complete web hosting services that include website management as well as the content part. Both options are available on CA Portal for the clients, websites with or without hosting services. Yearly charges are Rs. 1500 plus Tax for web hosting services.

Q.4 – Does the CA Portal abide by the guidelines issued by ICAI/ICSI/Bar Council?
Ans: The portal through which we are serving our clients duly abide by the norms of ICAI/ICSI/Bar Council Guidelines. There is no chance of any discrepancy in terms of legal compliance.
Q.5 – What are the yearly charges of website updation on CA Portal?
Ans: Yearly Updation Charges on CA Portal – Rs. 5000 + Tax (2000 for hosting and domain + 3000 for 1 year update).
Q.6 – How many choices for website theme can I get on the CA Portal?
CA Portal holds a wide range of themes/templates. You can choose your preferred design from 100+ options under the single roof containing all the diameters related to your profession.
To Be Noted: While selecting the theme do not stress much on fonts or colors as they can be changed as per preference anytime in the future.
Answering the above questions is necessary before you start on with your hunt for a perfect website design. By now you are sorted with your preferences and what qualities a professional website should own like SEO optimization, extensions, etc.
Keeping in mind all these points, you can proceed to get a unique and relevant website design for your professional website and if your investment budget is a little high then you can even go for a unique theme designed by an expert.
Different Themes for Different Businesses
Every business works differently and has a different target audience, different approach, purpose and also a different theme for digital appearance. One single theme cannot work for all the business, so no one other than the owner of the business himself can select the ideal website theme for his brand's online presentation.
If you wish to make a fresh start then with the help of the theme store you can get the chance to create your desired theme as per your convenience and needs.