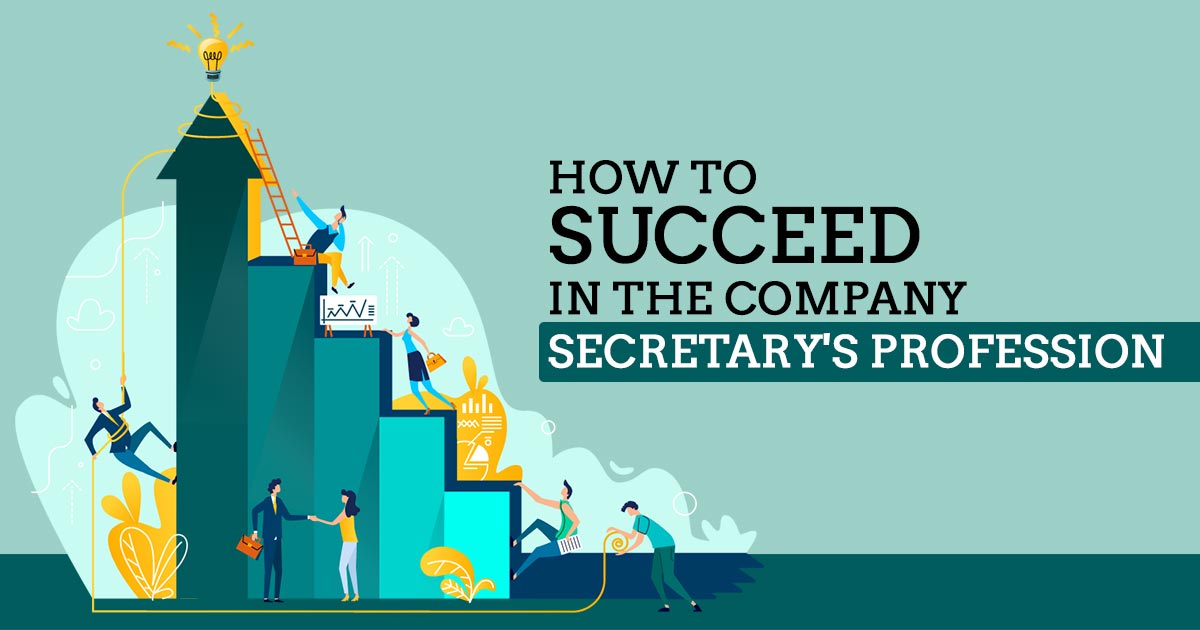 Carrier has often been understood among societal members as a means to study, get a well-paid job or get engaged in a business/profession that offers lucrative financial perks.
However, it is a much broader concept, and many of the readers will agree that a career is an individual's metaphorical journey through work, learning, and other aspects of life in order to boost his/her self-esteem. Career term in most parts of the world has been largely related to the working aspects of an individual's life to keep it relevant.
The position of Company Secretary (CS) is one of the most important in a corporation. A qualified Company Secretary is in charge of the legal elements of a firm or single proprietorship. A CS is in charge of maintaining and reviewing the company's tax returns, preserving records, informing the board of directors on the company's financial health, and ensuring compliance with legal and statutory rules. To be able to practice Corporate Secretaryship professionally, an individual must undergo professional training and pass tests.
The Company Secretaries profession is regulated and maintained by the Institute of Company Secretaries of India (ICSI). Thousands of aspiring Company Secretaries are trained and educated by the ICSI. ICSI now has over 65,000 members and about 2,50,000 students on its registers. Those interested in pursuing CS can get instruction from the Institute of Company Secretaries of India. The institute offers three levels of the CS curriculum. After completing all three levels, applicants are granted a certificate allowing them to perform Corporate Secretaryship as a profession and expand their employment opportunities.
The contemporary, industrialized period has seen a profound upheaval in the commercial sector. The numerous disruptions caused by the corporate world's dynamism have a direct impact on business professionals, particularly stakeholders. The biggest issue that everyone is dealing with nowadays is a loss of trust in the corporate sector. The majority of firms attempt to maintain the confidence of their stakeholders. When all levels of management are consumed with handling a corporation's routine business, there is no one to handle any interruptions and preserve the faith of all stakeholders. In this case, the need for a business secretary becomes critical.
The proper administration of a firm is the duty of the company secretary, who is also responsible for ensuring that the board of directors' decisions is carried out and that all legal and regulatory requirements are completed. A corporate secretary is critical to the smooth functioning of a corporation. Working as a corporate secretary will undoubtedly be enjoyable and rewarding.
What Is the Role of a Company Secretary?
The company secretary's role is quite responsible and considered one of the crucial legal faces of the entity. A secretary looks after several work assignments that have a deadline. The professionals' responsibilities include assisting the board of directors, supervising legal matters of the company, introducing the company and its interests to the other party, and ensuring that everything is done according to the rules and regulations.
Companies look for a secretary who can establish thorough communication with stakeholders to make certain that the company is paying dividends and has proper records. In the maintenance of the records, lists of directors, annual accounts, and shareholders are included.
Make a Company Secretary Website at Affordable Price only 6999*
Strategic Planning for Company Secretary
Every company needs strategic planning before executing any operation, and the company secretary is the person behind such planning. These may include organizational interests, investments, market conditions, financial reporting, demands from stakeholders, and many more. Strategic planning is all about the process of drafting the objectives of the company and presenting different viewpoints through clarifications. Company secretaries are engaged and responsible for bringing actions through the strategies and are required to achieve targets, measuring what further actions need to be taken by the employees to reach the goal.
Reporting Businesses
Various reports that a company secretary prepares to bear important and useful insights. These data can be helpfully deriving great statistics such as future expectations, marketing techniques, financial accounting assistance, and strategic thinking. These all stats may help in wise decision-making. Proper reporting throughout the financial year allows companies to assess and compare their offerings with competitors in the industry. Making informed judgments requires reporting, whether for businesses, corporations, or the government. It serves as a standard method of internal communication between employees and inside the company.
Businesses Require Extensive Research
The major purpose of the research is to put theory into reality, exemplify an idea, and contribute significantly to the advancement of knowledge in this field of study. A technique for increasing awareness and skill development. Understanding and sharing knowledge of a variety of topics are included. Research is constantly focused on strengthening a scenario in a certain business. Businesses require extensive research since it motivates employees to uncover the structural parts of the organization. The secretary of the corporation is in charge of market research.
Market Trend Research
Trend research is required to enhance the business by allowing for improvements that are profitable for the organization. Trend research gives significant facts that may assist generate better long-term strategy decisions as well as some solutions to boost the firm. Trend research collects data from a certain population defined by a characteristic, such as a cultural setting. The Corporate Secretary must be aware of what is going on in the market.
Company Secretary Career, Definition and Responsibilities
Company Secretary as a Corporate Benefactor:
A secretary is given specific rights under the Companies Act, such as the ability to promote and incorporate companies, handle company certification and audit services, sign annual returns, handle corporate restructuring and takeovers, transparently scrutinize voting and reporting procedures, administer revival of sick companies, join the Company Law Tribunal as a technical member, and investigate taxation and other criminal cases.
Company Secretary as an Auditor:
According to the Secretarial Service audit checklist, a secretary is authorized to annexe a Secretarial Audit Report in the form of an MR-3 to the officials in order to ensure that the business complies with the regulations set forth in general laws and legal acts and to notify the government of any offensive fraud cases that are found. To guarantee corporate adherence to and discipline with regard to the law, this is done.

What Qualifications and Abilities Are Needed to Work as a Company Secretary?
For making a career as a Company secretary a person should have some skills. The same article explains the method to become a company secretary. As a company secretary below specified are the required vital skills:
Commercial Awareness of Businesses & Industries:
Commercial awareness is an understanding of how businesses and industries function. It is definitely important to comprehend what is occurring around the globe and assess how it could substantially affect the mentioned businesses and sectors. The ability to understand what makes a business or organization successful via the procurement and selling of goods or providing services to the industry.
Better Administrative Abilities & Skills:
It is crucial to have administrative abilities in order to complete tasks linked to the company. This may entail duties including filing paperwork, speaking with various stakeholders, exchanging pertinent information, putting procedures into place, and responding to inquiries from staff members and others. Administrative abilities are crucial for a corporate secretary to maintain smooth business operations. A corporate secretary with great administrative abilities is a must for any successful, productive business.
Analytical Skills:
Predicting future market dynamics and seeing the many benefits and drawbacks of a certain course are both included in this talent. Although people frequently apply their knowledge and talents in the workplace, analytical skills might occasionally seem strange. Analytical abilities are helpful since they enable people to solve a variety of problems and decide what actions need to be made right away. At every level, it's important to recognize obstacles and analyze the situation for viable solutions.
Communication Skills:
For organizations to run smoothly and produce their best work, workplace communication is crucial. Due to a lack of the necessary communication skills and competencies to carry out office work, secretaries in a firm face a number of obstacles and issues. One of the fundamental tools needed for secretaries to work well inside an organization is communication, which is really an art. To be truly competent in operating successfully in an office, secretaries operate with agility, courage, and commitment.
Good Judgment Skills & Abilities :
One's capacity to infer acceptable, logical inferences from little information is a requirement for the position of company secretary. It is a business secretary's responsibility to critically evaluate these conclusions in order to foresee prospective areas of one's case that need to be strengthened against. So, in order to excel and achieve in their individual instances, one needs to exhibit good judgment abilities.
Research skills:
A business secretary must do in-depth research on pertinent data as part of their job. Each debate must be won by being confident in the facts being presented. Without an undeniable truth, no argument can be won, especially a legal one. A corporate secretary's ability to do rapid, efficient research is crucial for understanding customers, and their requirements, and developing legal strategies.
People skills:
Being a business secretary for a living is not a recapitulating profession. Being a business secretary requires being powerful, well-spoken, and able to read people. Being approachable enables a company secretary to choose the appropriate course of action to follow in order to accomplish the desired outcome, which can be either clients adopting a company secretary's advice or coming to an amicable agreement with the opposition.
Perseverance:
One needs the determination to see the task through to completion in order to succeed in a profession as a company secretary. The race of perseverance is not a long one, but rather a series of quick races.
Creativity:
In addition to being rational and analytical, the most effective business secretaries also solve problems in a highly creative way. The best course of action is not always the most obvious one, and it is frequently essential to think outside the box in order to go around one's opponent.
Key company secretary services include:
Legal, secretarial and corporate governance
Corporate restructuring
Financial management
Project planning
Due diligence
Corporate Advisory Services
SEBI Act Compliance
Exim policy management
Yes, it is a challenging task being a company secretary in a firm but at the same time highly rewarding and praiseworthy, which can take you to sky heights in your career.
Company Secretary Characteristics
So now you would be wondering what skills or characteristics one should possess for becoming a CS. Here's the answer.
As you know, being a company secretary in India requires involvement in multiple functional areas of a company; thus for becoming a CS one needs to be a highly organized person with excellent time-management skills. Being a multitasker and good communicator is also something that a CS should possess to communicate with all other departments of a firm to ensure that all the board decisions are implied and working correctly.
Here is a list of key characteristics or skills that one should acquire in order to become a Company Secretary:
Good communication skills
Time management skills
Pro-governance expert
Organization, planning and excellent judgement Skills
Knowledge of different Laws and Acts, i.e., Company Act, SEBI regulations and stock exchange needs
Legal Record-Keeping Ability
Conformity with Listing conditions specified under the SEBI Act, SCRA
---

Why Choose Company Secretary as a Career Option?
There are unlimited benefits to being a CS and at the same time is a challenging profession. For instance, being a member of the prestigious ICSI group, one can provide his service in multiple areas like banks, corporates, govt. recognized institutions or even as an academician in educational institutes. Some other avenues have also opened up recently for CS like a mediator, conciliator, insolvency professional, GST expert etc.
As far as job opportunities are concerned, more than 7,000 CA posts are vacant in different CS firms in India. As per the Company Act 2013, it is mandatory for each listed company to have a CS in their company ranks. Being a CS also offers excellent financial perks to individuals in India. As per the data, the average salary of a CS in India is approximately INR 1 lakh per month. So it is beneficial for you to take up this rewarding and challenging professional career.
Myths Related To CS Profession
While thinking about making a career in this rewarding and challenging profession, a lot of people think that one needs to come from an English school background or have English as their mother tongue, which is completely false. Here is an interesting fact. A lot of CS who are working in top multinational CS firms do not belong to an English-schooling background, and still, they perform brilliantly than the ones who have English as their mother tongue.
Another significant misconception among the students who are doing CA articleship is that one can only claim a reputed job when he/she has good contacts, which is again a misconception. Continuing with myths, the CS students in India also believe that there is a lack of opportunities in the market. Yes, the competition is very high in this field, but it is important that you should keep your patience and enhance your knowledge to get a top company secretary job role. Doing articles from top CS articleship firms in India is a great way to acquire valuable hands-on experience in this field.
Drawbacks of CS
If we talk about the downsides, then there is a scarcity of significant ones. Yes, choosing a career as a company secretary requires one to be extremely dedicated, focused, and organized, which at times becomes stressful for young graduates; as a result, they left this profession, which is somewhat wrong.
It is important for students to build on the core skills and knowledge that are prerequisites for becoming a professional company secretary. For such purpose, students should pursue CS articles, which is a 12-18 month training period helping them in obtaining practical knowledge and experience about the CS course. Some of the top CS articleship firms in India include Deloitte Touche Tohmatsu Limited, Ernst & Young, Price Water Coopers(PWC) and KPMG.
Coming back to drawbacks, the ICSI CS professionals who are appointed to top positions in best company secretary firms also feel the pressure of rendering good work, which leads them to high stress and anxiety. In a company secretary career, you are also required to put in extra effort in reading, writing and analyzing all the legal documents (pen paper and e-docs) of the firm, which puts mental pressure on the CS.
However, these are just the minor disadvantages that practising company secretaries face in their work life. So, It is essential that one should sharpen his/her analytical and logical skills to absorb & analyse the information quickly for becoming a competent CS professional.
Conclusion
So, from the above discussion, it can be concluded that becoming an ICSI CS professional or choosing a company secretary as a career can become extremely rewarding for you both professionally and personally. On the professional level, CS practice at top CS firms allows CS graduates to gain vast and in-depth knowledge related to multiple CS areas like legal, secretarial and corporate governance. On a personal level, CS practice also sharpens one's organization, time management, judgment, and communication skills. In short, choosing CS as a career is highly rewarding as it improves the overall personality and behaviour of individuals.
Choosing the right website template is essential for establishing your company's professional and trustworthy online presence. Having a well-designed website will not only attract potential clients but also establish the credibility and expertise of your brand.
The CA Portal offers company secretary website templates that will suit any type of firm, whether you are a start-up company secretary or an established firm that needs to revamp its website. Using our range of templates, we can help you create a website that reflects your brand's professionalism and expertise.