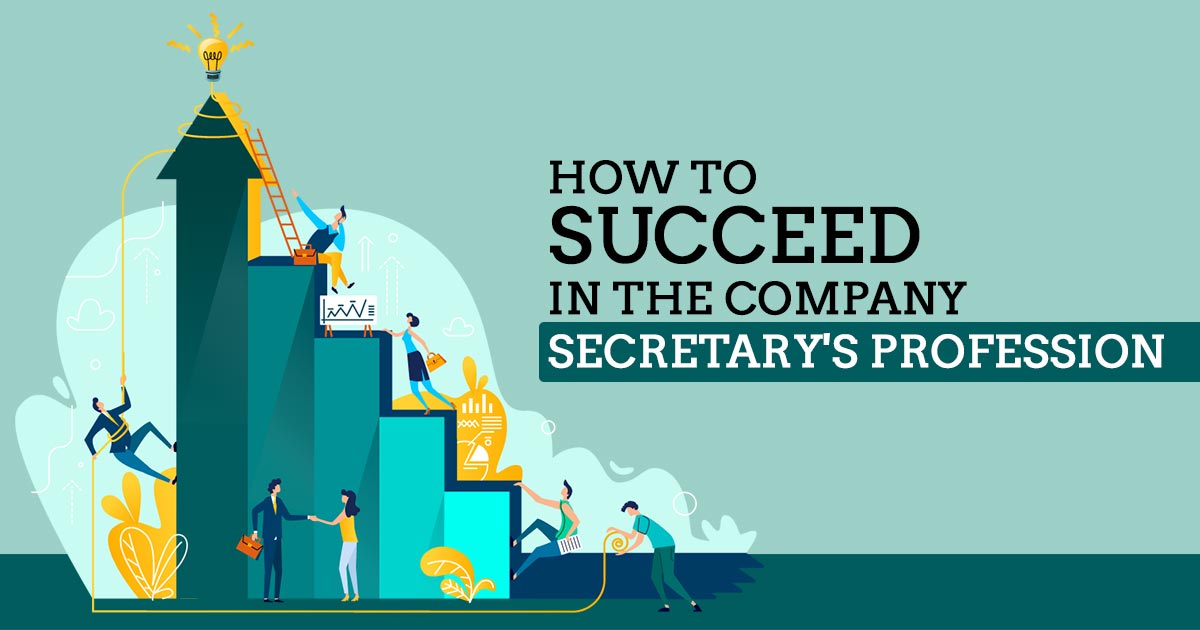 What Does Career Impart?
Carrier has often been understood among societal members as a means to study, get a well-paid job or get engaged in a business/profession that offers lucrative financial perks.
However, it is a much broader concept, and many of the readers will agree that career is an individual's metaphorical journey through work, learning, and other aspects of life in order to boost his/her self esteem. Career term in most parts of the world has been largely related to the working aspects of an individual's life to keep it relevant.
Career is something that allows any person to fulfil his dreams and desired goals throughout his life journey. Often, career has also been used or composed by people that denotes their jobs, titles held, and work accomplished in the recent past. Residing by the work aspect of life, the blog will discuss one of the most popular accounting and finance profession, i.e. Company Secretary (CS) and how you can build a successful career in it. Although a number of other administrative and finance courses like CA and CMA are also relevant in recent times, the article to keep specificity will focus on CS and how rewarding it is for the students.
Company Secretary Career, Definition and Responsibilities
First, let's understand the definition of the company secretary. As per the Company Act 2013, a company secretary is a person, who belongs to the prestigious group of Institute of Company Secretaries of India (ICSI). Each company in India, who have a paid-up share capital of INR 5 crore is required to appoint a CS as per the Company Secretaries Act.
The first and foremost responsibility of the Company Secretary includes effective company administration especially when it comes to ensuring the compliance with statutory and regulatory requirements and enforcing the board of directors decisions in the company. CS holds a very high rank or position in a firm and also comes right next to the CEO and Managing Director, and whole-time directors.
A company secretary can be the CEO of the company too, which keeps his/her position close to the board of directors. Let's discuss some other responsibilities of a CS. A CS in a company is also held responsible for organization and management of board meetings, preparing the agenda, following up orders for meetings, notice generation to the board of directors, and other governance-related tasks.
So, now you can understand that a CS in someone who is engaged in multiple areas for the effective administration of the company.

Key company secretary services include:
Legal, secretarial and corporate governance
Corporate restructuring
Financial management
Project planning
Due diligence
Corporate Advisory Services
SEBI Act Compliance
Exim policy management
Yes, it a challenging task being a company secretary in a firm but at the same time highly rewarding and praiseworthy, which can take you to sky heights in your career.
Company Secretary Characteristics
So now you would be wondering what are the skills or characteristics that one should possess for becoming a CS. Here's the answer.
As you know, being a company secretary India requires involvement in multiple functional areas of a company; thus for becoming a CS one needs to be highly organized personnel with excellent time-management skills. Being a multitasker and good communicator is also something that a CS should posses to communicate with all other departments of a firm to ensure that all the board decisions are implied and working correctly.
Here is a list of key characteristics or skills that one should acquire in order to become a Company Secretary:
Good communication skills
Time management skills
Pro-governance expert
Organization, planning and excellent judgement Skills
Knowledge of different Laws and Act, i.e., Company Act, SEBI regulations and stock exchange needs
Legal Record Keeping Ability
Conformity with Listing conditions specified under the SEBI Act, SCRA
---

Why Choose Company Secretary as a Career Option?
There are unlimited benefits of being a CS and at the same time is a challenging profession. For instance, being a member of the prestigious ICSI group, one can provide his service in multiple areas like banks, corporates, govt. recognized institutions or even as an academician in educational institutes. Some other avenues have also opened up recently for CS like a mediator, conciliator, insolvency professional, and GST expert etc.
As far as job opportunities are concerned, more than 7,000 CA posts are vacant in different CS firms in India. As per the Company Act 2013, it is mandatory for each listed company to have a CS in their company ranks. Being a CS also offers excellent financial perks to individuals in India. As per the data, the average salary of a CS in India is approximately INR 1 lakh per month. So it is beneficial for you to take up this rewarding and challenging professional career.
Myths Related To CS Profession
While thinking about making a career in this rewarding and challenging profession, a lot of people think that one needs to come from an English school background or have English as their mother tongue, which is completely false. Here is an interesting fact. A lot of CS who are working in top multinational CS firms do not belong to an English-schooling background, and still, they perform brilliantly than the ones who have English as their mother tongue.
An another significant misconception among the students who are doing CA articleship is that one can only claim a reputed job when he/she has good contacts, which is again a misconception. Continuing with myths, the CS students in India also believe that there is lack of opportunities in the market. Yes, the competition is very high in this field, but it is important that you should keep patience and enhance your knowledge to get a top company secretary job role. Doing articleship from top CS articleship firms in India is a great way to acquire valuable hands-on experience in this field.
Drawbacks of CS
If we talk about the downsides, then there is the scarcity of significant ones. Yes, choosing a career as company secretary requires one to be extremely dedicated, focused, and organized, which at times becomes stressful for the young graduates; and as a result, they left this profession, which is somewhat wrong.
It is important for students to build on the core skills and knowledge that are prerequisite for becoming a professional company secretary. For such purpose, students should pursue CS articleship, which is a 12-18 month training period helping them in obtaining practical knowledge and experience about the CS course. Some of the top CS articleship firms in India include Deloitte Touche Tohmatsu Limited, Ernst & Young, Price Water Coopers(PWC) and KPMG.
Coming back to drawbacks, the ICSI CS professionals who are appointed on top positions in best company secretary firms also feel the pressure of rendering good work, which leads them to high stress and anxiety. In a company secretary career, you are also required to put in extra efforts in reading, writing and analyzing all the legal documents (pen paper and e-docs) of the firm, which puts mental pressure on the CS.
However, these are just the minor disadvantages that practicing company secretaries faces in their work life. So, It is essential that one should sharpen his/her analytical and logical skills to absorb & analyse the information quickly for becoming a competent CS professional.
Conclusion
So, from the above discussion, it can be concluded that becoming an ICSI CS professional or choosing a company secretary as a career can become extremely rewarding for you both professionally and personally. On the professional level, CS practice at top CS firms allows CS graduates to gain vast and in-depth knowledge related to multiple CS areas like legal, secretarial and corporate governance. On a personal level, CS practice also sharpens one's organization, time management, judgment, and communication skills. In short, choosing CS a career is highly rewarding as it improves the overall personality and behavior of individuals.