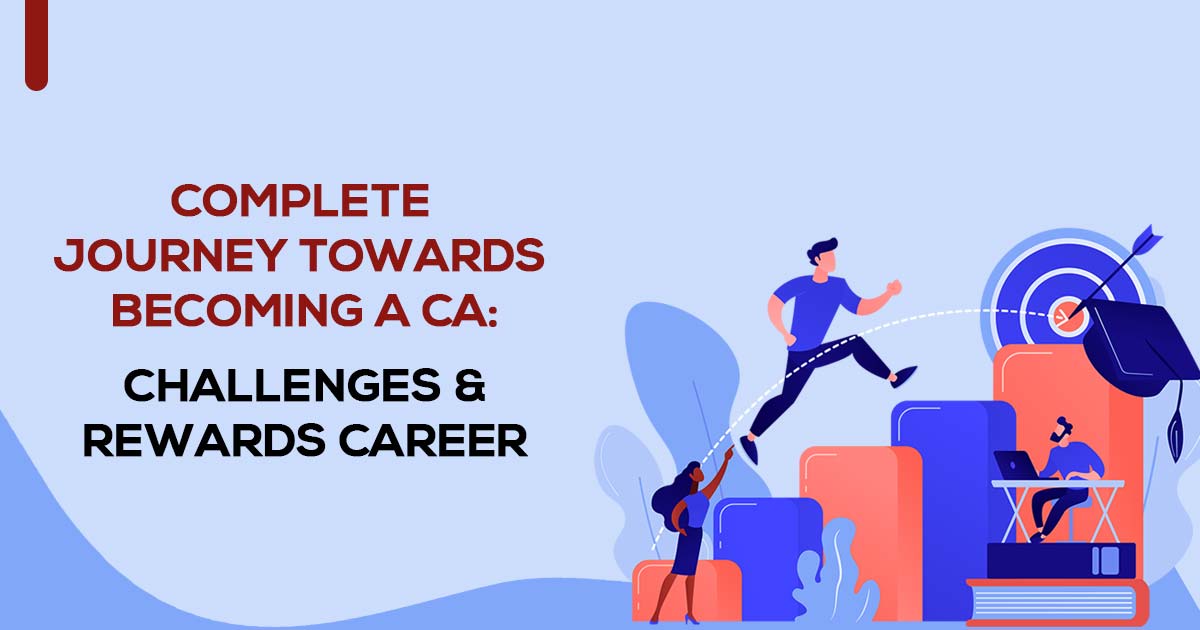 If you are concerned about respect, excellent financial rewards, prestige, and great prospects, CA is a perfect profession to start with. Chartered Accountants are the people to create a difference and wherever they work, they create something relevant and different as well. They are talented, ambitious, and in demand.
Working hard to become a chartered accountant will make you different and becoming Chartered will make a unique way for business training and traditional accountancy. The qualification of a CA is globally respected and prestigious and will be adored with skills, values, and knowledge for which many look after and want to become highly regarded business professionals also.
A chartered accountant is a much-respected profession with excellent financial benefits, prestige, and great prospects, and it is one of the highest-paying jobs.
Chartered accountant roles and responsibilities are different from those of other professions and add significant value to the business's accounts and finances. Handling accounts and operations according to the country's rules and regulations requires a person to have talent and ambition. Therefore, CA is the perfect match for such requirements.
The requirements to become a CA are so demanding and tough that only a hardworking scholar can ace the competition and fuel the company's growth. If someone puts in the effort to become a chartered accountant, it will pave the way for them to learn both traditional accounting and business training skills. The CA degree is prestigious, and the profession is respected globally.
A CA looks after budgets, auditing, taxes, and business strategies and may even work for a business, the government, or an individual. The job's main roles revolve around providing financial advice and helping businesses manage their funds wisely.
Being such a lucrative profession, many want to work for businesses. ICAS is a separate body that provides training to create CAs. Therefore, you must fulfil the ICAS requirements to make your way to becoming a CA, which include appropriate work experience and relevant professional studies.

Here are some reasons that are enough to tell you why CA is the most respected profession:
Safe and Secure Career
One of the world's most secure employment categories is accounting. No matter their size, businesses are constantly looking for qualified chartered accountants. The nicest part about becoming a CA is that chartered accounting is regarded as one of the professions that is most resilient to economic downturns. You should begin your training to become a CA if you want a profession that is both gratifying and fascinating.
Never Ending Learning Along with Earning
Contrary to popular belief, Chartered Accountancy isn't just about surrounding yourself with numbers and figures. The curriculum also aids students in developing strong business lessons, superior knowledge of topics relating to finance and accounting, and technological abilities. These days, CAs can operate in practically any field because of their training and ability to adapt to diverse areas of operation for different businesses. The CA degree also provides a solid basis for people with an entrepreneurial spirit and may encourage them to start their own ventures.
One of the Highest Paying Professions
A CA with three to five years of professional experience can expect to earn an annual salary of about 5 lakhs. On the other side, those that are skilled in business can start their separate firm and attract more cash. The best part about being a certified accountant is that there is no risk of your pay decreasing in the future as demand for CA is in every business.
CA Is a Globally Recognised Profession
Given that the ICAI is widely recognized, graduates from it can work abroad provided they have the required documentation and visas. The Institute of Chartered Accountants of India (ICAI) credential allows chartered accountants to work abroad. Therefore, working abroad is a benefit of being a chartered accountant.
Since ICAI is recognized by so many nations, it has established itself as an international organisation. Due to its grandeur and domination in the accounting industry, ICAI by itself offers a fantastic platform for CAs to practise their trade and even look into job chances abroad.
Career Paths and Great Rewards
A CA job requirement provides more opportunities to learn from different types of jobs than any other type. In this fast-paced world of business, the role of a CA may be disguised as an advisor to the business, making high-level strategic choices that will increase market share, profit margins, and business growth for their clients or employers. Many Chartered Accountants do not just stop at this, they use their skills to start their own firms and achieve great success as business owners. Nearly every industry, from banking and financial services to the public sector, employs chartered accountants at the highest levels.
Read Also:
Career Opportunities For Chartered Accountants Under Business & Jobs
There is no doubt that becoming a CA has many advantages in terms of financial success as well as being an ever-learning profession. Yet, you may still have some preconceived notions or myths about CAs.
We have listed the top 5 common myths that many people have in their minds.
Myth 1: It's All About Numbers and Figures – A CA's role does not limit to report-making or auditing; they are trained to do much more than that. With enough experience in a particular industry, they build a different set of skills, from managing accounts to handling all the financial transactions, and these roles may lead them to take all the major decisions for the firm. Dealing with numbers is simply the first step as more employment options become available.
Myth 2: Not Having Equal Opportunities – It is a common misconception among people that in CA, there is no equality in opportunities. But it is not true, today we have 45% of students, or 35% of the membership, are female. A good bonus is that 60% of finance executives feel that there are now greater chances for women in accounting than we ever had.
Myth 3: You Need to be Skilled in Making Spreadsheets – CAs are taught the basics and fundamental concepts of finance and accountancy, which helps build a solid foundation of knowledge of accountancy as they go through the course and work.
Myth 4: ICAS Is for Other Countries- ICAS does not operate within the boundary of a specific country only. Despite having a Scottish past, the ICAS is recognised across the globe. The first firm of professional accountants was established in 1854. Since its founding, it has grown and developed into a professional community both in India and around the globe. Therefore, you can work anywhere you want as a CA.
Myth 5: University Education Required – Many individuals think that being a Chartered Accountant requires a college degree. But this is not true because students can enter after receiving their 10+2 or an equivalent. After achieving the qualifying percentage and completing the required 9 months of practical training, students can enrol immediately in CA Inter through the graduation route (direct entry route).
You can become a Chartered Accountant after graduating from high school without having to attend college, but you must have a scorecard with an A-level or better to apply. It will be finished in five years if done this way. You will be trained by an ICAS-approved teacher. So there is not a single way to become a CA, there are some other ways as well.