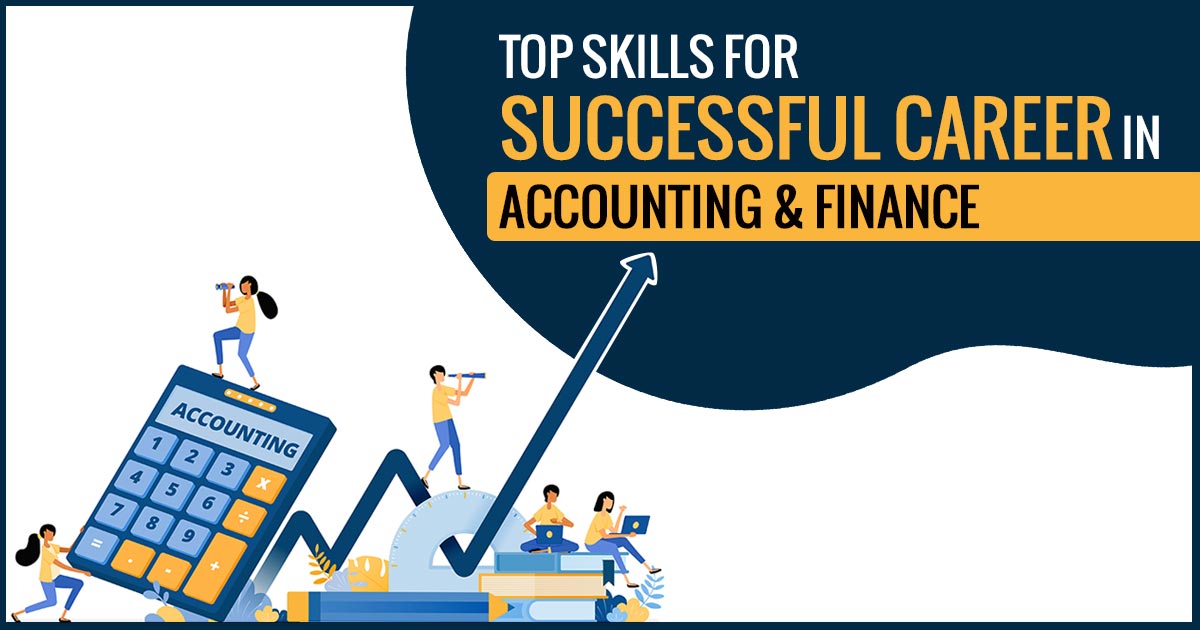 Are you aware of the skills that are required for a successful career in accounts? From the name, it doesn't appear to be an effective career in the option available, while looking by zooming the concern one finds that it is the heart of the business.
Anyone who wants to work in accounting must first receive specialized education, qualification, and knowledge. Understanding the essential abilities of an accountant permits advanced degree holders to traverse a broader range of employment prospects in the area.
But success takes more than simply the right degrees. To have a successful accounting profession, individuals need to have a slew of general skills and traits that will enable them not only to progress but also to function efficiently every day. Accounting is still a fast-paced career that demands experts to constantly improve their understanding of the subject.
Some of these abilities may be learned by prospective accountants through programs such as a Master of Accountancy. Other abilities are more intrinsic and dependent on a candidate's personality and preferences. Even for these sorts of talents, simply knowing what characteristics would be useful on the job helps prepare applicants for successful careers in accounting.
Accountants play an important role in firms of all sizes. When it comes to accounting abilities, there are a few hard and soft talents that are necessary to accomplish the job correctly.
Let's look at what accountants are expected to do, how automation technologies are revolutionizing the sector, and accounting abilities and attributes.
What are the Technical Skills of an Accountant?
The list of technical accounting abilities required for the work is as vast as the list of soft skills that are advantageous to have. It is crucial to highlight, however, that automation solutions assist to maximise an accountant's technical knowledge and talents by allowing software to perform many of the technical tasks. Accountants may now devote their time to high-level and value-added tasks like analytics and strategic decision-making.
Technical skills needed on the job comprise of-
Carrying the accounts liable to be paid and receivable functions
Managing payroll
Forecasting budgets
Producing financial reports that are aligned with accounting standards
Understanding the tax code
Executing reconciliations
Create a Professional looking Website for an Accountant at Affordable Prices
What Type of Skills are Needed for the Accountant?
Accountants require the skills to obtain the job performed successfully.
As organizations go through a digital revolution, the traditional job of accountants is beginning to take on a new shape as accounting departments employ automation technologies. As a result, accounts are no longer just slowed down by manual and data-intensive processes. With the help of automation solutions, they are instead expanding their remit to act as strategic business partners within enterprises.
That being mentioned, the important skills still remain.
#1. Business Knowledge
Accountants, in general, coordinate and interact with experts from various areas inside a company. As a result, it's critical that they have broad business expertise and understand how their financial activities affect other departments.
#2. Technology Expertise
More technology is being used in organizations, particularly the finance department, as time goes on. As a result, having up-to-date knowledge and awareness of the latest technology is quite valuable. It's also useful when firms choose software solutions that don't require advanced IT skills to use, such as out-of-the-box and low-code automation options.
#3. Communication Skills
It will be difficult to find a profession that does not demand good communication abilities. Accountants, on the other hand, must deal directly with multiple departments, stakeholders, government agencies, and/or company leaders.
They are in charge of interpreting (or employing automated solutions and distributing) data into a visible and understandable format. This implies that this talent manifests itself in a variety of ways, from vocal communication to written communication to presenting abilities.
Read Also: Key Useful Tips For Your New Accounting Website Client
#4. Flexibility & Adaptability
Regulations, as well as the technological environment in which accountants work, are continually evolving. As a result, the finest accountants are adaptable and flexible in their approach to their day-to-day operations.
Consider how much changed in the blink of an eye as a result of the unanticipated COVID-19 outbreak. Many accountants were forced to work remotely in order to meet the demands of all departments and keep the organization functioning smoothly.
#5. Creativity & Problem-Solving
Even when automated reporting and processes become more common in the field, strategic thinking and problem-solving efforts still demand creativity. Accountants may be creative in their evaluation of reports, presentation of data, and use of analytics in real-world decision-making.
#6. Excellent Customer Care
Customer service is essential no matter where an accountant works. Accountants in private businesses must be able to keep clients pleased in order to recruit and retain them. Accountants collaborate with their peers and often engage with stakeholders. Active listening, organizational skills, and communication are essential for providing excellent customer service.
#7. Business Experience
Accountancy is filled with rules, laws, and standards. There are recommended best practices but no standardized techniques in some circumstances. Accountants can have a better understanding of the requirements and establish efficient practices over time to enhance efficiency.
#8. Analytical Report
Previously, accountants were required to complete all manual data input and transformation operations within spreadsheets, as well as assess the work. Automation systems can now handle all data-intensive and repetitive processes and generate analytical outputs for accountants to analyze.
Accountants must have good analytical abilities in order to analyze data and apply it to actual business choices and actions.
#9. Organisational Accounting Systems
Accountants must maintain organization throughout their operations and activities. In many cases, their job is time-sensitive and must comply with deadlines that are beyond their control. They help to lessen company risks by staying on top of their job and being structured.
#10. Critical Thinking Importance in Accounting
Accountants can evaluate risks and anticipate the future with the use of risk assessment matrices and automation technologies. However, while doing so, they must think critically about the best course of action given the numerous possibilities that may occur.
11. Management of Time
Accountants must be able to manage their time well since deadlines do not wait for anybody. Furthermore, accountants frequently work on many projects at the same time, which necessitates the ability to manage duties, expectations, and processes.
However, an automation system may considerably reduce the stress on an accountant's shoulders by automating numerous timely tasks and decreasing manual mistakes in the process.
12. Proficiency in Spreadsheet
Whether or not an automated solution is used, accountants must have a solid grasp of spreadsheets. Spreadsheets will continue to appear in the market at various intervals, therefore knowing how to operate with them is essential.
13. Collaboration, relationships, and service to others
While accountants conduct much of their job from behind a computer and sometimes by working alone, they also cooperate and communicate with a diverse group of individuals. Accountants must be able to operate successfully in a team atmosphere, whether with their own accounting team, auditors, or colleagues across departments.
#14. Important Writing Skills
Accompanying the numbers and data-heavy day-to-day job of an accountant, a significant amount of time is spent writing in the form of emails and articulating ideas on the page. Accountants may be required to write memoranda on tax returns or financial accounts, therefore writing is an important ability.
#15. Integrity and ethics
Depending on where an accountant works, there may be norms of professional behaviour that an accountant must accept and follow in order to do their duties. Accountants must maintain objectivity, ethics, and honesty in their work since a firm's financial health and condition impact people both inside and outside the organization.
Read Also: Best Collection of Top Accounting Website Templates for Your Projects
Best Specialist Skills for Accounting Career Knowledge and Experience
Concentrating on a certain area of accounting helps professionals to learn more about the field and grow their customer base. Developing specialized abilities in the areas listed below can help an accountant become a significant addition to their clients.
Auditing for Analyzing Accounts: Auditing entails analyzing financial accounts for organizations or governments to ensure that no rules or regulations have been infringed. Those with auditing knowledge adhere to the Financial Accounting Board's General Accepted Accounting Principles (GAAP).
Financial accounting is concerned with maintaining track of an organization's financial statements throughout time. Accountants must be proficient in financial accounting in order to generate financial statements for use by C-level executives, board members, and stockholders.
Ethics would counts as the moral pillar which holds all the accountants liable in an ethical way. They might start by adhering to the International Code of Ethics for Professional Accountants. Accounting experts are aware of the rules, regulations, and ethical implications of various financial activities.
Business intelligence comprises leveraging the information rectify the company's workflow and averting inaccuracies and fetching the key performance indicators (KPIs). Business intelligence tools would get used by the accountants like data visualizations, to observe financial and operational trends and present this data to stakeholders.