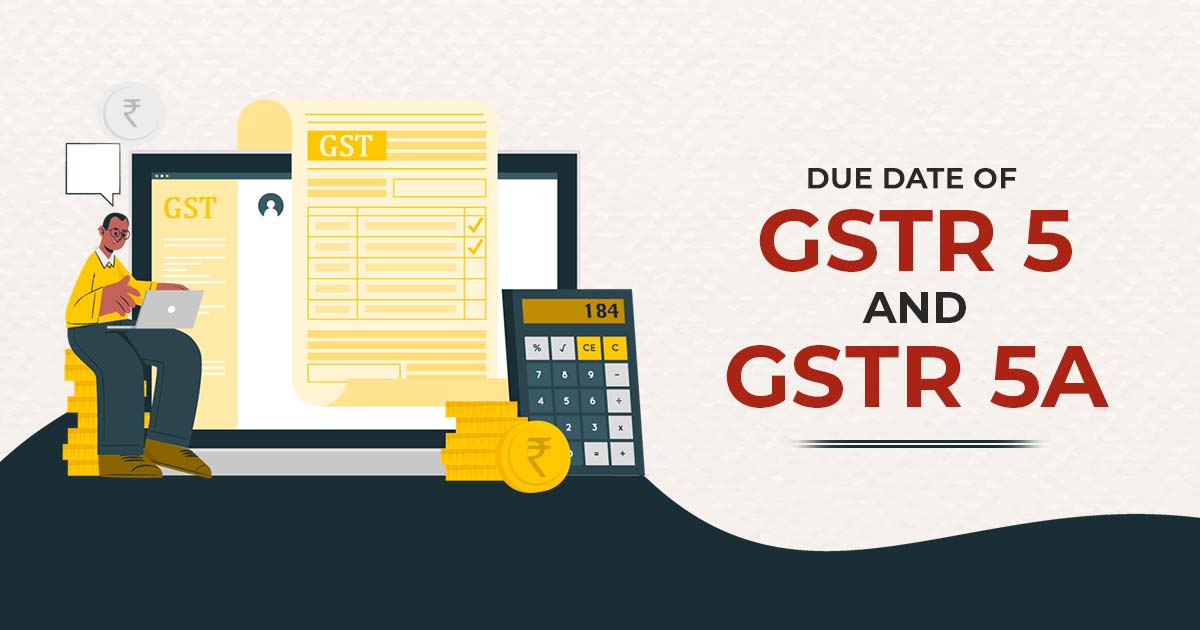 GSTR-5 is a return form for the person registered under the Goods and Services Tax(GST) and is a non-resident foreign taxpayer.
A summarized filing form, GSTR-5 is required to be furnished with detailing of inward and outward supplies and transaction details of a particular business for a non-resident foreign taxpayer.
The Non-Resident Foreign taxpayer is the person who doesn't own a business in India but supplying in India for a small period of time.
In that case, the person is liable to file GSTR-5 form and pay off the tax. Section 5A is a case under GSTR-5, here you can amend the details filed earlier. GSTR-5 includes a summary of information about details of the taxpayer, Imported Goods Details, Modification To The Imported Goods Details, B2B outward supplies, B2C Inter-state supplies, total Payable liability, and Total Tax Paid.
GSTR 5 Form Filing Due Dates For May 2019 To March To July 2020
| Period (Monthly) | Due Dates |
| --- | --- |
| January 2020 | 20th February 2020 |
| December 2019 | 20th January 2020 |
| November 2019 | 20th December 2019 |
| October 2019 | 20th November 2019 |
| September 2019 | 20th October 2019 |
| August 2019 | 20th September 2019 |
| July 2019 | 20th August 2019 |
| June 2019 | 20th July 2019 |
| May 2019 | 20th June 2019 |
GSTR 5A Form Filing Due Dates For July2019 to March To July 2020
| Period (Monthly) | Due Dates |
| --- | --- |
| January 2020 | 20th February 2020 |
| December 2019 | 20th January 2020 |
| November 2019 | 20th December 2019 |
| October 2019 | 20th November 2019 |
| September 2019 | 20th October 2019 |
| August 2019 | 20th September 2019 |
| July 2019 | 20th August 2019 |
Letest Update : "Issue of notice, notification, approval order, sanction order, filing of appeal, furnishing of return, statements, applications, reports, any other documents, time limit for compliance for GST due date extended from 20th March 2020 – 29th June 2020 to 30th June 2020." Read more notification