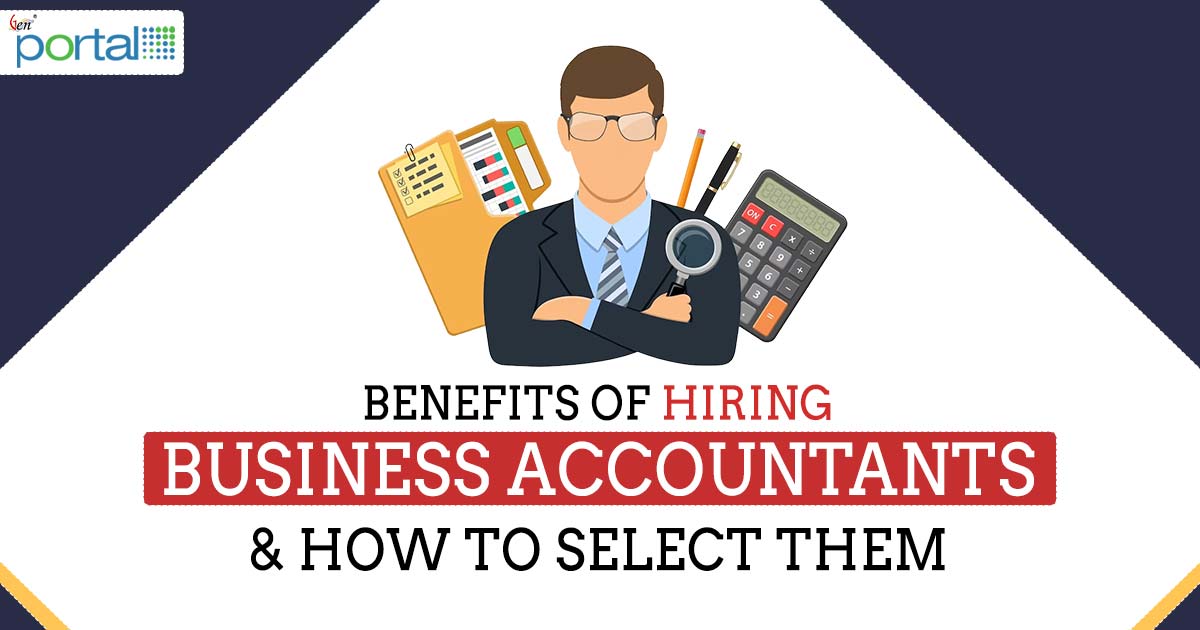 Do we really require a business accountant for our startup business and is it wise to hire one? The Good question needs to be answered.
When one thinks of starting a business, the first thing which comes to mind is finance. The lesser the Finance involved happier is the business person. But the most important factor is managing the business and accounts in such a manner that, the outcome of the amount invested should be profiteering.
In the current era, the number of freelancers and startup owners have considerably increased and hence has increased the requirement of business accountants. But, these new entrants in the business world believe that they themselves could handle the accounts and the Paperwork of the business themselves and look upon the business accountants as a very expensive affair.
But on the contrary, not hiring the business accountant for a startup business could in itself become the most expensive affair for such business personnel.
A good accountant is not just helpful in filing forms but, they prove to be the best advisors for carrying the business in the direction of profitability and thus providing the required platform for growth to the business. They create a business environment in which the unnecessary tax and the revenue tax deductions get prevented.
The Benefits of Hiring and The Roles Performed by a Small Business Accountant:
A good accountant could be very beneficial for any startup. They not only take care of the mounting paperwork single-handedly but also benefits the business in several other ways.
Let's discuss the major benefits of hiring a Business Accountant:
1) Time saviour
2) Access to information
3) A trusted advisor
4) Growth assurance
5) Tax reduction
1.) Saves Time for You
Business requires a lot of time and attention and for a business owner time is money. Hiring an accountant buys you time. The everyday affair is jotted down in the books of accounts of any business and maintaining complete monthly accounting chores is in no way a one hour task.
Again for an employee, the tax deadline is just one and thus could be easily remembered but a freelancer is supposed to file taxes on a quarterly basis. Along with this, there are a lot of client deadlines which is required to be remembered and if missed, fines and penalties would be charged by the IRS.
In order to get exempted from all the above-discussed problems, an accountant is a legitimate business expense.
2.) You'll have Access to an Invaluable Source of Information
The American tax code has been set up to benefit the businesses as businesses are job creators. The tax codes being complicated are not easy to understand and they are also dynamic and keeps on changing.
So, even if once you manage to understand the tax codes, after a short interval of time they get updated or changed. The business accountants keep an understanding of these codes and keep themselves updated. Thus, unless one is all aware of tax codes, he/she can't avail the benefits attached to it.
3.) Acts as a Trusted Advisor
As discussed earlier, it is quite difficult to keep separate track of personal and business expenses. The track maintenance gets worse when we deal in product mix. But a business accountant makes things easier for us and helps in maintaining separate accounts for personal expenses and business expenses thus prevent high IRS taxes.
Read Also: Why You Need A Chartered Accountant While Setting Up A Business
4.) They are a Help in Growing Your Business
A Business account acts as the best advisor to make your business grow by finding out the shortcoming dispassionately and advising the measures to bring back the business profitability on track. If hiring is required in the business setup, keeping the accountant with self during selection procedure would be beneficial for the appropriate selection.
5.) They are Tax Experts
If one has a clear knowledge of taxation, the tax liability could be reduced. There are a number of ways through which tax could be reduced. There are provisions and procedures which can be used on the Tax return day or throughout the year and with the help of which substantial amount of tax could be protected and could be utilised for business promotions.
Now Let us Discuss Some Other Areas Where Having An Accountant can be Helpful:
The role of the accountant is not just limited to balance the books but they provide a wide variety of services which could be vital for the startup business to succeed. A business advisor is the best person as a guide for a startup business.
Here we would be discussing some other measures through which a Business Accountant can profit its client's business:
1.) Business Incorporation
A business accountant after discussing the business objectives, finances, and circumstances would recommend you the best provision among the LLC, an S-Corp and a C-Corp. He will also explain as to what do they all mean and would file the required form on your behalf, thus making you free from tensions and burden. Also saving your time.
2.) Quarterly Taxes
The estimated taxes need to be paid on a quarterly basis.
As mentioned, business personnel need to pay estimated taxes quarterly. For the calculation of federal quarterly estimated tax, we need to keep a clear estimate of adjusted gross income, taxable income, taxes, deductions, and credits for that particular calendar year. But if we don't feel confident submitting these details, there is definitely a requirement of a business Accountant.
3.) Business Deductions
If a Businessman has a home office then, it could only be considered as legitimate if it falls under the IRS's definition of "exclusive and regular use?".
Exactly speaking, if the home office is being used as a guest room then the full home office deduction can't be made against it. The accountant takes to care for these small things.
4.) Financial Reports
If there is a business accountant hired to take care of the accounts of your business, he takes all the responsibilities related to accounts and provides you financial reports throughout the year so that you can make changes and adjustments where ever necessary.
As the business accountant provides you with the Financial statement every month end, thus chasing the clients for the outstanding amount is considerably easier as compared to chasing the client after a gap of many months, say nine months which sounds very problematic.
5.) Paying Salaries
A Businessman whose business is running in profit pays salary to himself or withdraws an amount out of the profit amount. Some withholdings also arise like for Social Security, Medicare, federal income taxes, and state income taxes if required. This addition complicates the taxation which could be understood by the accountant and would help you to deal with it.
6.) Managing Growth
It is a well-known jargon in the business world that 'too much growth too quickly can kill a business'.
Planning ahead is the most important strategy which should be adopted by a business which makes the picture clearer. By proactive planning, there remains a clear picture for if any new implication is done or any changes or additions to the product line has been made or any expansion which has been done in the business location.
Such planned business could be run only if there is a clear picture of the growth graph of the company, which is only possible with a good Business accountant.
The business accountant keeps a steep eye on the day-to-day affairs of the company and thus could be the best advisor for future planning for growth. Keeping a good accountant assures certain profit even if your company's core strategy is to make quick decisions and take the big risks. The accountant would be proved to be an asset in your team.
Read Also: Make A Successful Professional Identity Online With CA Portal
When We are Hiring An Accountant for the First Time:
Hiring a qualified accountant is the wisest decision for business but if we are hiring one for the first time, preference should be given to the personal recommendations. If the freelancer or the small business owner is a member of any professional organization then, the fellow members who are well aware of the requirements of his business could suggest the best.
Once got a lead, some other research work could be done.
1.) Check Their Experience
As we don't trust our health to an unqualified doctor, just like that we cannot trust our business to an unqualified accountant.
We have to check the qualification of the accountant by checking that whether the accountant is qualified through one of the main accountancy bodies, viz. the Association of Chartered Certified Accountants (ACCA), the Institute of Chartered Accountants (ICAEW or ICAS) or the Chartered Institute of Management Accountants (CIMA). We also need to check that whether he has a good backup for him for the time when he is unavailable and whether he has access to some specialist advisors or not.
2.) Find a Proactive Accountant
Proactivity is a saviour for always, especially when it comes to business. A good accountant supports his employer not just at the time of tax but all year round. In such a case where there is a small business, care should be taken for every minute thing and only a proactive accountant can assure for all the possible tax savings.
3.) Insist on a Fixed Fee
As you have just started your business, make sure for a fixed fee arrangement such that you don't receive a big itemized bill at the end of the month. Along with this, get the roles and responsibilities of the accountant confirmed and properly understand the services available under this arrangement, before he has started giving his services.
4.) Build a Relationship
Nowadays, freelancers and small business owners conduct business online. Also, there are many such accounting firms which provide accounting services online but this is not the best approach. You should be working closely with the accountant whom you hired and you also wish that the business accountant should properly understand the requirement of your business. Thus, you should be hiring someone, you would be comfortable working with and a sense of trust could develop between the two.
At any stage of a business, whether you are on the verge of entering the business world, or are newly incorporated, or have been running your business for some time, an accountant is always a good investment. The success of one's business largely depends on its business accountant.