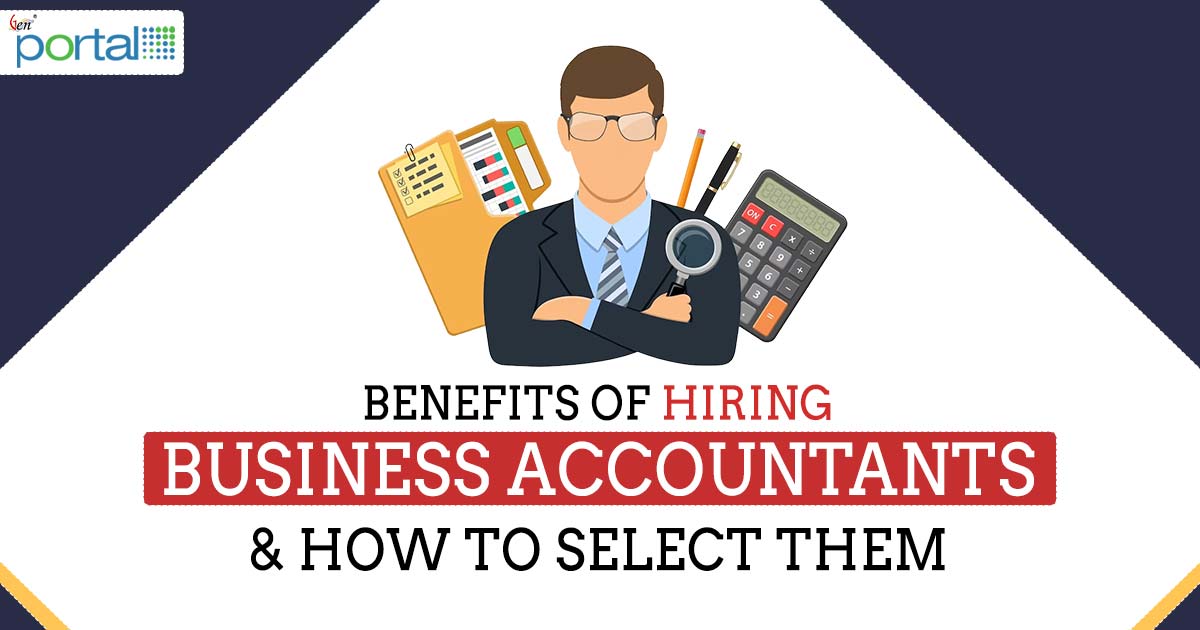 Small company owners frequently discuss the necessity of an accountant during tax season. However company owners may gain a lot from the professional knowledge of an accountant, who is educated to do more than simply "number crunch" and instead analyze financial data, present findings, and offer suggestions that may increase enterprises' profitability. Do we require a business accountant for our startup business and is it wise to hire one? Let's find out the needs to be benefits of a business accountant.
If you are unfamiliar with debits, credits, and tracking transactions, managing your company's finances might be difficult. But who says you have to do it alone? An accountant can provide you with the knowledge and direction you need to manage your finances properly.
Although employing an accountant is not required, they may be of huge assistance with tax preparation and financial record analysis. The guidance of an experienced business accountant may help you make decisions as your company expands and their counsel could mean the difference between success and failure.
An accountant transforms financial judgment and guarantees legal conformity. They manage payroll, financial reporting, and bookkeeping with unrivalled efficiency.
In order to maximize compliance and achieve large savings, accountants understand tax legislation. They offer priceless financial insights and strategic counsel, fostering corporate success via well-informed choices.
Accountants help build a solid foundation for success by fostering long-term development and stability. You may focus on your core company activities while saving time and lowering stress by delegating financial responsibilities to an accountant.
This post is for entrepreneurs and small business owners who want to employ an accountant for their company.
How Does An Accountant Help Businesses?
An accountant for businesses looks through the books and creates accounting reports. They guarantee that your information is accurate and that your small company taxes are paid accurately and on time. A few accountants could additionally offer bookkeeping services
The following are some of an accountant's obligations:
Determine each tax deduction to which you are eligible.
Before they have a chance to ruin your company, be aware of issues like vanishing inventory, rising expenditures for goods or equipment, or clients who don't pay their invoices.
Implement cash flow management techniques to keep appropriate cash flow levels.
You may identify prospective growth opportunities by examining pricing, cash flow patterns, inventory control, and small company finance choices.
Prepare the financial documents required to obtain the finest company loans and investments.
Prepare your tax returns effectively and as soon as possible.
Advantages of Hiring Business Employing Accountants
Hiring a business accountant can offer numerous advantages for your company's financial management and overall success. Here are some key benefits:
Expertise and Knowledge: Business accountants are educated experts who possess a comprehensive knowledge of accounting concepts, tax legislation, financial regulations, and industry best practices. Their knowledge can guarantee precise and legal financial record-keeping.
Financial Planning: Accountants can help you develop a thorough financial strategy that supports your company's objectives. To assist you in making wise choices, they may offer insights on forecasting, cash flow management, and budgeting.
Tax Compliance: Business accountants are knowledgeable about tax rules and can guide your firm through the confusing maze of tax requirements. They may help you reduce the danger of fines by maximizing your tax planning, locating deductions, and ensuring timely and precise tax files.
Cost Savings: Although engaging an accountant has a cost, their ability to find possible cost-saving options can easily surpass their expenses. They can assist you in avoiding financial traps, pinpoint areas where spending may be cut, and increase your profitability.
Time Savings: It can take a lot of time to manage financial chores, especially for small business owners. You may devote more of your time to strategic planning and the core operations of your organization by giving these duties to a trained accountant.
Financial Reporting: Accountants can provide precise financial reports that are analytical and give a clear view of your company's financial situation. Decision-making, investor relations, and obtaining loans or investments can all benefit from these studies.
Audit Preparation: If your company is subject to an audit, having an accountant on staff may make the process much simpler. Your financial records' accuracy, organization, and conformity with auditing requirements may all be guaranteed by them.
Business Growth: You may decide wisely regarding development prospects like investments and expansion with the help of an accountant. You may handle possible risks and benefits with the assistance of their financial experience.
Risk Management: Accountants are able to recognise possible financial dangers and provide ways to reduce them. Improving financial procedures, controlling debt, and establishing internal controls are some examples of this.
Strategic Advice: Business accountants may offer insightful strategic counsel in addition to merely crunching statistics. They may provide information about market benchmarks, financial trends, and chances to strengthen your competitive edge.
Financial Software Execution: Accountants may have experience with a variety of financial applications and instruments. They may assist you in putting accounting software into place that streamlines your financial procedures and makes managing day-to-day activities simpler.
Credibility: Having a qualified accountant on staff gives your company credibility, especially when speaking with key stakeholders like investors, lenders, and partners.
Read Also: Accounting Industry Websites to Help Tax Accountants
What Method Would You Opt to Find a Business Accountant?
You would be required to apply the best methods in order to opt for the correct financial professional for your requirements if you see that a small business accountant could assist.
#1. Choose What Assistance you Require from your Accountant
What are you hoping your accountant will do for your company? While some accountants prefer to work on more general company activities, others are happy to perform bookkeeping. It can be more economical for you to select an accountant or company that simply offers the services you want.
#2. Compare your Requirements to What an Accounting Company has to offer
There's no need to settle when it comes to the services offered by an accounting business meeting your demands. There are several companies, so you're likely to discover one that meets all of your requirements. Consider the following, for instance:
Did you require bookkeeping services? Look for an accounting business that offers both services if you want a bookkeeper to handle routine daily or weekly bookkeeping tasks and an accountant to tackle more significant financial difficulties.
Do you keep your own books? Find an accountant who works periodically (weekly, monthly, or quarterly), produces statements, and evaluates your business's financial health if you keep your own books.
Do you require a certified public accountant (CPA)? Consider working with a CPA if you want more comprehensive financial assistance. CPAs are tax professionals who can file your company's taxes, respond to crucial financial inquiries, and do much more.
#3. Find the Perfect Accountant by doing the Proper Research.
There are several platforms and techniques you may use to obtain skilled experts while looking for a good accountant. These are a few Think about using the following resources to locate the ideal accountant for your company:
LinkedIn– You may look for accountants on LinkedIn, a website for professional networking, and check their profiles, client testimonials, and job history.
Indeed– On the job-search website Indeed, you may post job openings and look for accountants depending on their geography and expertise.
Upwork– On the basis of their qualifications, experience, and client testimonials, freelance accountants may be hired on the Upwork platform.
Freelancer– Freelancer lets you publish accounting tasks and engage independent accountants, much like Upwork.
Local Business Directories: Local accounting businesses and experts can be found in conventional business directories like the Yellow Pages.
Chamber of Commerce: There may be a list of recommended accountants involved in the business community at your local Chamber of Commerce.
Industry Forums: If you work in a particular industry, joining forums or online groups for that business may help you get in touch with experienced accountants.
Facebook Groups or Subreddits: Join relevant Facebook groups or Reddit threads where experts in the field of accounting debate essential subjects. Accountants could be willing to assist.
QuickBooks ProAdvisor: If you use QuickBooks, you may access qualified experts familiar with the software through their ProAdvisor directory.
#4. Inquire About year-round Services from Prospective Accountants.
A competent accountant should be active in your company on a daily basis, not only during tax season. By effectively building up and organizing financial goals and processes, they may dramatically boost your bottom line.
#5. Make Face to Face Contact with Accounting Prospects.
A possible accountant or accounting business should provide year-round services, so check this. Services that monitor your money throughout the year will help you make better decisions, maintain accurate financial reporting, and be more efficient when it comes time to file your taxes.