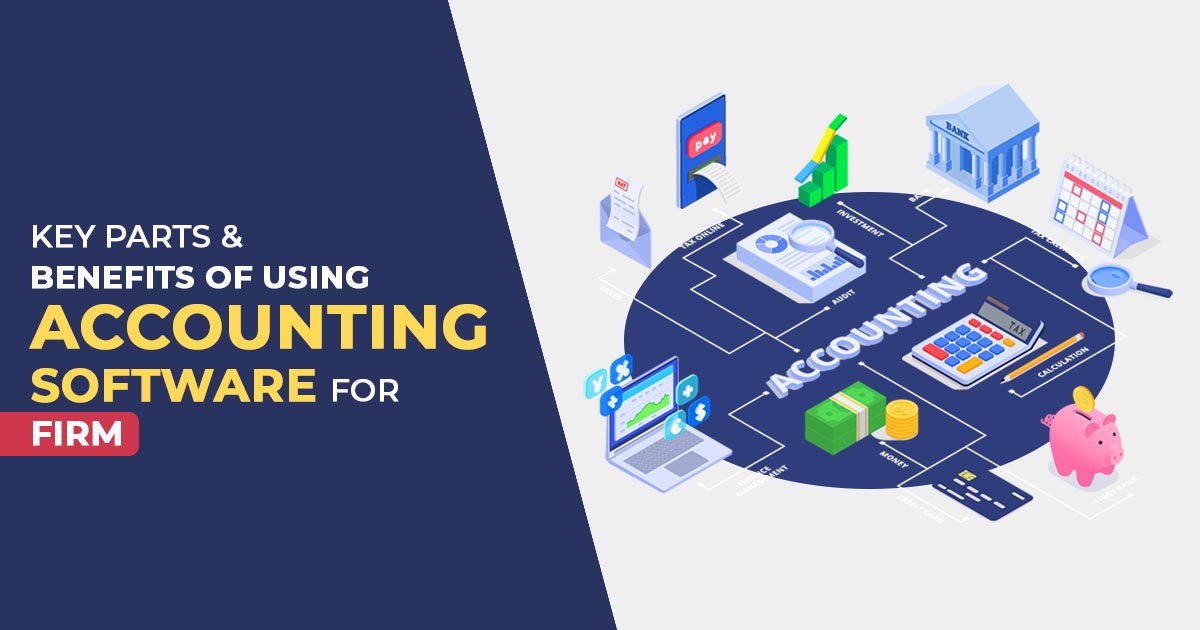 It is hard to manage the companies finances and is also a cause that why people need accounting software which assists you to monitor your money as it flows and out of your accounts. The quality program can save time which lessens the time you spend entering your information into the system.
Accounting software can do chores such as invoicing your customers, recording the payments you get, and accompanying up on past-due receivables much more comfortably and quickly.
But the features of the software differ through the outsourcer. However, some system just gives the ordinary features permitting to record what shall come and what goes out, and the other firms provide much more advance tools, automating chores you shall need to perform it manually like transfer of daily information via bank feed, reconciliation and recurring invoicing.
What is Accounting Software?
An accounting software poses a tool that assists you to record the circulation of the companies money and determine the financial conditions. Through that, you can record the transactions, generate reports, manage customer and vendor contacts, create purchase orders, track stock levels, bill customers, and monitor account balances.
"Using an accounting package will help organize your records and 'force' you into a systematic structure," Ken Stalcup, senior director with Houlihan Valuation Advisors, told business.com. "That will put the company's finances into a system that can report the financial results and help when it comes to tax time."


Why Use Accounting Software?
By practicing the accounting software shall save time for your firm and limit errors.
"The main benefit of using modern accounting software is efficiency," said Fabien Dawidowicz, CFO of Spendesk. "Instead of copying and pasting data from spreadsheet to spreadsheet, you have all your transaction information in one place. You can easily see what's been spent or what's come into the business, and you always know where to find this information."
Instead of inputting the data manually and transactions you are enabled to use the bank feed specifications to link the software to your business bank and credit card accounts. Through this, you shall be updated with your daily transactions. Most accounting applications pose a dashboard that provides a real-time look at your most significant metrics.
The software builds a variety of reports and financial statements which consists of profit and loss statements and the balance sheets that is mandatory for urging funding through the investors. You should also distinguish transaction activity or statements as from before months and the years to your present ones that assist you to determine the growth of the business, sales trends, and additional key metrics that an organization required to make decisions similar to your preparation of the future.
Read Also: How Chartered Accountant Helps Improving Business Growth
Accounting software can be practiced to classify the expenses and schedule and furnish the bills, If you pay online through checking, or through credit card, or by cash. This shall be assistive to you to keep the track of those transactions and handle your cash flow.
You can also use the software to record the payments that you have been obtained in cash or through check generate and send the invoices and past-due notifications.
Accounting software automates various monotonous and repetitive accounting tasks that raise the accuracy of the information of your data and make the record effective.
Advantages of Accounting Software?
The accounting software does not pose any important evil. It gives a lot of features which can assist you to run the business in a simpler way. From automating invoices to posing the top of the flow of cash there are some advantages that your business can avail from the accounting software.
Maintain control of your finances: Handling personal finances is one thing but you require something more formal when you are running a business. You cannot implement your work with pen and paper as it does not give you insights that accounting software can. It saves data in one location. It provides a full view of your performance of the business financials in real-time.
Automate invoices: For maintaining the cash flow and your business grow you should give bills to your clients on time. It will create hurdles for you to collect it if you wait for a longer time. There are various accounting software programs that will let you automate invoicing.
Track expenses: Cash values more for the smaller business. The last thing you urge is to face the cash flow storage as expenses are out of stroke which the accounting software can assist you to prevent from that scenario with the help of automating expense tracking.
What are the Features of Accounting Software?
It is mandatory to note which tools and features to look for when you use a system. Double-entry accounting is used by all the online accounting software so as to make sure that it is accurate and poses the accounts receivable, accounts payable, banking, and reporting characteristics. This also consists of inventory management, project management, time tracking, and payroll tools, while these features are ordinarily in higher-tier plans or add-ons that cost extra.
in concern to all the professionals consisting of Chartered Accountants, Company Secretaries and Human Resource Managers. Our CA software like Gen Income tax, Gen TDS, Gen XBRL, Complaw and Gen GST are made for those who have all the information and compliance. more than 45k customers are practising our Gen Genius and Gen Income tax software.
Below is the special objective of accounting software.
Accounts receivable:
The accounting software systems enabled to manage the billing, monitoring of what customers owe accounts receivable, or A/R) and their payments.
Automatic invoicing
It ensures the revenue shall never get late as you have been forgotten to send out an invoice.
Read Also: Best 10 Rules For to Strategies for Developing Customer Service in Your Accounting Firm
Which features of reporting does accounting software brings to clients?
There is a difference between the quality and quantity of the reports that the system can create. Some provide a range of reporting options through virtually unlimited categories. While others propose the basic reports: money in and money out. Below are some effective choices.
Standard reports
The accounting system must have the property to create the customary reports needed in business, which consist of income statements (profit and loss), balance sheets (assets and liabilities), statements of cash flow, accounts receivable, accounts payable, and payroll summary.
Customizable reports
A system that enables the customizable reporting options which permit you to build and compile any report as per your aspect. See the system which allows you simply to add or eliminate the columns in the standard reports, resize column widths.

What is the term advanced accounting software features?
The online accounting software manages the process of financial management by giving you a single platform to regulate the coming business scenarios.
Shipping
Accounting software manages the shipping process for online retailers and businesses that sends the goods through couriers or people.
Inventory management
An accounting system through stock and inventory management can handle your business in a better way, it assists you in determining what you pose out in the stock what is needed to order, and on which thing you spend your buying budget.