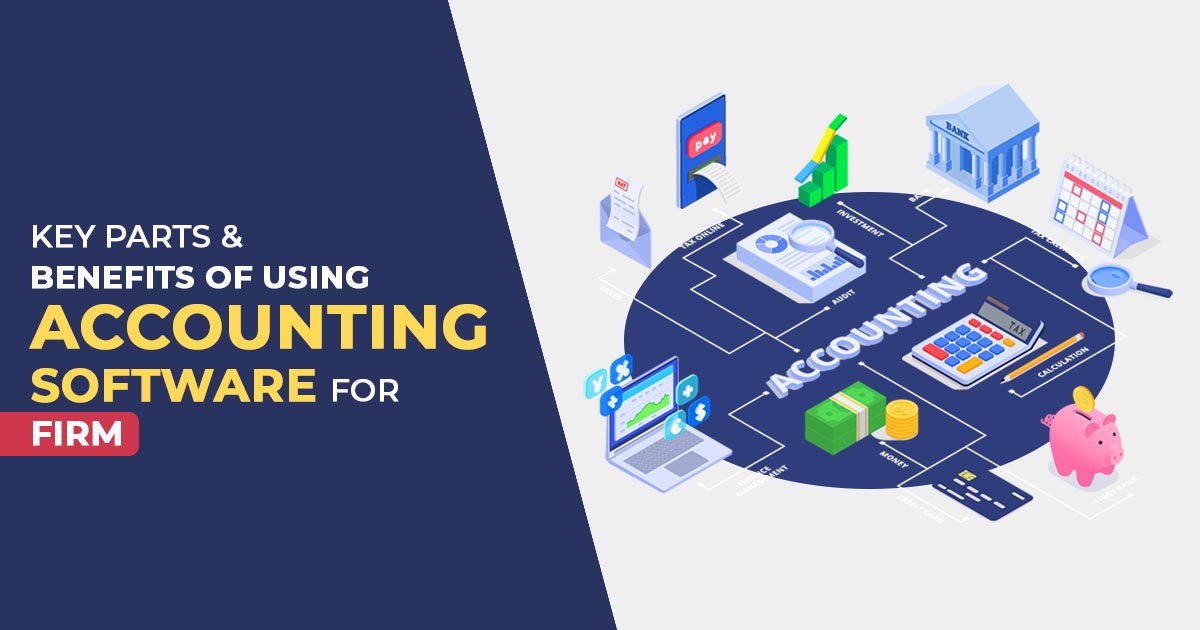 For any firm whatever the size of the company or sector accounting software is effective. A number of financial software development over 10 years has been surged for developing the accounting software for the companies. Consequently, what was once a straightforward task of choosing a high-performing accounting system has now become notably challenging. This complexity stems from the variability in manufacturing quality and the differing levels of functionality and scalability offered by various suppliers. Conversely, certain suppliers offer a wider range of scalability options.
The task of selecting the right functionality and the best accounting software for your organization becomes more straightforward when one possesses knowledge about and a full understanding of the significance of such a solution.
Let's now delve deeper into why it is critical to have an accounting system in place for your organization.
#1. What is Accounting Software?
Modern accounting software goes beyond traditional bookkeeping, offering automation for your finance management that significantly reduces the time spent on repetitive tasks like handling payable amounts, billing, invoicing, and reconciliation.
Effectively managing your business finances requires versatile accounting software capable of tracking the flow of funds into and out of various accounts. To enhance efficiency and save time, our software is designed with a wide range of functions, including client program management, customer invoicing, accounts receivable records, and managing outstanding dues. With clear, transparent, and user-friendly software, your balance sheet becomes more straightforward, and cash flow management becomes more efficient.
#2. Features of Accounting Software
The software must handle various financial data, including bank accounts and statements, making it essential for the accounting system to stay up-to-date. Whether you're a small startup adopting accounting software for the first time or a large enterprise contemplating the development of an accounting software solution, it's crucial to incorporate key features such as basic billing, invoicing, payment processing, electronic tax payment, payroll management, and inventory management to streamline your operations.
A robust accounting software solution should fulfil all customer prerequisites, especially considering the sensitivity of the information involved. Features like secure payments, electronic tax payments, managing business transactions, invoicing, and other functionalities are highly sought after in accounting software. These features enable businesses to optimize their financial operations, ensuring faster and more efficient results.
Let's explore the essential features that can make a significant difference for your business and determine what your company needs for smooth and successful operations.
General Ledger: Records All Financial Transactions
Fundamental features of accounting, such as general ledgers, charts of accounts, invoicing, tax management, account reconciliation, accounts payable, accounts receivable, payroll and financial reporting, and payment records, should be integral components of any accounting software. These features also play a pivotal role in ensuring compliance with financial regulations, including state-specific laws governing aspects like online sales tax.
Effectively incorporating all these accounting functionalities into software necessitates a combination of intelligence and domain expertise to discern what is essential and what is superfluous. The general ledger serves as the software's core, housing critical information central to financial transactions. It operates akin to traditional bookkeeping by overseeing data entry and generating reports. This robust system adeptly manages an array of details, ranging from initial financial statements and tax computations to bank statements, account balances, cash flow management, accounts receivable (AR), and accounts payable (AP).
Additionally, the general ledger includes pertinent information about third-party vendors, encompassing details such as bank accounts, payment methods, invoices, advance payments, and various other financial processes.
Read Also: Accounting & Taxation Software For CA and Business Professionals
User-Friendliness
Accounting software typically serves a wide range of users and doesn't favour any specific industry. Customer needs and preferences may vary across domains and sectors. However, when you decide to develop your custom accounting system, it's essential to choose one that is user-friendly and intuitive, accessible to all your staff members, regardless of their accounting or technical expertise.
Additionally, your selection should be flexible and practical. We recommend options that offer versatile reporting features, allowing your team to generate reports tailored to your company's specific requirements and objectives.
Analysis and Report
Key attributes that must be inherent in a high-quality cloud-based ERP accounting and finance software include the capacity for analysis and reporting. The fundamental necessity of maintaining well-organized records is crucial for any business, enabling the analysis and reporting of crucial financial information. Having easy accessibility to these records streamlines important tasks and facilitates meetings within organizations. During decision-making processes, this capability for analysis and reporting proves invaluable, assisting management in conserving valuable time and alleviating stress.
This particular feature of accounting software carries significant importance, as it empowers users to monitor and oversee financial reports while ensuring the utmost confidentiality. This functionality allows for real-time tracking of essential data, ultimately contributing to the development of exceptional accounting software.
Automatic Updates & Scalability
When creating software, it's crucial to adopt a forward-looking approach. Technology is constantly evolving, with daily innovations aimed at streamlining business operations and accelerating management processes. It's essential to anticipate that customers will need to upgrade their technology over time, and therefore, your accounting software should be designed to maintain a balance in managing finances, vendors, and expenses effectively. This well-designed software will provide long-term benefits to your business.
Ideally, accounting software should have the capacity to grow alongside your company as it expands and becomes more prosperous. It should possess the ability to adapt autonomously or receive rapid updates to accommodate an expanding user base and increased transaction volume. A growing amount of data, a large portion of financial data, has to be automated using specialized tools or software.
Billing and Invoicing & Payment Processing
Invoicing and payments should be efficiently managed using the accounting software that was created. Like knowing how much money you owe someone or whether you owe someone money. You can analyze the amount that is owed to you with the use of such software. You can print invoices using every accounting software, and most of them also let you email them.
Your system should be able to recall the fundamental customer data, including names, addresses, account numbers, and common words. Since most modern business is now software-driven, any company must have systems with advanced functionality. especially when it comes to managing finances and accounting.
Mobile Usage
Mobile-friendly accounting software is no longer a luxury only big businesses can afford. enterprises now offer their clients the mobility of their enterprises as the new standard. Android and iOS applications are present in the majority of online accounting software. Some of the mobile applications might just be able to help you keep track of your spending. While others might be able to create and send invoices as well.
Security
The accounting department always holds sensitive and important financial data, and we may assume that it is aware of any company's trade secrets. Therefore, it is essential to keep the data secure and protected. It is recommended to create accounting applications for mobile platforms that have the highest level of security and scalability. Security is a key and essential component for every organization. Therefore, while choosing accounting and financial software, make sure to prioritize data safety and security.
Accounts Payable
We've previously covered the feature related to the general ledger, which highlights the significance of accounts payable within the payment process. By incorporating this feature into your accounting software, you'll gain access to comprehensive vendor information, systems that manage outgoing business transactions, and a means to monitor the company's outstanding obligations. These three aspects are pivotal in the accounts payable context.
Purchase Orders: This section keeps a record of all orders along with associated quotations, ensuring a systematic tracking process from initial purchase inquiries through to payment, even if the processing methods may vary.
Automatic Payments: This component manages scheduled payments, meticulously recording details such as bank drafts, transferable amounts, invoice data, and related information.
Credit Memos: Often, credit notes are issued to vendors, and businesses may overlook tracking them, potentially leading to financial data discrepancies. Developing accounting software can rectify this by effectively monitoring and controlling vendor credits, ultimately providing a clear understanding of the business's profit and loss.
Identify and Prevent Errors
When employing accounting software, accuracy and transparency are both guaranteed. A trustworthy solution is created and developed to deliver data promptly, perform calculations accurately, and remove errors. As a consequence, you can anticipate that the financial progress of your business will be transparent and simple to understand. You'll be able to create initiatives and plans that are customized for the company's requirements as a consequence.
#3. Key Benefits of using Accounting Software for Businesses
If you haven't already decided to purchase accounting software, the moment has come, I'm very sure. I'd like to share a few advantages of accounting software here. Your software must, first and foremost, support multiple log-ins. In addition, I'll highlight a few advantages of using accounting software below.
The data-entry process proves to be both straightforward and efficient.
You'll receive detailed and comprehensive financial reports.
The decrease in manual errors facilitates more accurate decision-making.
Time for the Approval of invoices and cash disbursements gets diminished.
Numerous departments have access to centralized accounting data.
This system enables adaptability and scalability.
In summary, you'll receive timely and informative financial reports.
I could go on and on listing the advantages that accounting software provides. The several reporting possibilities that accounting software provides, for instance. Fortunately, there are several reporting choices available, including conventional reports, reports that may be customized, graph summaries, subsidiary reporting, cost prediction, and more.
You might wonder, "What sets these two apart?" Standard reporting in businesses involves generating predefined documents like income and expense statements (profit and loss), trial balance sheets (assets and liabilities), statements of cash flow, as well as summaries for accounts receivable, accounts payable, and payroll. On the other hand, customizable reporting allows you to craft and assemble reports tailored to your specific needs. It's essential to select a system that grants businesses the flexibility to add or remove columns from standard reports, adjust column widths, and save custom report templates for future use.
Before embarking on your search for the ideal accounting software, it's crucial to conduct a thorough analysis of your business's needs and requirements. A clear understanding of the specific functions the software must perform is essential.
Accounting software offers organizations a variety of advantages, revolutionizing financial management procedures and promoting expansion. Businesses may improve their financial management procedures, make wise decisions, and spur development in an increasingly competitive company environment by using the capabilities of an accounting system.
Many businesses use accounting software because of its benefits to automate processes including data input, processing invoices, and reconciliation. A recent study found that 30.77% of companies spend between $2,000 and $5,000 per month on accounting software (Softledger, 2022).
Let's delve into some of the key benefits of accounting software:
Time and Cost Savings through Automation
Accounting software simplifies and automates repetitive and time-consuming tasks like data entry, invoice processing, and financial reporting. This automation significantly reduces the need for manual labour, saving valuable time and enabling employees to focus on more strategic activities. Additionally, by streamlining processes, businesses can achieve cost savings, reducing the necessity for additional staff or outsourcing.
Improved Accuracy and Reduced Human Errors
The potential for human errors in financial processes can have significant repercussions. One of the most valuable advantages of accounting software is its ability to minimize the risk of errors through automated calculations, ensuring consistent data input, and flagging discrepancies. With precise and dependable data, businesses can make well-informed decisions, maintain the accuracy of financial records, and establish trust with stakeholders.
Enhanced Financial Visibility and Decision-Making
An accounting system provides real-time access to financial data, empowering businesses with current insights into their financial well-being. Detailed reports and dashboards facilitate effective analysis of revenue, expenses, and profitability, enabling data-driven decision-making. This transparency allows businesses to identify trends, seize opportunities, and promptly address financial challenges.
Streamlined Financial Processes and Improved Efficiency
Accounting software accelerates financial procedures with functions including automated invoicing, bank reconciliations, and spending monitoring. This streamlining improves operational effectiveness, lowers human labour requirements, and gets rid of bottlenecks. Businesses may more efficiently deploy resources and concentrate on strategic goals by getting rid of manual chores and cutting down on administrative overhead.
Compliance with Accounting Standards and Regulations
Businesses can benefit from accounting software's advantages, such as simpler legal compliance. Accounting software aids companies in remaining compliant with tax laws, accounting standards, and financial reporting restrictions. The software makes sure transactions are accurately recorded, produces reports in compliance with regulatory requirements, and helps with tax filing and computation. Businesses may avoid fines and preserve a solid financial image by being compliant.
Better Collaboration and Communication Among Teams
Accounting solutions make it easier for many teams, including management, operations, and financial teams, to work together seamlessly. Centralized access to financial data encourages openness and makes it possible for efficient communication. A collaborative atmosphere that promotes organizational performance may be fostered by teams working together on budgets, forecasts, and financial objectives.


Closure
The complexity and features of accounting software can vary significantly from one business to another. This variation depends on whether the user is a sole proprietor seeking a simple, single-system solution or a large organization in need of a comprehensive software suite.
Customization is also an option in accounting software development, allowing businesses to incorporate industry-specific components and tools to address their unique needs. Accounting applications can differ in terms of their utility, pricing structure, user capacity, and transaction handling capabilities.
Feel free to reach out to us to create a tailored accounting software solution that perfectly suits your business requirements!