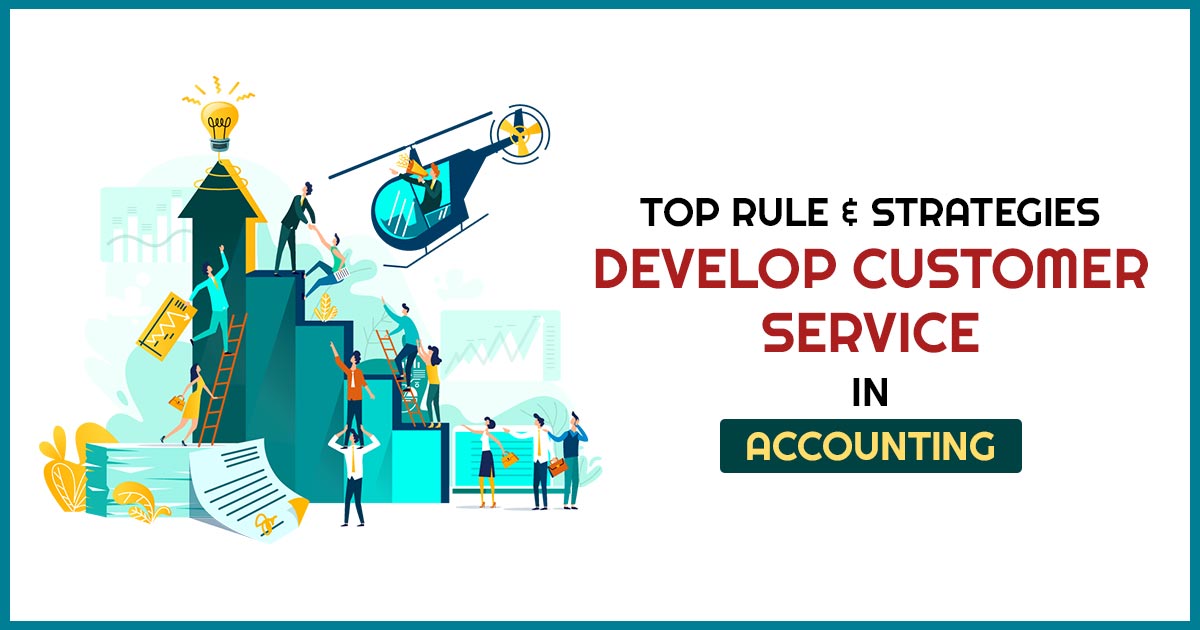 In this techno-oriented world, technology is evolving everything and making things and processes faster, flexible and easier. It is reshaping the traditional work methodologies, thus how the world of accounting can remain untouched from these changes?
The accounting field has an expanded range of services and according to the client requirements accountants have to provide these services to their clients. Technology actually evolved every single part of it, and where an accounting firm is small or large they are adopting new ways of working to stay ahead of their competitors.
According to a research report, bad customer service is the major reason for clients willing to change their CPA firm. Even the long-term customers may look for another firm if they feel that they're not being valued. Thus Customer service is really important and if the firm fails to take care of it, it can cost your firm in terms of revenue and potential referrals.
So, How can an accounting firm provide best customer services to their customers? how can it make the relationship with their existing clients better? These two important questions are answered below. We actually shared some strategies that can help you to improve customer service which would help your firm and clients.
Time and again, Chartered Accountant Firms have to face up the challenge of attracting new clients as well as retain old ones.
If you are the owner of a CA Firm and have been faced with the dilemma of attracting new clients while subsequently meeting the demands of existing clients, this blog is for you. Most corporate accounting firms find it challenging to meet the ever-increasing client expectations. This hampers not only the auditor-client relationship but also the repute of the accounting firm.
CA Firms opt for a wide list of lead generation services. Although they are effective at first, in the long run, the move backfires. A major reason for this is the tradeoff that Chartered Accountant Firm do in the race to acquire clients. This raises false hopes and expectations among clients.

Strategies for improving customer service For Accounting Firms to Not Just Build Clients But Also Relationships :
#1. Customer-oriented Culture
Firms must foster a customer-oriented culture and build a reliable relationship with customers and stabilize your reputation as a brand that delivers more than customers expectations. According to research, 81% of customers believe that the experience the company provides is equally important to its products and services. Instead of focusing solely on bookkeeping and annual audits, firms also have to provide a personalized and engaging customer experience.
#2. Hire Diverse Skill Sets
Accounting firms seeking to cater to all the needs of their clients will require a team with a wide range of skill sets. A good option is to get rid of traditional accountant skills and hire creative thinkers, strong communicators, technical innovators and project managers. The more diverse the workforce and the mastery in its skills, the more well-crafted the firm is to suit customer needs.
#3. Understand the Client Journey. 
With changing customer attitudes, there are far higher expectations today in terms of services and resources than it was just a few years ago. According to a report published in 2018, accounting firms also have to spend some time understanding the customer journey, building trust and communicating regularly, Instead of just focusing on the bottom line,

<
#4. Personalise
In this busy and fast-moving world, customers want to access the details as quickly as possible their accountant holds along with the many different types of services. Instead of providing traditional, predicted and defined set of services, firms can provide additional services such as business development consulting for high-paying clients. It will enable clients to choose the services they want, resulting in personalized service and positive experience.
In this digital age, there are also various cross-channel means to attract potential clients as well as gain substantial endorsements.
#5. Deliver Indispensable Services. 
Accounting Firms should focus on efficiency and modernize their work process. They have to look for the time-consuming processes that slow down the complete process and hold accountants back from doing their job, one of such work/ processes is as manual data entry. Emphasis should be on the quality and authenticity of work and the value derived from it, rather than the number of hours invested in each project.
#6. Communicate Regularly With Your Clients
To stay up-to-date and aware of your clients' requirements and future plans, and avoid wrong assumptions about things they may require. You should talk to them directly, it is necessary to interact with your clients regularly and understand their needs, plans, reviews, and services they want. You should make everything very transparent and also help them to understand things that are working and things that need some improvement.
Read Also: What is The Reason Behind CA Needing a Professional Website
#7. Be Proactive in Offering Services
Normally most accounting firms wait for the clients to contact them and then they respond to client issues once they occur. For better results for both sides and faster growth adopting a proactive approach will be awesome. It will ultimately improve your accounting firm's customer service. Additionally, your client will be aware of all the services you are providing. So it is a win-win situation for both in the long-run.

#8. Leverage Technology
Modern-day technology can do wonders for accounting firms. It can save valuable time and money and also improve the process and speed of all the work. From Softwares to the latest high-end computers and mode of communication, you as an accounting firm should utilize the latest technology to ensure that all the requirements of the client are met.
#9. Build Trust
For good customer service, building trust is one of the most important aspects. Clients would not stick to a firm for so long if they don't trust. However, it is not as easy as it may sound, building trust and mutual understanding take a lot of time and effort. Thus make sure that you are providing quality services/ good and then start building trust with top-class customer service. Time to time updates, surveys and feedback and working on them will help you to build that trust.
#10. Offer Timely Response
To provide Good Customer Service, an accounting firm has to take care of various things. Speedy response time is one important factor because clients don't want to wait. Whenever they contact your customer service department they want their issue to be resolved and they come up with some expectations. You can also utilize quick options, automatic response, time-based email-alert and chatbots to provide them with speedy customer services.
In the end, we can say that accounting firms should strive to be necessary partners in daily operations to foster long-term and lasting relationships for their clients' businesses. We just provided 10 top strategies for improving customer service in your accounting Firm but there are many more things you can do to achieve success. Just keep in mind that for a long term goal you need to work on the basics and build trust by delivering services on time and as per requirements.