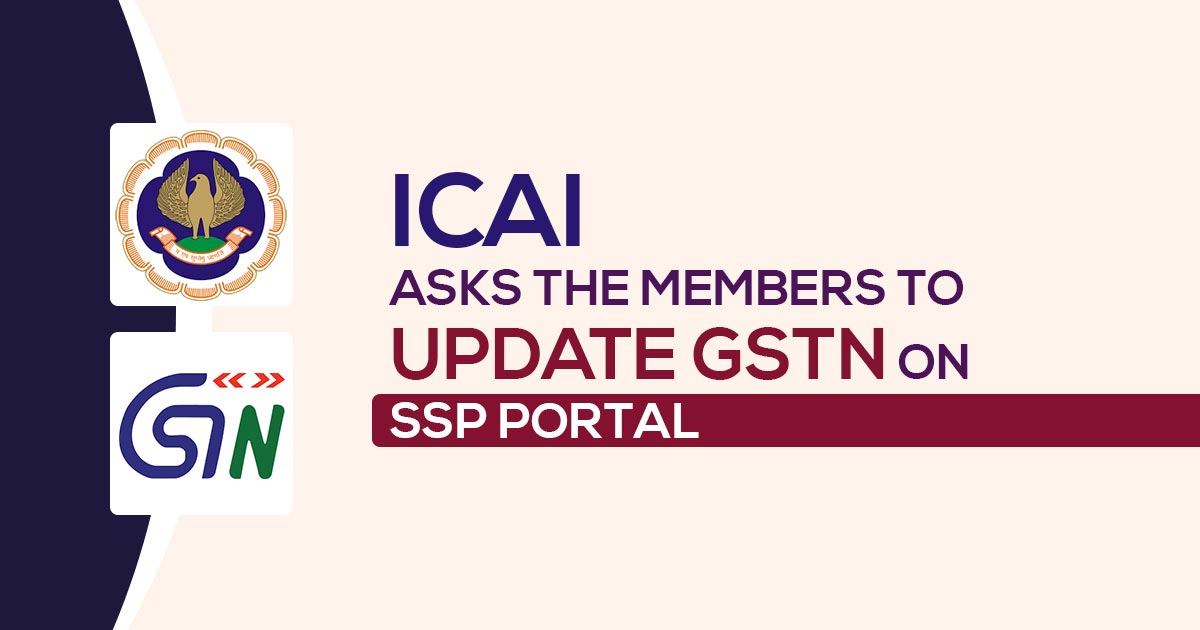 The Institute of Chartered Accountants of India (ICAI) asks its members to update GSTN – Goods and Services Tax Network (GSTN) on Self Service Portal (SSP) Portal for the issue of Tax Invoice
GST tax bills shall be obtained by the chartered accountant (CA) members in April month 2023 for the membership fee and the certificate of the practice fee because of the FY 2023-24. For enabling the same system to fetch the mentioned data in the tax invoice, the members would have been sought to update their profiles on the SSP portal with the GSTIN of the CA firm/LLP where they would be the Proprietor/Individual, Partner, or Paid Assistant. The same must be learned that the tax invoice could merely comprise one name of the CA firm/LLP and its GSTIN. 
Latest Update: The Institute of Chartered Accountants of India has extended the deadline until April 23rd, 2023 for updating the Member's profile with the Goods and Services Tax Identification Number (GSTIN) on the self-service portal. Members requested an extension of the deadline based on their request.
official Annocumcent: https://www.icai.org/post/extension-of-last-date-for-updation-of-memprofile-with-gstn-at-ssp
Read Also : ICAI: Annual Membership Fee/Certificate of Practice Fee and GST
How Do I Submit my GSTIN Through the SSP portal?
The procedure to submit the GSTIN on the SSP portal would be:
Access SSP
Use the "Profile Update and Edit the Member's Profile" section.
Tick the GSTIN Update box.
The Firm Nos for Partners and Paid Assistants will be listed.
Choose the pertinent option.
Provide your personal or the company's GSTIN.
Upload your GSTIN card or certificate, then generate an OTP.
Within seven working days, the modification will be authorized.
Members must update their profiles before April 15, 2023. Any modifications filed after the deadline will not be used for computing the tax bill for the fiscal year 2023-24.
Read Official Annoucemnrt by ICAI: Updation of Member's Profile at Self Service Portal with GSTIN