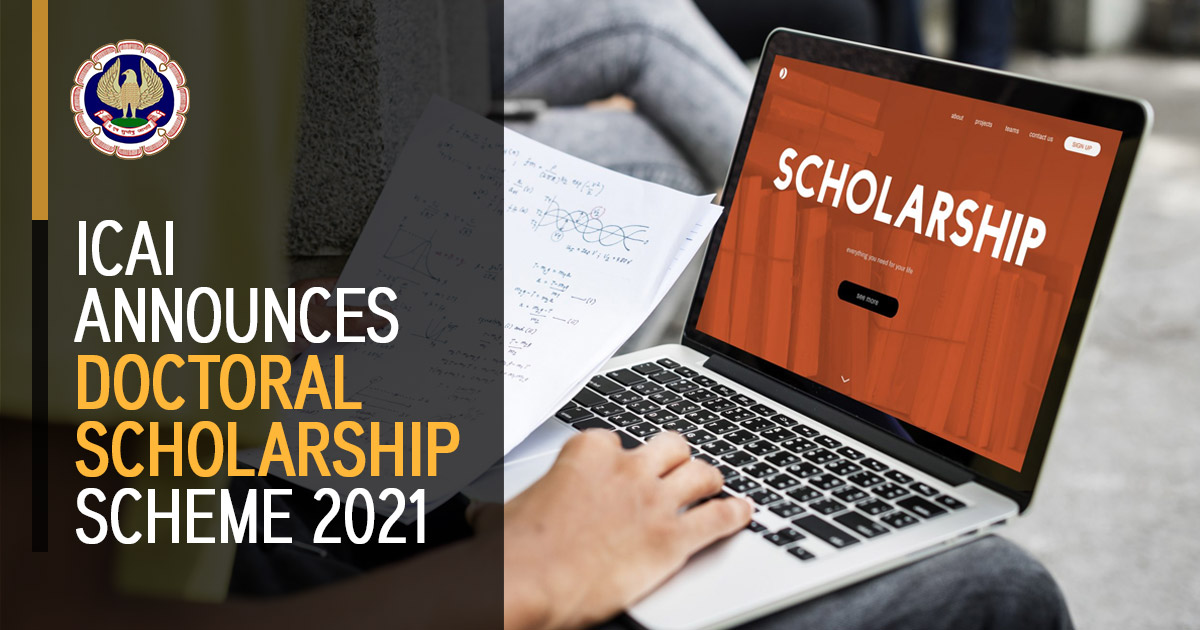 The Institute of Chartered Accountants of India (ICAI) has declared a Doctoral Scholarship Scheme, 2021.
The doctoral scholarship is to be awarded to the enrolled Ph.D scholars from UGC acknowledged reputed Indian universities / Deemed Universities/ Colleges, IIMs having University/IIMs approved Ph.D course to learn and finish their Doctoral Research in Auditing, Taxation, Commerce, Management, and Accounting. The students should confirm the Ph.D. enrollment.
Giving the doctoral scholarship through accepting a full-time admirable research scholar who urges to carry out research in main localities owing the global relevance, adding the value to subject and outcomes must possess the aim towards the develop some theory and or model which can be replicated universally. 
ICAI Doctoral Scholarship Scheme 2021 has recently released the announcement of the overall scheme detailing the complete features as well as the application form in pdf format to complement the overall process. The scheme has been launched by the research committee.
"Aimed at building greater research capacity, the Institute of Chartered Accountants of India (ICAI) has consistently been striving for excellence and distinction in the areas of Research and Innovation in the subjects of national importance and has supported the regulatory initiatives aimed towards bringing Indian economy back on the growth trajectory," the ICAI President, CA. Nihar N. Jambusaria.
The scholar should join the scholarship in 4 weeks of the date of the award letter though furnishing the needed credentials via affiliating or administering institution. This might be prolonged through ICAI for up to 6 months in the deserving cases.
The sanction of the scholarship is to be provided initially for the duration of 1 year, wef the date of joining of the scholar in the scholarship. The renewal of the scholarship for the next year is towards the receipt of the satisfactory yearly progress report and for at least one research paper in the International Journal of repute and one in ICAI Journal.
Rather than the important details going with every application, students must furnish their research proposal in 2 division research proposals near to 3000 words an expressive outline for the detailed research proposal.
The research must possess a meaningful and concise title that shows the scope of the investigation.
Read More official Announcement for click here