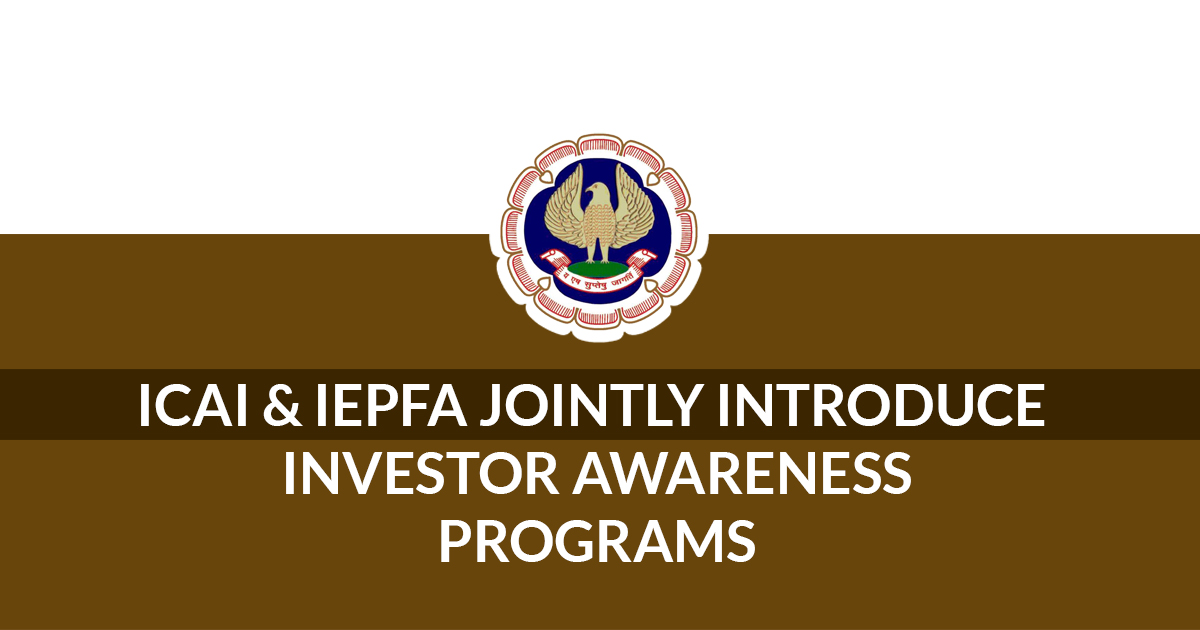 The Institute of Chartered Accountants of India ( ICAI ) is conducting Investor Awareness Programs via its Committee on Capital Market and Investors Protection wherein various investors will be educated about their rights and duties. The main purpose behind this programme is to refine and adorn the ability of investors to understand vast developments having significance in the corporate sector and the capital market of the country. In addition to this, making the investors well acquainted with the grievances management system and various agencies to be appealed for redressal, is also one of the goal of this programme.
So far, ICAI has organized around 6270 programmes across the nation. This year as well, ICAI through its Committee on Capital Market and Investors Protection under the aegis of Investor Education and Protection Fund Authority (IEPFA), Ministry of Corporate Affairs (MCA) contemplates organising many IAP's across India. For this the Ministry of Corporate Affairs had appointed the Institute of Chartered Accountants of India as the nodal agency responsible for evolution of investors in terms of knowledge and awareness.
Also Read: ICAI Advanced ICITSS Course Exam To Be Held On 17th May
This is indeed a great news for the investors as well as for the members of ICAI, Retired ICLS officers, Teachers, Professors, Lecturers (Commerce / Economics) as the Committee invites proposals from latter group, having knowledge about capital market and proficiency in public speaking, for the role of Resource Persons to conduct Investor Awareness Programs.
The maximum amount limit which will be reimbursed by the Committee on Capital Market & Investors Protection of ICAI will be Rs. 5,000/- per program and that encompasses TA/DA, honorarium and other costs as well. As far as North East States are concerned , the maximum limit has been extended till Rs. 7,000/- per program.
Interested candidates are required to mail their latest resume along with their Photo ID proof via any one document i.e. voter card, Driving licence, Aadhar card, passport and the Power Point Presentations on any selected & relevant topic to Secretariat , CCMIP. The email id for the same is cfmip_rp@icai.in.