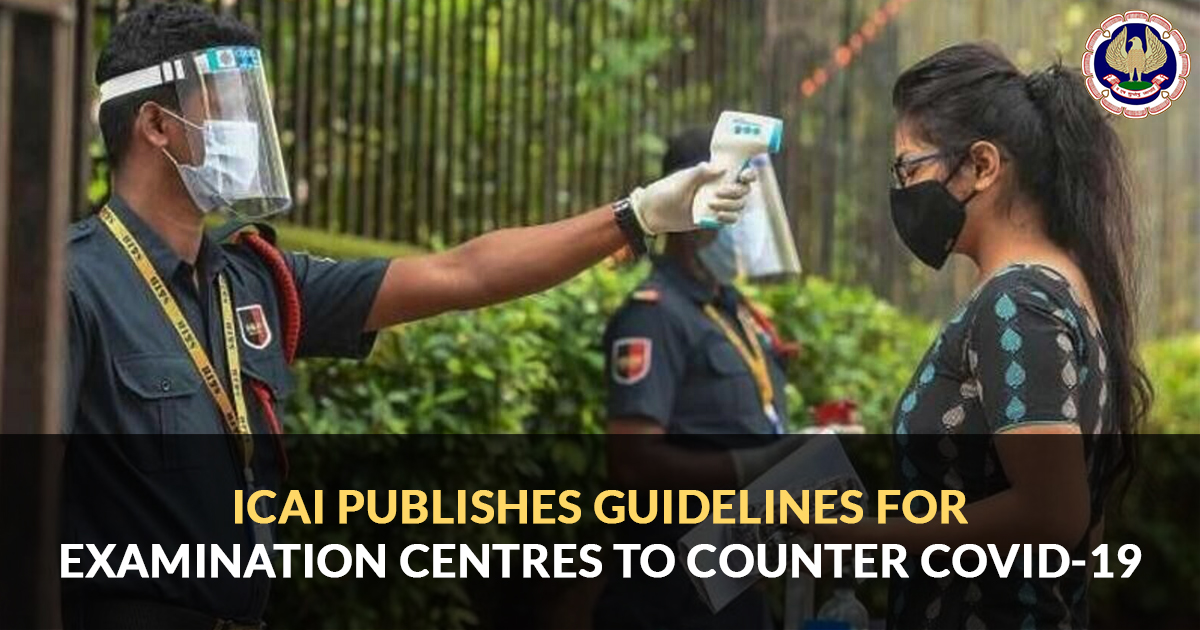 The guidelines issued by the Institute of chartered accountant India (ICAI) to Considering the prevailing COVID-19 situation and in the interest to mitigate the anxiety and hardships of the students concerned, it is hereby informed that the Guidelines for Examination Centres, Examination Functionaries and Candidates for July 2021 CA Examination shall be the same as was announced vide Announcement dated 8th October 2020 for November 2020 / January 2021 CA Examinations.
"ICAI is taking all possible measures for safe and secure conduct of CA Examinations scheduled to be held in November 2020. ICAI has increased the examinations centres from 505 planned for the May 2020 Exam to 915for the Nov. 2020 examination to cover additional 192 districts of the country to facilitate candidates not to travel beyond their district to the extent possible. ICAI will also implement adequate Social Distancing measures in the current scenario of Covid-19 to ensure the health and safety of our candidates. Adequate measures are being taken for the safety of all without compromising the high standards, sanctity and fairness in the conduct of the examination."
Read Also : (Advanced ICITSS) – Adv. Information Technology Test on 30th June 2021
Due to COVID-19 the ICAI has implemented measurements of social distance in the present scenario of Covid-19 for assuring a healthy environment. High standards of sanitization and fairness to conduct the examination is to be taken for the safety of candidates.
For maintaining the standard of hygienic environment the standard operating procedures SOPs to avail the precautions.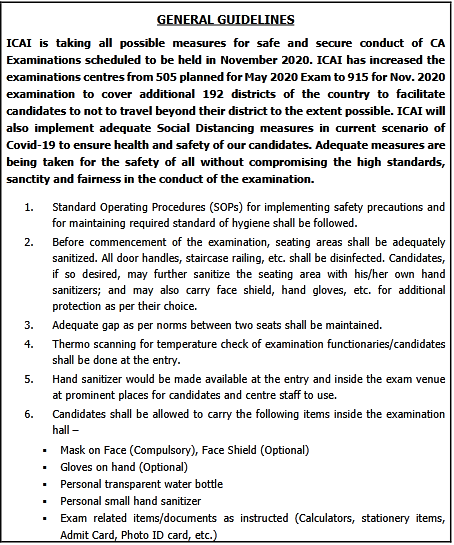 Before the start of the exam, the exam centres and seating place will be sanitized including doors, handles, railings etc. if candidates feel they can sanitize their seats with their own sanitizers and can carry face shields, masks and gloves.
Distance should be there in between two places.
On entries, a thermal scanning should be done for the temperature of candidates.
For both the candidates and staff, hand sanitizers shall be permitted to be carried inside the campus.
candidates shall be acknowledged to bring the subsequent items inside the examination hall –
Mask on Face (Compulsory),Face Shield (Optional)
Gloves on hand (Optional)
Personal transparent water bottle
Personal small hand sanitizer
Exam related items/documents as instructed (Calculators, stationery items, Admit Card, Photo ID card, etc.)
The said guidelines can be viewed for strict compliance by clicking of link as given below:
https://resource.cdn.icai.org/61369guidelines-nov2020exams.pdf.
The students are advised to stay in touch with the website of the Institute, www.icai.org