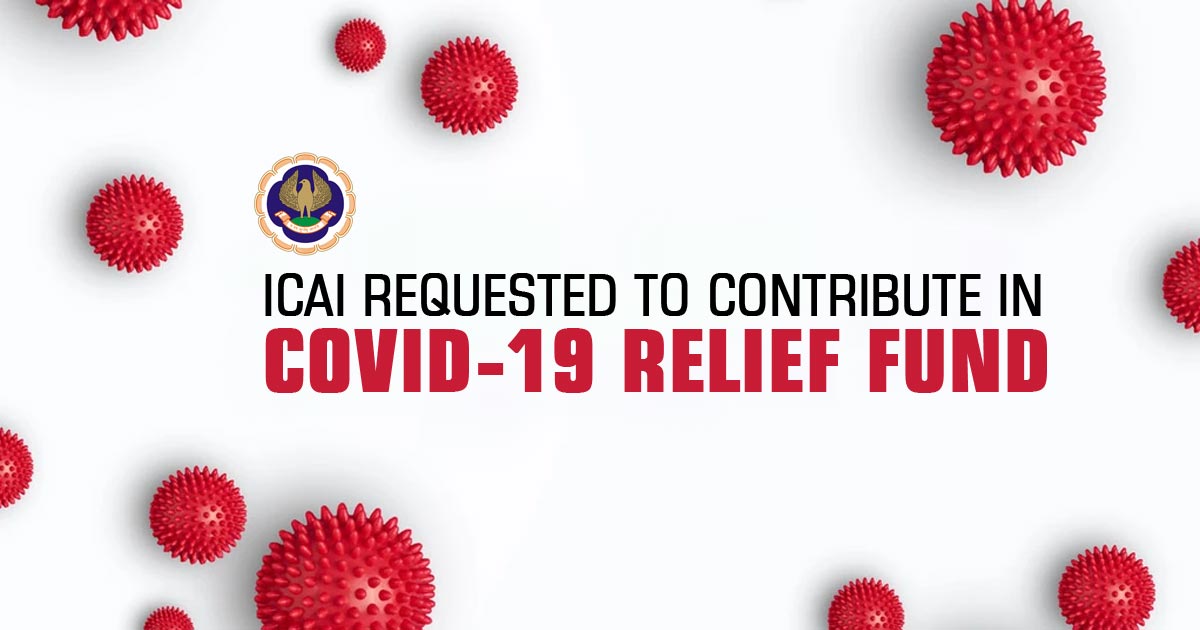 The Institute of Chartered Accountants of India (ICAI) requested the citizens that they should contribute to the emergency fund named 'Institute of Chartered Accountants of India (ICAI) COVID 19 Relief Fund' to help the government to control the further spread of the virus. 
The institute requested in a statement that, "The COVID-19 pandemic marks an unprecedented time in modern history that will require the best of humanity to overcome. At this moment, the affected people in India will need help to tide over the viral disease, and in this scenario, ICAI has decided to stand with our distressed fellow countrymen, and actively participate in the national effort to support them at this difficult time. Due to the ongoing lockdown, much needed on the ground of social distancing and therefore 'stay home' advisory from the government; some of our fellow countrymen will need extensive support from the government. Further, we need to contribute to the government initiatives to bolster necessary infrastructure and human ware to fight this epidemic."
The institute said that the situation is already very dangerous and may deteriorate in the near future. The economy has been hit very badly and is expected to go to its lowest in the future as compared to that in the past decades. 
Read Also : ICAI: No Attendance Loss of CA Articleship Students in Lockdown
Institute said that the government should be helped by making contributions by the citizens so that it can work more effectively to help those hit by the virus. There is a need to collaborate with the government to work up the solutions to get over such a hard time. 
The link for the portal for the fund is available on the official website of the Institute icai.org. The donations will be received under the fund through the following payment methods:
Demand Draft
Cheques
Real Time Gross Settlement (RTGS)
National Electronic Funds Transfer (NEFT)
Online Modes
The payments will be made under the name "ICAI COVID 19 Relief Fund"
The following details will be helpful in making the payments:
Bank: HDFC Bank
Account No.: 50100098409265
IFSC No: HDFC0000590
The contributions made will be transferred to the Prime Minister's Citizen Assistance and Relief in Emergency Situations Fund (PM CARES Fund). For the motive of attracting more and more donations, the contributions are being exempted from any tax liabilities. The donations will be exempted under Section 80G of Income Tax Act, 1961. The contributors are required to provide their general details like membership/student registration number, addressess, PAN number, amount of contribution, date of contribution, etc. The receipts of the contribution made will be obtained from the Prime Minister's Citizen Assistance and Relief in Emergency Situations Fund (PM CARES Fund) website. Other general details alike address, contact details etc. are also available on the website.