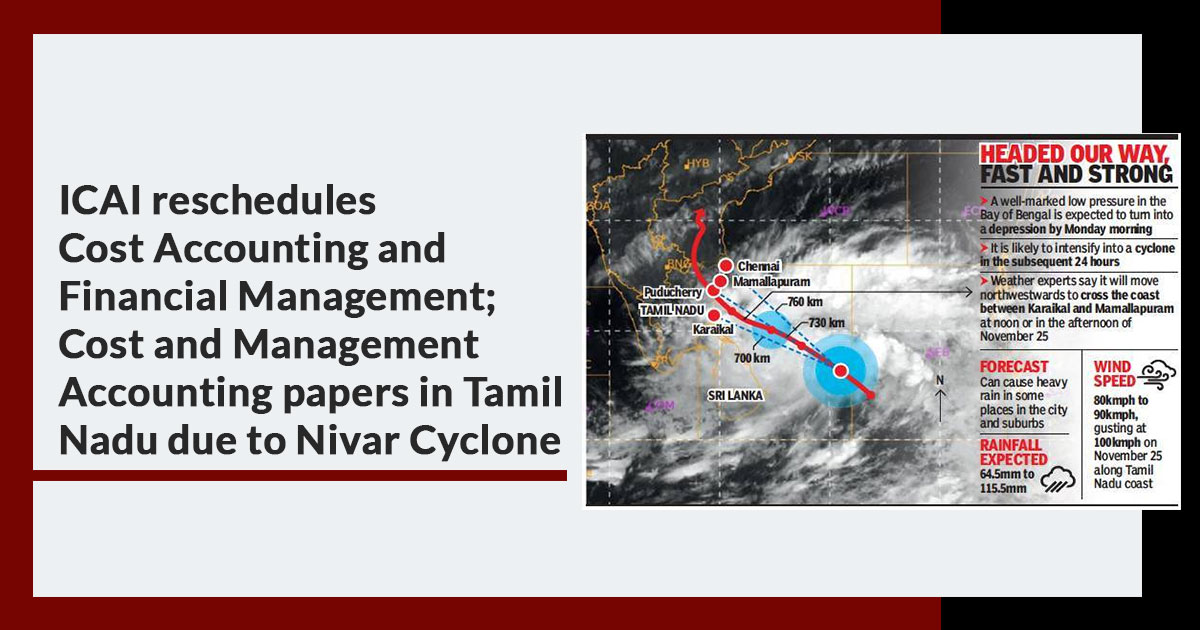 As from the affection of the Nivar cyclone the chartered accountants intermediate IPC examination cost accounting and financial management, Intermediate Examination Cost and Management Accounting the Institute of Chartered Accountants of India (ICAI) has held 12th December 2020 is the date to conduct the same.
These exams were being conducted on November 26, 2020, before. But due to the pandemic postponement is to be done in the exams by ICAI.
"The State Government of Tamil Nadu vide its Order No. G. O. Ms 597 dated 25th November 2020 issued by the Public (Miscellaneous) Department, declared 26th November 2020 as a public holiday due to expected landfall of Cyclone "Nivar" in the coastal areas of Tamil Nadu. It is notified for general information that the Chartered Accountants Intermediate (IPC) Examination (Group I), Paper – 3, Cost Accounting and Financial Management & Intermediate Examination (Group I) Paper – 3, Cost and Management Accounting scheduled to be held on 26th November 2020, in the State of Tamil Nadu (Chennai, Cuddalore, Kancheepuram, Kumbakonam, Nagapattinam, Tiruvallur, Tiruvannamalai, Vellore & Villupuram) and Puducherry (U.T) stands rescheduled," said ICAI.
Read Also: ICAI Reschedules Intermediate & IPC Examination in Tamil Nadu and Puducherry Due to the Nivar Cyclone
The exams will now be conducted on 12th December 2020 and the place of conduct is similar along with the timings that are 2 PM to 5 PM (IST).
Also, the admit card is valid for the rescheduled date.
Although it is cleared that the examinations circulated vide Notification No.13-CA(Exam)/N/2020 on 21st August 2020 with respect to all cities will not be changed.
"The candidates are advised to note the above and stay in touch with the website of the Institute, www.icai.org,
Read more official announcement for ICAI website: Click here