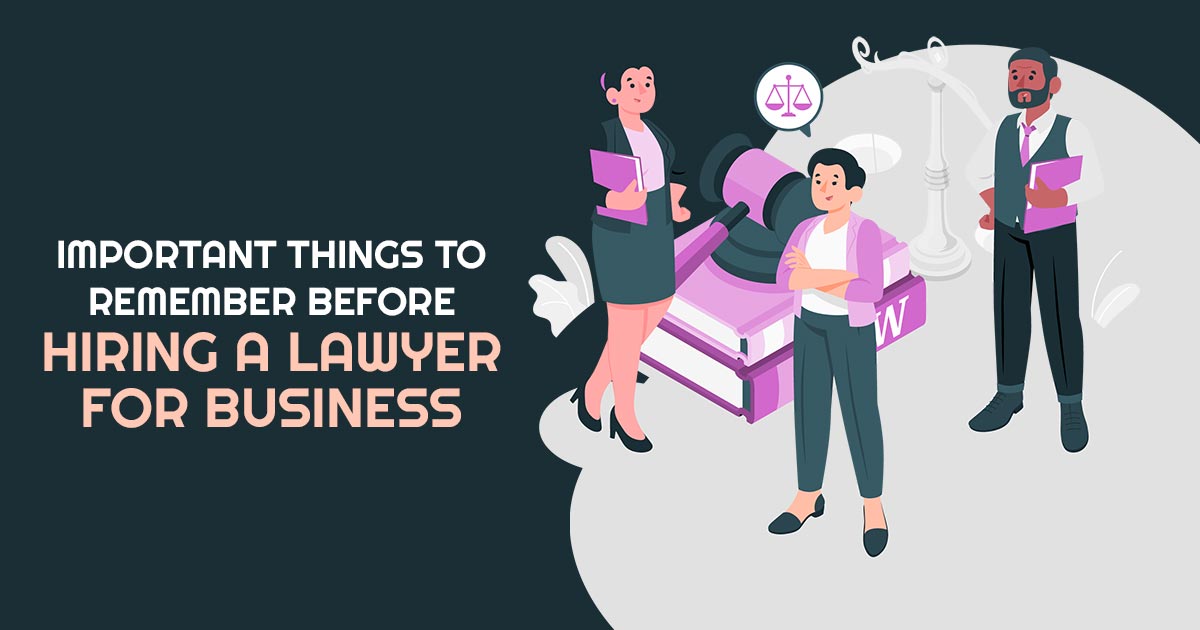 In the business concern, a chartered accountant and a lawyer would play an essential role. This is because an accountant reviews your numbers sporadically. Acknowledge all the state, federal and local tax returns, and prepare a chart of accounts. But hiring the business is not clear but essential, since there is a lot of demand for chartered accountants businesses. A good business lawyer supports in generating the essential role in every step of your business like trademark advice, copyright, basic zoning compliance, lawsuits, formal business incorporation, and liability.
It is essential for every person to own a lawyer. Despite you too come beneath the compliance of taking legal advice as you should have a protective approach towards your business. The world will arrive at war if there is no lawyer. Hence you must consider some factors before choosing a lawyer. Learn more.
Here are the Simple Points Considering the Importance of a Lawyer in a Business:
In the starting phase of a business, hiring a lawyer/attorney can be expensive but later you will find out you did the right thing.
You require assistance in the navigation of many forms of legal documents for a startup.
An attorney provides helping hands in discussing potential legal structures, reviewing lease documents, reviewing lease documents, and preparing incorporation forms.
All the legal processes are handled by a lawyer so that you can focus on business enhancement.
Online legal form providers can manipulate your business and one size doesn't fit all as well. So, a lawyer becomes helpful in dealing with the legality.

Types of Lawyers:
A human who is much more interested in non-business than business is not a good fit for your business.
So you require an attorney with the following skills, not all but at least half to make a good go for your business.
1. Business Organizations:
A lawyer must knowledgeable in deciding which is better the limited liability company (LLC) or a corporation in organizing your business and proceeding with the required paperwork.
2. Contracts:
A lawyer with skills can make standard form contracts with customers, suppliers, and clients and become helpful in contracts for people who want to sign with you.
3. Taxes And Licenses:
A lawyer must understand the tax consequence of business transactions and know how to register for state and federal tax identification numbers.
4. Real Estate:
Your attorney should understand the tenant's addendum considering provisions to profit you that can be additive to the printed lease document.
5. Intellectual Property:
Generally, intellectual property legal work is done by specialists only, but if your lawyer has knowledge of a small business or contact, he/she can make it done.
Read More:
What Makes Professional Lawyer Smart In Solving Problems
Lowest Price to Get your Own Lawyer Website with CA Portal
Questions To Ask While Hiring A Lawyer/Attorney:
1. How Many experiences Do You Have?
It is a direct question but it is necessary as well that the lawyer you are going to hire has experience in his domain. If he has the experience, then ask about the incorporation he handled.
2. Do You Have Contacts Or Connections With Other Lawyers?
A lawyer who can deal with minor operations is good but at least he has connections to deal in other specializations so that in case of major operations, he can make your work done as well. For a business, going from lawyer to lawyer is not possible so if the lawyer has connections and he or she can make the way easy it is just a better choice to hire him/her.
3. Do A Lawyer Deal With Other Clients In Your Industry?
A lawyer must be aware of your industry environment and legality. If not, he may have the zeal to learn ins and outs of your industry. If the attorney represents more of your competitor, it also matters of concern as he/ she should keep all the data confidential as well. It is important for a lawyer to be honest with the legal code, otherwise, sensitive information about your business can leak.
4. Can He/ She Make Your Staff Understand the Legal Environment Of Your Business?
An attorney needs to explain the laws and legality of your business to your staff so that they can spot problems well in advance. The lawyer can distribute memoranda or newsletters explaining recent changes in the law reflecting in your business.
5. What Is His/Her Way To Do Work In Sense As A Finder, Minder Or A Grinder?
The lawyer works as a finder, minder, and grinder. The finder generally brings new clients, the minder handles new clients and makes the old happy, and the grinder does the work of clients. An attorney you are going to hire must be a combination of minder and grinder or at least a grinder.
6. What Is Billing To Work With?
With the abundance of lawyers in the market, now they can negotiate their fees, so just negotiate your billing with a lawyer before hiring him/her.
Self-Questioning About A Lawyer Before Hiring?
1. Are The Communication Skills Of The Person Good
A good lawyer never responds like That's OK or no, you can't do that, but go for all available options and tell what other businesses do in this situation. So, communication skills must be well in relation to adaptive solutions to a problem.
2. Is The Person Is Frustrated With The Lawyer's Work?
Some lawyers get easily frustrated dealing with business matters and we can realize it outwardly as well. Such a person can consider second-guessing business-related decisions. So, be prepared to look into a lawyer.
3. Where Does The Attorney Reside?
In the starting phase of your business, you will need to visit your attorney frequently. So, location is also a matter of concern. You can't waste a whole day travelling to the nearest cities each time you need advice from your attorney. When you have an option, choose your nearby lawyer.
4. Do I Feel Comfortable With The Person?
Whenever we meet a person, we have some instincts and gut feelings about the person. Consider those intuits that are you comfortable with the person to work as your attorney as you have to talk many times with your attorney regarding legal aspects. The trust factor is also important to consider because a lawyer deals with confidential information of your business and a leak of them can cause big trouble to you. Instead of looks and dynamic personality, other skills such as intelligence, willingness, thoroughness, and accuracy are important to consider.