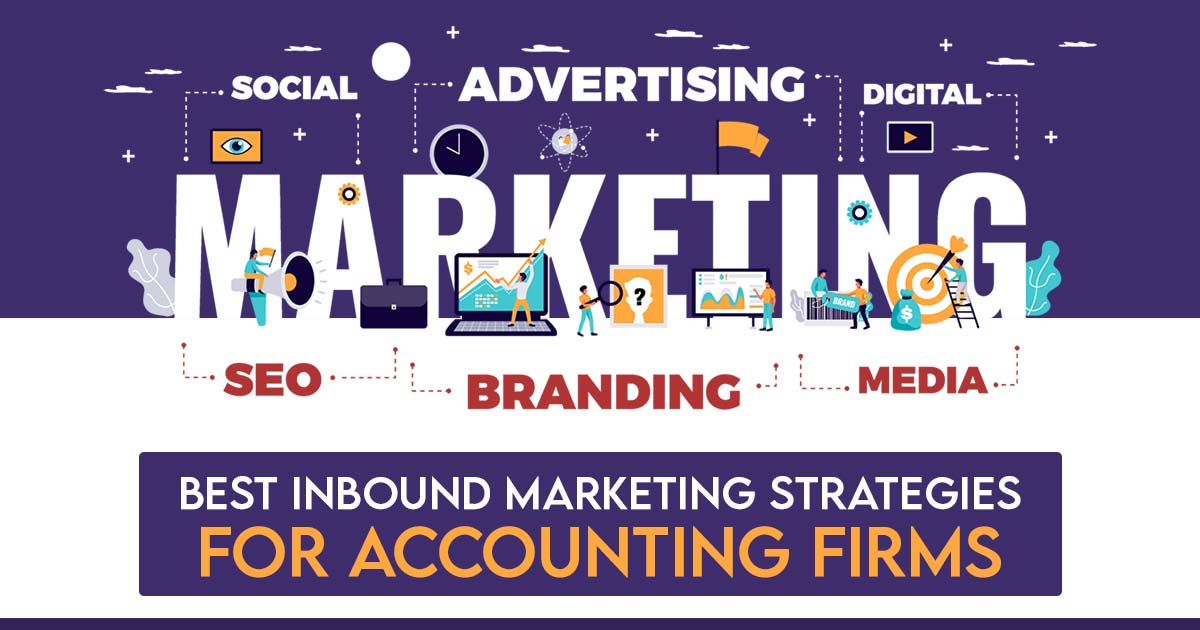 A Brief Overview of Inbound Marketing:
Inbound marketing is the method to do the business which draws peoples attention through the planned content creation and experience which customize the requirement and buying journey. inbound marketing laid towards making the links, reverting the issues and resolving the hurdles
Also, digital marketing is a way to multiple marketing platforms for the basic and important factors such as SEO (search engine optimization) content marketing as well as social media services in a way that people get attention to the services and products. All this is done to generate larger sales volume through lead generation by incoming traffic.
In the Accounting and Professional services sector, the condition is no different. Every accountant and accounting firm right now is looking to develop a strong online identity to engage and acquire an ample number of clients.
Many accounting and taxation firms now use professional websites and social media platforms to reach their target customers. These accounting firms also employ a host of inbound marketing strategies to capture, nurture, and convert leads and grow their business.

So, the next obvious question in your mind would be what inbound marketing is?
Here is the answer.
Inbound marketing is a marketing method that is used by firms to attract potential customer prospects inwards toward your business products or services by using a blend of strategies like
Content Marketing
Social Media Marketing
Search Engine Optimization (SEO)
Branding
Email Marketing
In simple words, inbound marketing strategies employed by firms using a combination of marketing channels helps them to grab people's attention and engage them in creative ways towards the offered product or services.
Advantages of Inbound Marketing for Accounting Firms:
So, you would be thinking of how inbound marketing initiatives can boost your accounting firm profitability and performance?
The answer is simple.
In the current digital era, the digital channels have diversified greatly, and now customers have ample options to lookout for a new accountant or accounting firm who offer quality services by searching online (via organic and paid searches, social media sites, online directories as well as review sites).
So developing a comprehensive inbound marketing strategy is vital for your accounting firm as it will help you to increase your online presence You can recruit a skilled inbound marketing team or take help of third-party marketing agencies like SAG Infotech who offer quality services at affordable prices. The potential clients who are looking for accounting, law or financial advisory services will get to know about you and your services through your blog posts on different digital channels.
These potential customers will review you and your firm through social media or review pages. The customers will also try to reach you or contact your firm if they like your shared content through different customer touchpoints such as email, call, chat, or an inquiry form.
Read More:
10 Important Steps for your Accounting and Legal Firm Websites You Must Follow
Here is a List of Advantages Offered by Inbound Marketing for Accounting Firms:
It helps accounting firms to reach the right customers at the right place
Generates quality traffic on your website
Increase customer trust
Helps to avoid over-reliance on a single digital channel for company promotion

Why Accounting Firms fails when it Comes to Lead Generation through Inbound Marketing:
Despite having a coherent inbound marketing strategy, the accounting and taxation firms fail to grab customer attention due to the lack of monitoring of the effectiveness of their marketing activities and poor strategic investment. Similarly, it is also crucial for you and your accounting firm to regularly upgrade or refine your marketing approach due to changing customer behaviour and market conditions to attain success in the inbound marketing campaign.
Here are the key Reasons Why CA Firms fail to Attract Potential Clients through Inbound Marketing:
Lack of strategic investment in inbound marketing program
Poor Website design and Responsiveness
Inability to create, promote, and deliver high-quality content through blog posts
Lack of automation in inbound marketing processes
Inability to measure the results of the Inbound Lead generation activities
Poor Technology Resources and Infrastructure
Key Tactics/ Strategies for Accounting Firms to Excel in Inbound Marketing:
So, till now, you have obtained a brief idea that accounting and taxation firms, who want to attain success in their inbound marketing programs must reassess their marketing goals and align them with the current marketing tactics or inbound marketing methodologies. It is equally important for accounting firms to monitor the effectiveness of their inbound marketing strategy regularly and redesign it as per the changing market conditions.
For attaining success in the inbound marketing program, some broad recommendations are given below for the accounting firms:
Develop a Professional Accounting Firm Website:
It is important for you to have a professional accounting website being an accountant or accounting firm to attain success in the inbound marketing program. Your website must display the client testimonials, case studies, and even industry reports so that the client may learn and get an idea about your in-house expertise. Besides this, the design of your website needs to be appealing, responsive, at the same time user-friendly.
Increase Your Accounting Firm Online Presence and Visibility:
Your professional accounting website is a go-to tool when it comes to increasing your visibility on the web. The website must contain the relevant keywords related to accounting services that are searched by customers online so that you appear in their search results on different search engines. For such purpose, a host of marketing techniques like SEO, SEM, and paid search advertising can be used.

Register in Local Online Directories:
It is also important in the online marketing space to register yourself in local online directories related to accounting and taxation services; Check about the accuracy of your contact information, customer reviews, ratings so that you can build a positive online image.
Share Engaging and Relevant Content through Blog Posts:
You as an accountant or accounting firm should also create, share, and promote high-quality content through blog posts to grab customer attention online on different content sharing platforms. You can outsource the content marketing work or build in-house expertise by hiring skilled content developers or creators.
Engage with customers on Social Media Platform:
To establish a strong online presence and credibility, you as an accountant or accounting firm should build social media pages on different platforms like LinkedIn, Facebook, Google+. You should also try and engage with the customers on these pages through blog posts, customer reviews, and surveys.
So, summing up, it can be easily said that the accounting and taxation firms, who want to capture more leads and convert them into loyal clients through different inbound marketing tactics must invest strategically in inbound marketing campaigns. Regular monitoring and redesign of inbound marketing strategy as per market conditions are equally important to attain success.
To build a coherent and comprehensive inbound marketing strategy, the accounting and taxation firms can partner with professional third-party Law Firm Marketing Company like SAG IPL.
SAG IPL is one of the top mobile app and website development company located in Jaipur. SAG IPL offers a range of digital marketing services which include SEO, SEM, PPC, content marketing, and so on. SAG IPL also have years of experience managing digital marketing campaign for the top accountants and CA firms in India. SAG IPL is a subsidiary of SAG Infotech, a leading tax solution provider, who is having nearly 20 years of experience in the taxation and accounting services business.
The CA Portal of SAG Infotech also offers a complete website solution for all CA, CS & Lawyer professionals. The accounting firms looking to improve their website design and structure as a part of their inbound marketing program can choose from a wide range of custom themes available on the SAG CA portal.
So partnering with SAG IPL can be a game-changer for you and your accounting firm in terms of building a solid online presence as well as capturing, nurturing, and converting online leads into loyal clients.