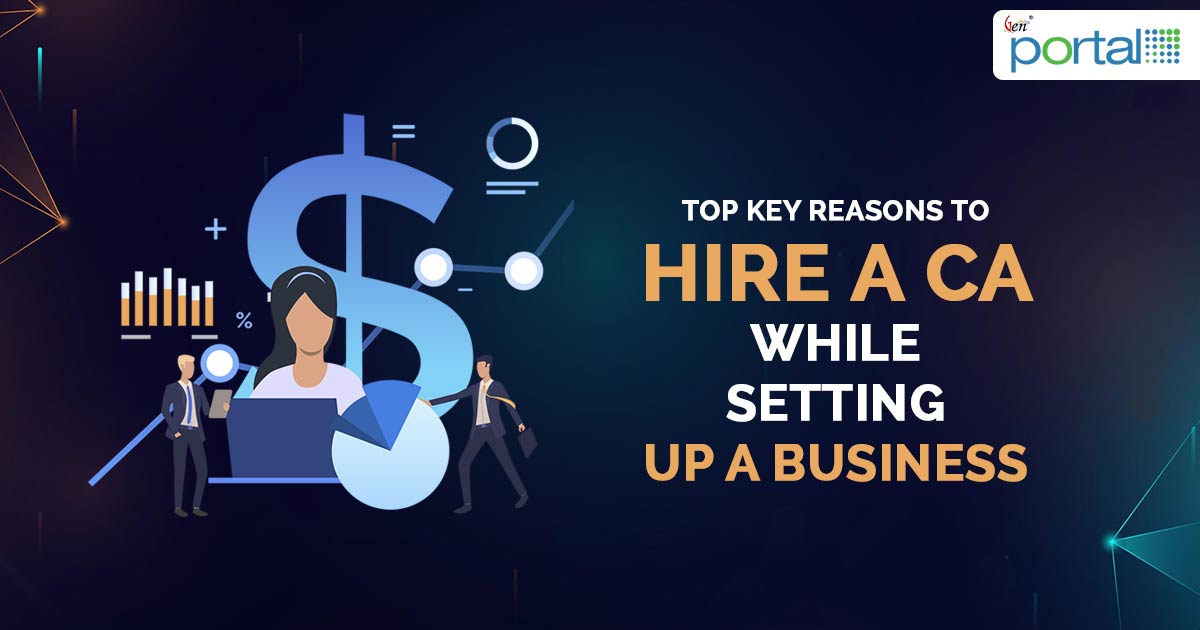 Nowadays every company is in the run to establish itself and progress in the market and therefore its management hires Chartered Accountants as he/she is the one who can weigh the near future scope of the company apart from that help the company with various financial, non-financial and legal accomplishments.
Why only chartered Accountants are hired for the aforesaid roles? It is because of the quality of knowledge and expertise the professionals of this field hold.
The write-up intends to let you understand the requirement of a Chartered Accountant in every small, medium and large business:
For Security in a Financial Deal
A business can trust a Chartered Accountant with all its money as CAs are obliged to follow certain norms acknowledged by the ICAI. The institute allows them the certificates and enrols them as practising CAs. Your money is in the safer hands if it is with your CA.
As per the norms of ICAI, every practising CA must have professional indemnity insurance so a company can be extra sure with its finances handled by a professional CA.
Professionalism
Accountants other than CAs are less experienced and by default are less professional. However, accountants are capable of doing their jobs well but they can't match the level of professionalism a CA has. Apart from that, there are certain standards set by ICAI related to the performance of a CA that normal accountants cannot match. Practicing CAs already possess theoretical and practical knowledge and with this one can make sure that their finances are in safe hands.
Confidentiality of Financial Matters
A business always assures that their financial matters like investments, current deals, monetary holdings, etc are never out/leaked whatever may be the business circumstances. Well, CAs who are enrolled with ICAI have to follow certain code of conduct which strictly asks them to be conscious and responsible about the information they transmit. Your business's financial data will be treated with security and dignity only if it is shared with the CA of your company.
Best Advice
A practising and efficient CA can help you out with more services apart from just filling out the returns. Though individual accountants will also give you the range of services but a CA, due to the expertise and practical training will be able to guide business with sound opportunities. He can help you with practical business plans to grab the opportunity and progress. Because of the diversified knowledge and expertise CA has, one can find it a wise choice to hire a CA over another individual accountant.
Make Our Accounting and Tax Consultant Website
Need for Chartered Accountants in a Startup
It is a myth that CAs are needed only after you have completely established your business. You can take help from an experienced CA even before you have started your business. He can help you with evaluating your business model, marketing strategies, getting financial raises, saving tax on investments and much more. Ask for yourself a fee publication of Mind Your Own Business from the Chartered Accountant. It consists of the list of major-minor decisions, a Chartered Accountant can help you with.
Being a business enthusiast here are some primary decisions for which you can approach a CA:
Nature of the Business
The very first question to solve is whether you want to have a business as an individual trader, in a partnership or a limited company?
Individual Trader:
Here an entire load of business is on you. Here you definitely need to know the legal requirements of your business, legislative formalities. Do you have to register yourself under tax authorities? Or do you need to pay national insurance and if yes then how much? Remember the loss (if happens) will be borne only by you.
Read More:
Everything You Need to Know About Becoming A Chartered Accountant
Partnership –
More than one person running a business will be called partners in business. They have an agreement or not. Partners owning the business are bound to share the profit and loss in the business. Make sure with whom you enter into the partnership. The other person has to be capable and focused rather than being a known or your friend.
Limited Company –
Many find it a secure platform for their business investment. Sometimes it might be and sometimes not. Therefore it is advised to take the help of a CA. Once you enter into business with a limited company you might face certain regulations like tax rules, returns that need to be filed, rules related to publishing accounts, etc.
Sometimes the finance outgo is less in individual trading.
Record Keeping –
For tax compliances – If you are registered under the tax government it will not only ask you to maintain the records of business transactions but will require you to calculate tax accurately on the transaction.
Here you need a CA as he/she is the one with complete knowledge related to the regulatory norms on tax. Keep the account records proper as they will answer all your questions regarding the past, present and future position of your business.
Accounts Management
CA's can help you with making previous analyses. What happened last month or last week is more beneficial if you have a personalized accounting system. With this, you can easily encounter the issues and solve them before it's too late.
The only sign of a good businessman is spotting business problems and solving them at the early stages. Borrowing the articles and paying for them after a month or few weeks is a part of the business but that might be big trouble if you are unable to foresee the coming threat. And therefore accounts management is critical.

Cash Flow Projection
The same accounting software that gave you an idea of what happened earlier can also help you foresee the near future. Don't wait for bank personnel to give you the news of the ups and downs just confirm the scope of your business from a Chartered Accountant (CA). A computerized account system will help you in the process.
A giant firm is financially capable of hiring a CA for regular management of accounts and advises them regarding their moves but for a startup it is costly.
But a well-versed accounting system will not cost too much as a (chartered accountant) ca website for you to work on (using spreadsheets or accounting software) and then you can fill relevant figures in each grid to find out results.