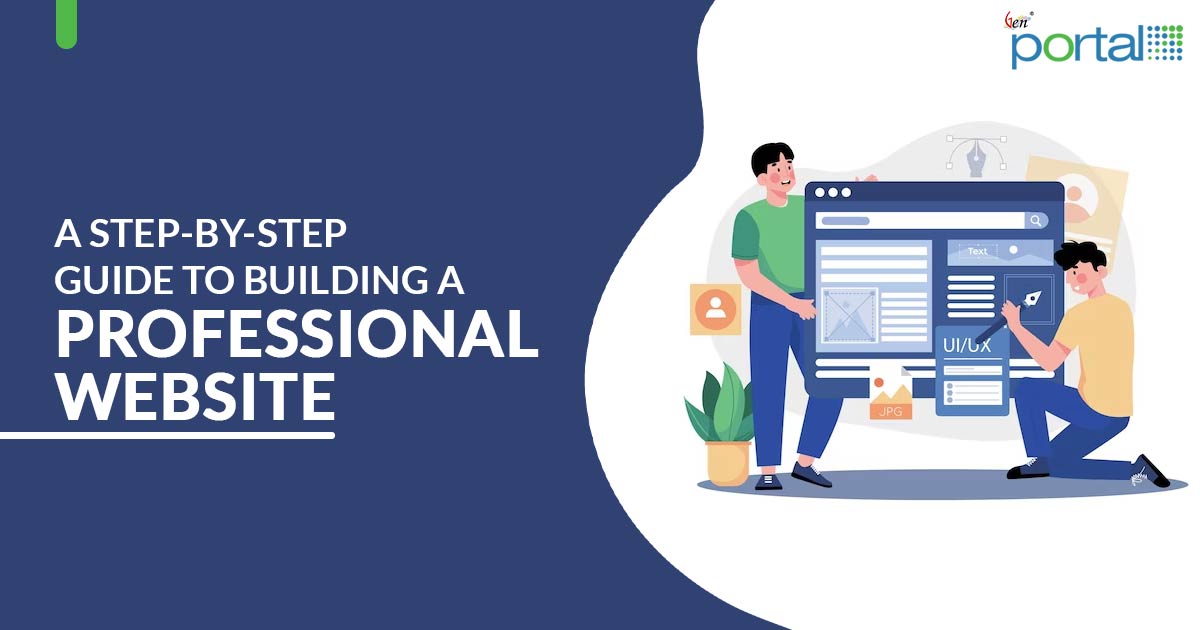 When it comes to showcasing your services to an abundant crowd nothing is better than a website having enlisted all the services you are providing. Once you have decided to own a website the next major task is how it will appear in front of the potential crowd i.e. the complete layout of the website.
It's evident that you need to provide high-quality products and services to your clients but the way you display your products/services online is equally important as what looks best gets sold out first.
Certain businesses assign the task of website designing and development to external expertise while some wish to create, develop and customize the website in front of them to get their desired results. If you belong to the second group this descriptive is of immense help to you. 
Designing your own websites sounds like some Rocket Science but actually, it's not.
Just eight easy steps to follow and the results will leave you Awestruck (obviously in a positive way):
#1. Adamant Towards the Purpose Your Site is Serving –
Seems to be an easy task at first, but when you brace yourself to accomplish the task will you come across the fact that it is more than simply knowing your services and the content you need to fill in. It's about the USP (Unique Selling Point).
This techno-friendly era is eager in comparing your services with your counterparts and will easily find out if you are there in the market merely to earn a profit. Your website is the first representative of your brand and your goodwill in the market and therefore it needs to have an essence of user engagement and satisfaction.
#2. Paying Heed to Market Trends –
Websites are ever-evolving, you never know which feature is in trend right now until you are constantly bothering Google to show you results for current website trends in the market.
A lot many website features have come up in the market facilitating the user, keeping pace with current market trends and select the features which are suitable for your website. Always keep your eyes open to what is going on in your respective market and the stir among your competitors.
Different industries have different website styles, so you need to compliment your product and services with appropriate website design.

#3. Professional Website Designing –
The ultimate need is a top-notch professional website. Every business whether small or big lodge for an efficient professional website to present their products and services in the market.
Some businesses knock the doors of expert website designing agencies and pay them a whooping sum of money in lieu of their services. All thanks to the evolving technologies, now we have a pocket-friendly solution for the same which allows even startups and small businesses to own a professional website.
Online website builders and various E-Commerce platforms provide DIY facilities so that you can create and customize your website the way you want without even knowing a single programming code. Such platforms are nowhere behind in terms of effectiveness and the latest technology.
Whether you look forward to owning a static website (which is simply informative) or you are after an e-commerce setup the aid to designing both kinds of websites is available online for your convenience. 
Read Also : Things To Remember While Selecting A Website Theme For Your First Business Website
#4. Selecting A Relevant Template –

Once you are done with selecting a reliable web designing platform for creating your website, you land on deciding the appropriate template.
A template is basically the theme that gives an outlook to your website. There are drafts offered by various online web designing platforms for you to choose the appropriate one. They come with pre-filled sample content.
A variety of website themes are offered by online web designing platforms based on the kind of industry you deal with, so you can easily find a relevant theme for your website.
Once you choose the theme suitable for your business, you will automatically come across the features imbibed in the theme which are relevant to your industry type. This saves your time which you had to put in selecting the relevant feature for your website and now you can focus on other important aspects of your website.
#5. Display of Your Website –
By now you have a purpose for your site, are aware of the current trends, chosen a reliable web designing platform and have selected a template. Now it's time to jump into practically designing the website.
Make sure what appearance you give to your website reflects your Brand and eventually contributes to your goodwill in the market.
Everything from colour combinations to font styles, image quality, and various tab sizes can create a perspective in the customer's mind related to your services. So make sure they are up to the mark same as the services you are offering to your clients.
Colour Combination – It seems to be a small thing but has a great role in defining your brand. One cannot deny the fact that 60% of the brands are recognized by their colour combinations. Choose a colour that complements your business and if you are a follower of modern trends then sophisticatedly vibrant colours are the options for you.
Font – Just like colour combinations define your brand Font shows how professional your website is. People often keep their business website sophisticated by opting for fonts that are sober for instance Times New Roman, Georgia, Arial, Helvetica, etc. On the contrary, if any brand is about fun and adventure, people opt for conceptual but readable fonts to give their website a fancy outlook.
Images – It is widely acclaimed that images on a website increase client engagement. Users first land on the image of a product and once convinced goes further on the description to find more features. A high definition (HD) product image can lead the sales by up to 40%.
#6. Search Engine Optimization –
Positioning is simply the placement of the content on each page of your website. On the other hand, optimization caters to bringing quality traffic to your website by giving the website a final touch and increasing its visibility on the search engine. Where does your website sit (ranked) on the search engine? Is it visible on the very first page of google? What keywords make your website come in suggestions? Everything is looked upon while optimizing a website.

#7. Go Live with Your Business Website –
It's the time when you launch your website or simply go online with your business. Before you do so, just get your website tested in preview mode for its appearance and functionality. Preview mode is offered by every online web designing platform and e-commerce portals. Ask help from your friends, family or even the general public and get their thoughts. Make the necessary changes and go live your website.
The criteria to look for before going live with your website are:
whether the link is working properly,
your site is readable on every possible gadget (mobile, desktop, tablet),
All the tabs are working and the main tabs are within easy reach,
Not more than three clicks to reach the homepage and that users are directed to the right page and are not distracted,
Try that the loading speed is not more than 5 sec on any page.
#8. Modify As Required –
So now you have achieved a goal of owning a live website. But is this enough? Or does it need more? Well, the work doesn't end here. Now your major task is real-time check. While your website is now visible to millions you need to pay attention to how the website is performing? And keep on introducing updates to attract more crowd and keep existing ones involved.
Most of the online web designing platforms have an app you can install to get your website analytics. If not then you have the option of Google Analytics, connect your website to google analytics and you will easily be able to get the stats from how many views your website is getting? How much time do users spend on your website? Bounce rate, conversion rate and so on.