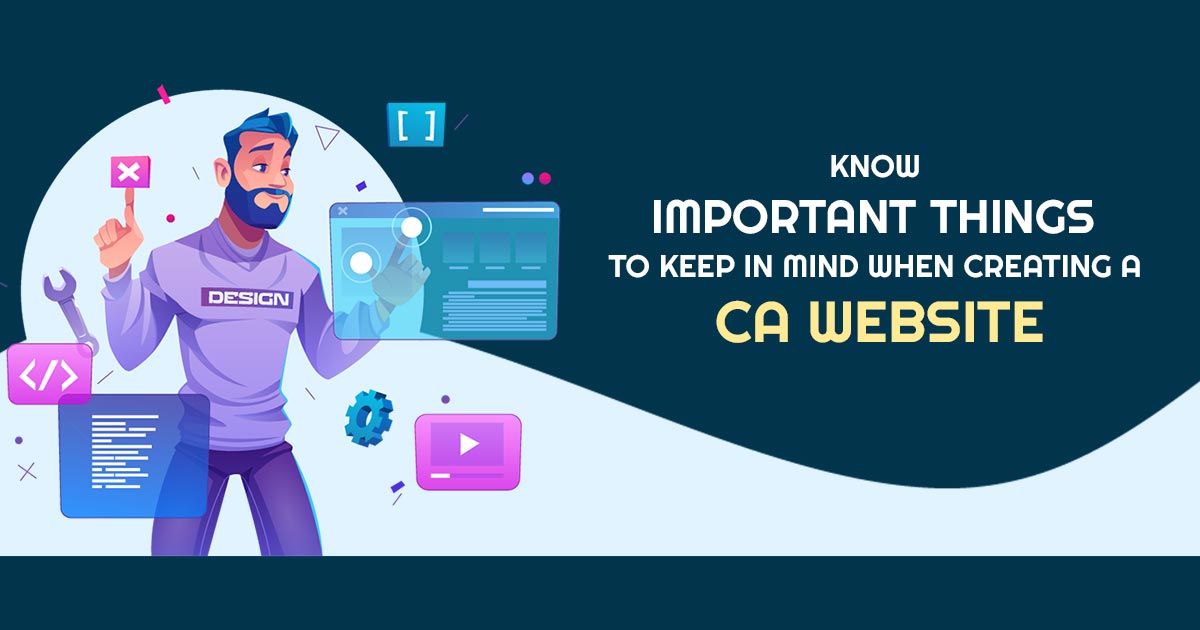 India is growing economically day by day and that day is not far when India will become an "economic powerhouse" and "leading power". This growth is just because of the young Indian who decides to be the boss instead of working under someone else.
But for a startup, you have to face a lot of problems but that hard work will give you ripe success. But as per the present scenario, the Chartered Accountant is in demand so he can start his own business. For this to happen you have to invest money and apart from this, you will also have to create a chartered accountant website for showing what you are offering your clients.
CA's are very good at managing the audit work and keeping everything organized which is the most important thing to handle business tasks. A CA plays its role very well if that be his own business or industry. The CA always want to grow the economy of India as well as its CA firm website platform. They are trained in such a way in which they give their 100 percent.
Which services do a CA firm provides?
Following are the services that a CA firm provides-
Auditing Services
Tax Advisory Service
Management Assurance Service
What questions arise in the mind of CAs?
Following are the questions that come to the mind of CAs-
How will I be able to keep my employees in my CA firm/LLP satisfied?
Which one is better my practice or my job?
How can I provide quality services to my clients?
How can I improve my CA practice?
What are the major things to keep in mind for Creating a Chartered Accountant Website?
Create a CA & Accounting Website As Per ICAI Guidelines for Your Firm
Given below are the most important thing that a CA must keep in mind while creating a CA website-
#1. Follow ICAI Guidelines
A CA Professional can create his own website but with a format provided to them. You must not include an impulsive format while designing the website and you can choose any colour for the website. There should be no advertisements but you can add professional stationery. You must add elements like- Firm name, login, Year of establishment, e-mail id, blogs, jobs and many more during creating a website.
The most important thing to note is that CA who is practising or training cannot use the logo on the website. Only the authorized member is given permission to post the articles and information of CAs. A CA website must also contain a 'News Tab Option'.
Note: Check here the complete ICAI Guidelines for creating a CA Website
#2. Simplicity is Powerful
"I believe that things can be expressed very powerfully through simplicity." ― Johann Johannsson
The website of the accountant firm must be simple but well-built. The website loading time must be quick so that the client does not leave the page without visiting it. All the features must be built for which this website is created.
All the essential information must be mentioned on the homepage. It has been proved that most people's eye goes to the left side panel of the website due to which it is recommended that the important information must be written on the left side. The users can use any side of the website to give the information because-
"The things that make me different are the things that make me." – Winnie The Pooh
The upper part is also important because it is the first thing that appears when a website is opened. So it must be accommodated with the core information which you want to give the clients.
But it does not mean that you have to provide all the information at the top, because there are people who love scrolling. And for the people who don't love scrolling the scroll-down menu is the best option.
Also Read: How To Attract Client Through Your Chartered Accountant Website
#3. A well-Designed Layout Makes Navigation Easier
The layout of the website matters a lot because the customer goes with the flow and if that flow is distracted then it might lead to consequences because-
Well-designed layout = easy navigation
Always try to make a website in the way you want to see other's websites. This is will you a better understanding of the customers. If the website is disorganized and there is a lot of information then it will be difficult for the customer to navigate. Due to this the customer will leave the website and will also not suggest others. A website must be appealing and the customer must find everything easily.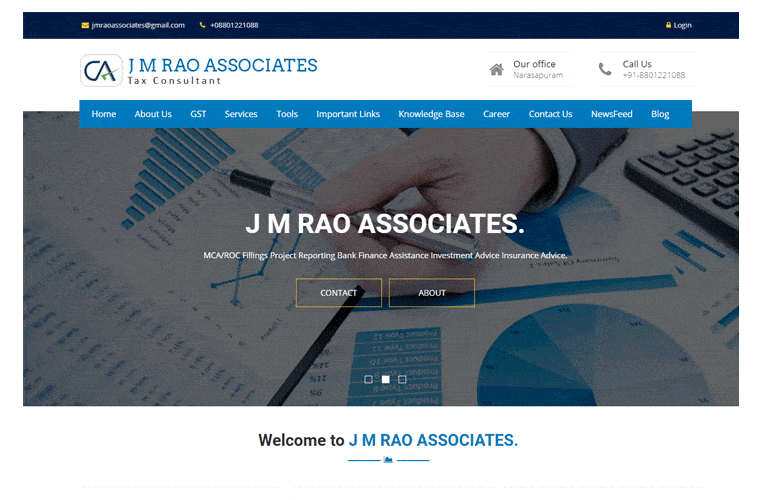 #4. Optimisation at Par
"We need to optimize our web content for desktop visitors, voice search, social media followers, and mobile users. The task could feel quite challenging, overwhelming, and almost impossible to achieve." ― Olawale Daniel
The most trending thing is the smartphone because it is so smart that even a website can run in it due to which the website must be responsive. So the optimisation must be at best as it runs on the computer as well as on the mobile screen. The need for adjusting the content must not occur.
#5. Updation is Must
The website must be updated regularly because your website showcases your work and business. Update keeps the clients informative and connected to you. So you can also use tools which are available online for simple, faster and instinctive updation.
#6. Inclusion of 'Calls to Action is a Must
If you want to increase the visits then you must mandatorily include the 'calls to action'. It is the possibility that the visitor who visits your site regularly can be your potential client.
So to keep a hold on him make use of 'calls to action' so that he can step ahead to stay connected with you. So your website must include 'calls to actions such as sign up, register, query column, download now and many more. It will help in getting more clients and they might also connect with you.
#7. Blogging helps to Expertise your Words
To attract new clients and hold old clients, you must always try to provide information through your blogs. The blog will help you in showing your skills to the clients which will leave a positive impact on them. The most important thing to note is that the blog must open quickly as a late response can lead to a negative impact due to which the client may disconnect with you. Make a website in which the user can reach your blog just by clicking on it.
#8. SEO Friendly Website
For a website to be successful, its SEO must be friendly. For this, you have to include proper keywords as per the content because the search engine will display your content only if the use of keywords is proper. So keep in mind that the keywords must not be repeated that must be used carefully. And to increase the traffic to your website make use of blogs and articles.
#9. Make use of Interactive Smiley's
The best thing you can do to make your clients feel comfortable and stay connected is the use of interactive smiley on the website. This will leave a positive impact on the mind of the clients due to which they will contact you and ask you for help.
#10. Social Media Encourages 2-way Interaction
At present, there are a lot of social media platforms through which you can interact with clients and get more clients. Try to use maximum social media platforms as people are most active on such platforms due to which the traffic will increase on your website.
Because of these platforms, there will be 2-way interaction with business as well as the customers. The customers will easily get in touch with you and will directly contact you.
#11. Provide Contact Information
It is mandatory to add your contact details of yours on your website because this is the only way by which the clients will contact you. This will also help you to stay connected with your clients. It will leave an impact that you will be always present for their help.
If you can take help from the CA portal to create a Chartered Accountant website. It provides you with the best Chartered Accountant website template which you can choose at your convenience. You can easily customize the template and no one will bound you from the accessibility. The CA portal also helps you in generating your own domain. So if you are looking for creating a CA firm, you can visit this site and take the advantages the company is providing you.
#12 Add a call to action Button to Your Website Page
A call to action is a content element that aims to encourage the reader to take a particular action. It can be a button or a line that inspires the reader to either read more or click or take another action. A call to action is one of the most important parts of a webpage, as it helps convert more of your page visitors.
Some examples of a call to action include a sign-up button, a 'call us' option, a contact us form or a link to another related page/article. The goal is to encourage the reader to take the action you want him to take without actually forcing him. It should be natural but inspiring such that it motivates the user to act. For example, after talking about your services & benefits, you can, in the end, ask the reader to get in touch for a FREE Quote.
#13. You can Keep a Complete Check on Your Website Visitors?
Bringing users to your website is one thing, keeping them there is a completely different matter. Thousands of people may be visiting your website in a day, but the important thing is how many of these are actually staying for long or visiting more than one page or taking an action. There are many ways you can increase your website's conversion rate and decrease its bounce rate, which include adding fresh and engaging content to the website that users love to read and find useful. An analytics tool can help you better understand your website visitors' behaviour.
Google Analytics, for instance, can tell you about your site's bounce rate, why users are leaving the website, which type of content they are liking the most, and so on. Some of the ways to increase user engagement on the website and keep more visitors coming back include adding a comment section to the blog, adding social media buttons, and creating engaging content with a call to action.
#14. You can Straughly Choose & Pick Your Target Audience.
Another question that you should ask yourself is who is your website's target audience. These are the people who will visit your website to buy a service/product from you or to seek information.
When trying to figure out your target audience, you should ask questions like who will be really interested in your services/products and may want to pay for them, what would be their location, what kind of experience will your target audience have, and how can you encourage them to purchase from you.