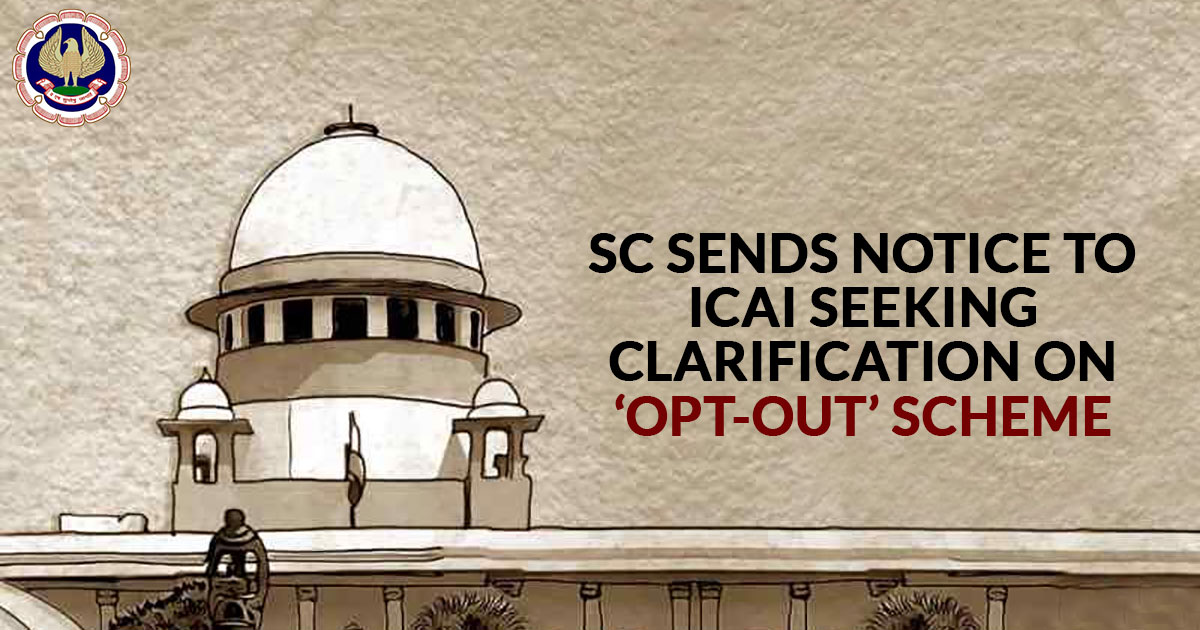 Following a petition filed by President of India Wide Parents Association requesting to put a stay on the "Opt-Out" Scheme of the ICAI, the Supreme Court has recently issued a notification to the Institute seeking clarification in this regard.
The Petition was filed by the association early this week seeking a stay on the ICAI's 'opt-out' scheme for the CA examination scheduled between July 29 and August 16 as well as to request more centres for exams.
The Petitioner's case led by Senior Advocate Ramji Srinivasan is that the ICAI's 'opt-out' scheme is a violation of the students' fundamental rights of having a fair chance to appear in the examination.
Earlier the ICAI had reportedly announced that it will hold the Chartered Accountants examination (for May 2020 session) between July 29 and August 16. But on June 15, the Institute released a notification introducing the 'opt-out' option for students who are not able to attend the exam due to the COVID-19 pandemic and wish to opt-out from the same. In that case, their May 2020 attempt in the CA exam will be treated as cancelled or not counted.
Read Also : Deadline of 'Opt-Out' Option Extended CA Exam by ICAI
According to the petition, "The 'opt-out' option discriminates between those underprivileged group of CA students/ aspirants, who are living in remote areas of the country or living in the containment zones and thus are slated to lose one precious 'examination attempt' by choosing 'opt-out' option amidst ongoing COVID-19 pandemic, as compared to that privileged group of students/ aspirants, who are living in big cities/ green zones and thus they have no problem in appearing in the said examination."
According to the ICAI notification, any student who chooses this option will be not eligible to attend the May 2020 attempt of the CA examination. Students who wish to attend the exam can choose the 'opt-in' option instead. The petitioner has declared this a violation of the students' fundamental rights and requested the court to forthwith quash and set aside the ICAI notification dated June 15.
In addition, the petitioner has also requested to increase the number of examination centres across the country so that 4.67 aspirants from the various cities and villages of India can attend the examination at their nearest centre.
In response, the SC has issued a notice to ICAI seeking clarification. The next hearing in the matter has been scheduled for June 29.
Read more at : Why CA Day Celebrated? What is Its Origin And History