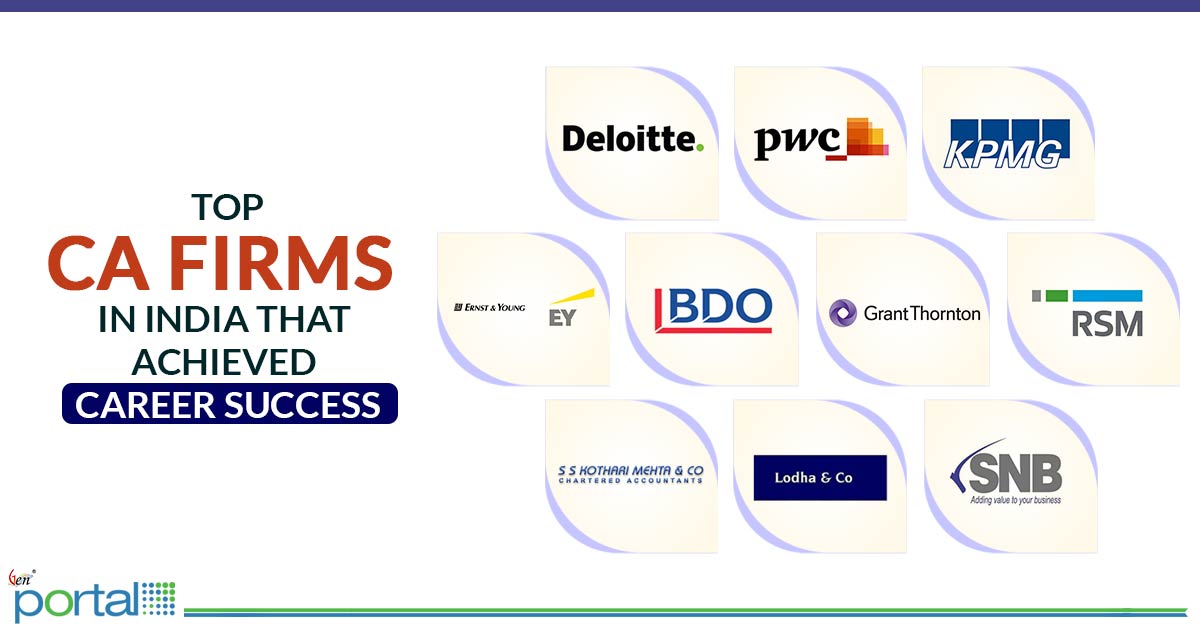 Looking for a good Top CA Firm in India? Here, we are providing a list of Top Chartered Accountants Firms available in India to date, along with a detailed description. We endeavour to help the CA students and final pass-outs in Choosing good CA firms after the declaration of their CA Finals and CA IPCC results.
We see that after every six months the CA students batch passes and after that, the quest of finding good well-known Best Chartered Accountants in India firms begins. The students start searching for good CA firms for articleship or jobs where they could give a good start to their Chartered Accountants career.
The four specialities of financial accounting and reporting, management accounting, applied finance, and taxes are available to chartered accountants. Each CA may focus on a more specialized section, or they may control the whole accounting department of the business. Below is a list of duties performed by a CA for your reference.
Chartered accountants act as trustworthy advisors who plan and manage the company's finances.
They provide monthly and annual financial statements, which are highly useful in assessing the performance of the company.
They are in charge of making adjustments and resolving the financial problems of the company since they are knowledgeable of particular laws, rules, and regulations.
They work as management accountants, business analysts, sales managers, and corporate executives in business and industry. The public sector largely relies on chartered accountants to closely watch and allocate resources in order to control public spending.
Some chartered accountants also work as consultants and independent contractors as it gives them the opportunity to move through different projects while staying abreast of changing market trends and new demands.
Make Your CA Firm Website as per ICAI Guidelines in a Low Price
These are the top 11 accounting firms in India that may assist you in launching a successful career.
You must know the key to your luck, I'm sure of it. You most definitely can! You'll succeed
There are countless CA accounting businesses in India. However, you must consider a number of factors before applying for any of them, including:
Future Career Chances
Personal Development Within The Company
Income Packages
Work Environment, and more.
Thus, when establishing this list of India's top accounting companies, all the variables indicated above were taken into consideration.
There are a lot of CA firms that are situated in India and have branches in India and abroad.
We also witness such International firms that have Branches in India and they are amongst the best CA firms and are recognized internationally.
---
For Assistance purposes, we are providing a list of the Top 11 CA Firms in India:
The List Follows:-
#1. Deloitte –

Deloitte, in terms of Revenue, is the largest professional services network in the world. Also on the basis of the number of professionals, it is the largest professional services network in the world.
Deloitte is known for providing audit, tax consulting, enterprise risk and financial advisory services to more than 200,000 professionals in over 150 countries. They are the Advisors to many of the World's most admired Brands.
The Consulting services of industries work on the theory of 'Providing practical perspectives and solutions to queries.'
Deloitte believes in 'Good to make it great!' They believe in 'helping clients to become Leaders'.
#2. PWC –

Price Waterhouse Coopers has been the world's second-largest professional services network in terms of Revenue as surveyed in 2014 and is one of the Big Four Auditors and stands neck to neck with Deloitte, EY and KPMG.
It has been a multinational professional services network.
The Firm believes in helping resolve complex issues and identifying opportunities. People from all backgrounds such as arts, business, economics, engineering, finance, health, information technology, law and more are entertained.
#3. KPMG –

Having its global headquarters in Amstelveen, Netherlands, KPMG has been considered one of the largest professional services companies in the world.
It is amongst the Big Four auditors, standing along with Deloitte and EY. The professionals employed with this firm, KPMG are 162,000 people and perform three services, viz. audit, tax, and advisory. The tax and advisory services provided by the firm are further divided into various service groups.
Read Also: Best Collection of Top Accounting Website Templates for Your Projects
#4. Ernst & Young (known as EY) –

Ernst & Young abbreviated as EY is a multinational professional services firm having its headquarters in London, United Kingdom. In terms of Revenue, it has been ranked as the world's third-largest professional services firm surveyed in 2012 and is one of the four biggest audit firms.
---
#5. BDO International –

BDO International stands at the fifth rank for providing the largest accountancy network in the world.
It is a worldwide professional services network and one of the best public accountancy firms. It has its competency is in serving national and international clients.
Following a survey conducted in 2014, September, BDO has its Member Firms in 151 countries and takes pride in employing around 60,000 Partners and staff in 1,328 offices throughout the world.
#6. Grant Thornton International –

Grant Thornton is a UK-based firm that has branches in almost 125 countries. This firm is known for generating very high revenue which is more than 4.5 billion dollars.
It provides services in assurance, tax and advisory firms. Grant Thornton is also known for providing services in Assurance and Taxation and other consultancy services relating the financial matters.
It has been operating for 100 years. Grant Thornton has provided valued service to organizations with the potential to grow and operate internationally. It makes the professionals adapt to market conditions and deal with complex events or transactions.
The member office of Grant Thornton is situated in Connaught Place in New Delhi.
Read Also: Best Attractive 10 CA Firms Websites Themes 2022
#7. RSM International –

RSM ranks the 7th largest among the professional services networks for audit, tax and advisory firms. It takes pride in holding the 6th rank as the largest global provider of tax services in the world.
It has fully independent member firms and correspondents in 111 countries surveyed, in September 2014. The member firms of RSM International have a combined total of 35,396 staff which includes 3,221 partners in 718 offices.
Three of the original member firms of the organization are Robson Rhodes (UK), Salustro Reydel (France) and RSM McGladrey/McGladrey & Pullen (USA).
#8. SS Kothari Mehta & Co. –

The best thing about this Firm is that it has over 55 years in existence. SS Kothari has been one of the highly reputed firms in Delhi and has branches in 100 other countries.
It has created a strong National presence through a network creation of 6 offices and 20 associates which covers almost all the regions of the Country. With a combination of Partners and Associates, it has covered almost all parts of the country.
It offers services in BPO, Tax Advisory Services, Merger and Acquisition, Statutory Audit Services, Corporate Laws and other different areas.
Office Address – 146-148, Tribhuvan Complex, Mathura Road, Ishwar Nagar, New Delhi, Delhi 110065.
#9. Lodha & Co. –

This is also a vintage firm set up in 1941 and has offices all over India. They operate in locations like Kolkata (Calcutta), Chennai (Madras), Hyderabad, Mumbai (Bombay), New Delhi and Jaipur.
Lodha & Co. has proficiency in providing professional services to a large number of corporate clients, central banks, banks, insurance companies, public sector corporations etc. They operate both in India and Internationally.
#10. Sahni Natrajan & Bahl (SNB) –


SNB is a national Indian firm which is based in Delhi and provides its services in the field of audit, consulting, accounting and allied areas. It was established in 1981 and is one of the leading Firms in India. It has its Headquarters in New Delhi and branch offices in Bangalore and Mumbai.
The Firm has kept its Aim of providing services of the highest quality, resulting in the addition of value to each of its clients in a totally professional, independent and ethical manner.
It is known for providing services in various areas like Taxation, Auditing and Internal Audit, Corporate Laws and several other services relating to services.
#11. Luthra & Luthra –

Luthra & Luthra is a Delhi-based firm having Six other partners. The Firm was established in 1979.
It has been one of the leading firms in India and has been providing its services in audit, advisory, tax and corporate law matters. It is bound to provide high-end services to its clients.
The success of Firms depends on their professionals, thus the Firm focuses on training its employees such that they can find solutions to the various needs and queries of their clients and thus, achieve the Organizational goals. It has its branches in Delhi, Mumbai, Bangalore, Chennai and Noida.
This firm is known for providing its service in different fields like Taxation, Corporate Laws, Foreign Exchange Compliance and SEBI-related services in cooperation with 18 highly qualified personnel.