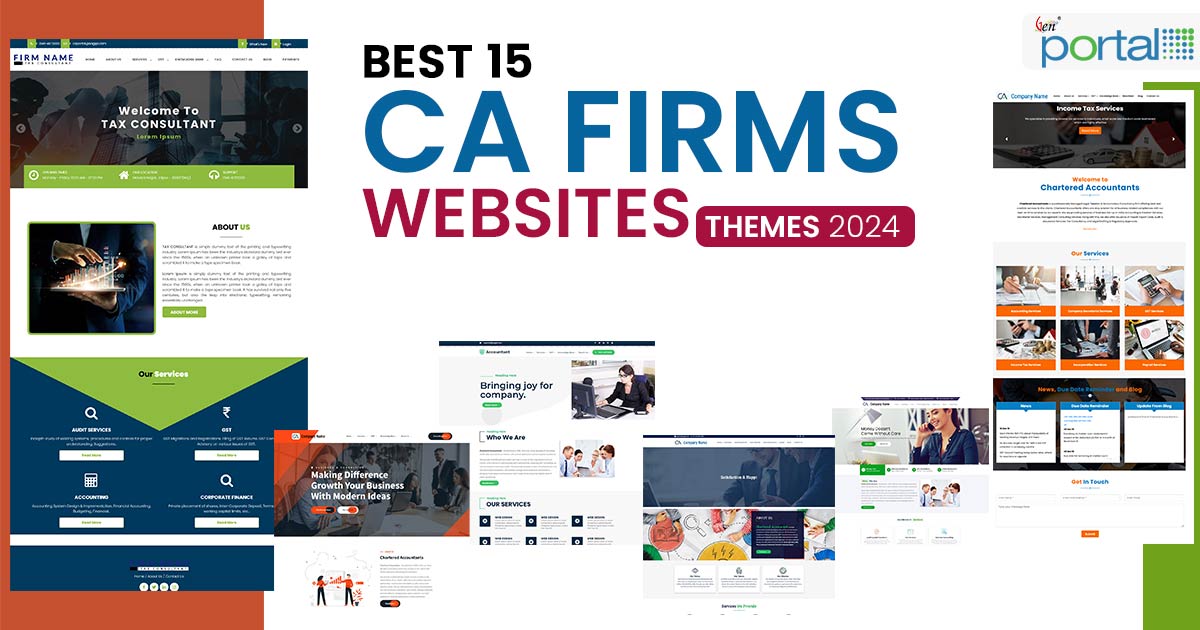 Are you in search of CA firms websites Purchase templates that would enhance your project visibility and everyone says it looks "impressive"? Building the website for the business would be the important part and for that choosing the correct theme for your firm's website would be crucial which could influence your online presence and user experience. A well-designed website theme highlights your products or services, conveys the personality of your business, and offers a user-friendly interface for your visitors. We will lead you through the process of selecting the ideal CA website theme for your business in this guide.
Do you have knowledge about coding and how to develop an impressive website? No, then you have no need to worry. You can utilize inbuilt (Chartered Accountant) CA themes for your website – all the work related to designing or coding is already completed, you just have to work only on creative content.
A portfolio helps potential clients recognize you and forces Google to look into the specifics of any requests made by the person in question for their own benefit. As it is an information hub, it offers a variety of information for whatever one wants for their business, project, or home problem, as well as information about the associated goals you offer, your prices, and contact information. Anyone may use it to publish, discuss their concerns, and show off their ingenuity.
Any company hoping to succeed in the digital era's cutthroat business environment must have a strong online presence. A well-designed website is one of the best tools for starting and expanding a business. A website acts as a digital storefront, giving businesses a place to promote their goods and services, interact with clients, and establish their credibility. In this post, we'll look at a number of strong arguments for how having a website may really help your company succeed.
Let's focus on some features we are offering you as mentioned below
Global Reach
A website has no physical location restrictions, in contrast to a real business. It enables enterprises to access a worldwide audience. Considering that there are billions of internet users globally, having a website allows prospective clients from all over the world to find and interact with your company. This creates wonderful growth potential and can greatly increase your consumer base.
Increased Credibility
A website with a professional design inspires confidence and trustworthiness in users. Customers frequently conduct internet research before making purchases in today's digital marketplace. Your brand's reputation is increased by having a well-organized website with current and pertinent content since it shows professionalism and a dedication to client happiness. A website also gives you the chance to highlight client endorsements, industry affiliations, and certifications, further enhancing the reputation of your company.
24/7 Availability
Even when your physical store is closed, a website enables your business to be accessible to clients around the clock, every day of the week. This increases convenience and customer satisfaction since potential consumers may obtain information about your goods or services at any time, make purchases, or contact you. A website guarantees that your company remains competitive in the contemporary economy by giving 24/7 accessibility.
Cost-Effective Marketing
Creating a CA website is a more affordable marketing option than using traditional advertising channels. Print, radio, and television advertisements are some examples of traditional marketing methods that might be costly and have a small audience. A website, on the other hand, offers a long-term marketing option for less money, as it only requires occasional website maintenance and hosting payments. Additionally, you may increase targeted traffic to your website using digital marketing strategies like search engine optimization (SEO), content marketing, and social media promotion. This will increase exposure and draw in more visitors.
Improved Customer Engagement
An effective platform for communicating and connecting with clients is a website. Customers may simply contact your company with features like contact forms, live chat assistance, and email newsletters. This open channel of contact enables you to quickly respond to client queries, offer individualized support, and collect feedback—all of which may be quite helpful for enhancing your goods or services. Additionally, interesting material like blog entries or educational publications may position your company as an industry thought leader and promote continued client interaction.
There are reasons why the CA website could help in establishing a business:-
ICAI has provided guidelines for the CA member and CA firms on the website. The notification includes the client's name, the name of the firm, stating the professional fee, etc. The CA relevant people can seek information through this official notification from the Chartered Accountant website themes.
Branding plays an important role while designing templates for the website. A clean website would help to attract more customers as well as create more business connections. A well-developed template for the website helps to enhance the loyalty of important clients. Google always gives preference to responsive websites and ranks them in the top position in search engines. For the online presence, a strong SEO is required.
Here we are providing a collection of developed business professional templates related to Chartered Accountants which can make the project memorable. All of the templates have one year of support and those clients who have purchased the professional templates will have to update the template once a year.
All CA templates have been created in a good colour combination which would provide better visibility to the customers. All of the templates have been developed currently by adopting the latest web design trends and also have an impressive appearance.
High-Quality CA and Accounting Websites at Half the Price
List of Top Premium Business Professional CA Firm Website Template
#1. Accounting & CA Firm Website Templates for Consulting Services
---
Our CA website features a white and green colour scheme, with the name of the company shown in the upper left corner. The website has choices such as Home, Team, Services, GST, Knowledge Bank, Contact Us, etc. that are shown at the top of the page.
Multiple banners that rotate automatically are available for simple information navigation. Additionally, there is a service area with some subjective details.
A contact form that may be filled out and sent is provided in the footer by theme 89. The firm's information is shown at the bottom of the page, including information about the company, its address, phone number, email address, and a map.
#2. Effective CA & Accounting Premium Web Template
---
The Chartered Accountant theme 88 uses the colours orange, white, and black to give the website a wonderful appearance. The CA template 88 contains a header on which you may display the tabs that are pertinent to your business, like home, services, GST, knowledge base, and contact us. A slider is given where the information can be shown.
The about us section is given by the theme for the company's details. The services provided by the company can be shown in the services section. The theme provides the section of the team that allowed you to represent the team members of the company.
News, blogs, and due date reminder sections can be added to the website. A get-in-touch form is provided so that the visitor can approach. On the footer part links to services, contact us, addresses can be added.
#3. Attractive Responsive CA Consulting Services Theme
---
The CA theme 87 provides a white colour for the backgrounds. On the header part provided by the theme, you can add Homepage, Services GST, contact us, GST, and tax blog, also you can add social media links and the logo of the company on the header.
A slider provided by the theme can be made with the services or the company tagline. A service section is given where the company's services can be represented. Theme 87 allows the individual to add the news, blog, and circular of the company on their website.
A contact us form is been provided by the theme for an easy approach to the firm for its visitors. Links to services, contact information, and locations can be put in the footer section.
#4. Most Attractive websites Templates for Accounting and CA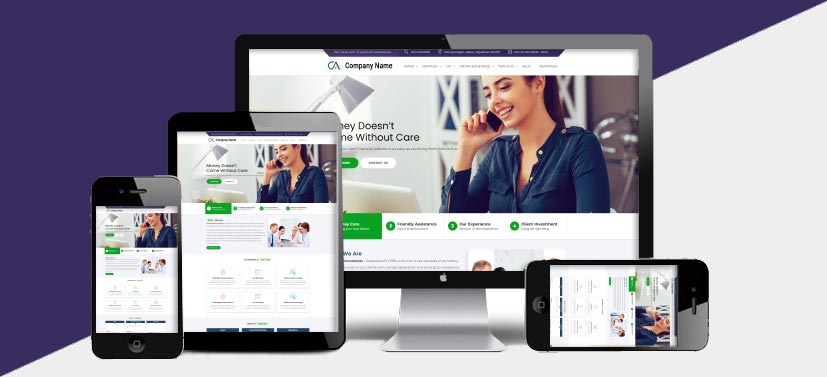 A white and purple blended theme has a header where you can add an address, contact details, and company logo on the upper header while information like home, services, GST, blog etc can be added on the lower header.
A slider with the company services details or accomplishments can be written, along with the buttons of contact us, can be provided. An about us section is enabled to be added on the website given by theme 86
On the website, you can add the services of your company in the service section. The website may be expanded to the areas for news, blogs, and due date reminders. There is a contact form available so that the visitor can get in touch. Links to services, contact information, and locations can be put in the footer section.
#5. Most beautiful WordPress Theme For CA Firm
---
The chartered accountant theme 85 has a combination of white, blue, and black colour codes. The upper header is provided with the company logo, email address, and phone number, while the lower header is given with the home, services, GST, contact us details, and blogs.
On a slider provided by the theme, you can add services you provide, quotes, about us, etc elements. An about us section is given by the theme you can add details of your company, and a service section is given by the theme.
A section of News, updates from the company is provided. A contact us form is provided by the company. On the footer part contact us details, important links of services etc can be added.
#6 Accounting Firm Website Templates From CA Portal
---
The CA theme 84 poses a white background where a header is provided in which you can add the company logo, home, team, services, career, and other things. A banner is provided by the theme and you can show the information related to services, quotes, etc.
You can add about your company in the about us section provided by the theme. Also, you can show the types of services your company provides in the service section. In the section team, you are able to show your professional team members. The theme furnishes the section of technology that you uses in your company that you could show in that section.
You can add the recognition part in the client's section provided by the theme. News, and company updates section can be added to your website. A contact us section is provided by the theme that you can add to the website. On the footer, you can show the direct services links, address of the company, etc information on the website.
#7. CA Theme For Tax Preparation Website
---
The CA firm theme 83 showcases a sleek and captivating design with a white background leaving a mark of professionalism and trustworthiness of your organization. The theme has an intuitive header with sections such as home, services, FAQ, about us, contact, and blog. In the sliding banner feature, you can put here a contact form to make it easy for your visitors to reach out to you.
The introduction section, where you can provide a compelling overview of your company embedding with a Welcome banner. Below that, in the Our Services section, you can display all the services you are experts in. Share News, Due Date Reminders, and informative Blogs to stay ahead of the game. The 'Our Team' section allows you to introduce your talented team members.
The contact form or the query section makes communication a breeze, ensuring seamless interaction with your customers. You also get the section to show you happy clients and their feedback. The footer, where you can include essential links, contact information, and a captivating about us section.
#8. Professional Template for Tax Consultant Firm
---
The CA portal theme 82 for the Chartered Accountant website has a captivating blue colour. Keep your visitors attached with sliding banners that showcase vital information about your company, team members, and more. The theme's header offers easy navigation options like home, links, news, about us, services, and blogs.
In the impressive about us section, you can proudly display your company's specifications and establish your credibility. Through the 'What We Do' section, showcase the wide range of services provided by your CA firm. With the theme 82's News, Due Date Reminders, and Blog sections, stay connected and engaged with your audience.
Highlight your experienced team members and their contributions to your company. And don't forget to include essential contact information, easily added by utilizing the get in touch section. At the footer of your website, leverage the provided options to add important links, contact information, and a captivating about us section.
#9 Best Design Theme For CA Firms Specifications
---
Take your chartered accountant website to new heights with the dynamic Chartered Accountant Theme 81. Featuring a sleek white background and a user-friendly header with essential tabs like home, about us, services, knowledge base, GST, utilities, and contact us. Introduce your company giving visitors vital information about your organization and establishing trust and credibility through the big banner.
Theme 81 allows you to tell them about your expertise to serve various industries. Below that you can allow visitors to go through all services you provide in the accounting domain. Tell them what cutting-edge technologies you are equipped with. Showcase your qualified team of professionals, giving visitors a glimpse into the expertise behind your success.
In Theme 81, you also get the section to display what your clients say about your service. Keep visitors informed and connected through the News, Due Date Reminders, and Blog sections, providing valuable insights and updates. The footer has essential links, contact information, and an about us section, leaving a lasting impression on your website visitors.

If you have any queries relating to our CA portal themes, you can contact us anytime.
#10. Blue Coloured Skyscraper Theme For CA
---
CA Professional Theme 80 for your chartered accountant website, a compact yet impactful theme offers a unique color combination throughout the theme, blending the warmth of orange with the coolness of blue. The intuitive header section is equipped with essential tabs like home, about us, services, knowledge bank, newsfeed, GST, blog, and contact us, ensuring seamless navigation for your visitors.
Showcase eye-catching banners highlighting your company's services, teams, infrastructure, or ambience in engaging slides. The introduction section allows you to captivate your visitors by sharing your vision, mission, or a welcoming message. The services section serves as a space to demonstrate your expertise and present the diverse range of services you offer.
Quench the thirst for knowledge of your audience with additional information through integrated news, blog, and due date reminders. To facilitate communication, a contact form is conveniently provided in Theme 80, encouraging visitors to reach out to you. At the very bottom of the theme, you can add essential links such as contact us, about us, and more.
#11. Colourful Professional Theme With Easy Navigation
---
Chartered accountant website templates are very well-coloured and give a basic view of the platform with all the significant tabs on the front panel. The coloured tabs will take you to the desired location and will surely attract the clients and make them visit your webpage without any difficulty. To the under website format is also easy and will be giving access to all the viewers with a single click.
#12. Attractive Color & Latest design Theme for CA
---
Transform your business's online presence with the professional and streamlined Chartered Accountant Website Theme 4. This simple yet effective theme incorporates all the essential sections for a successful CA website. The Header section features tabs for easy navigation, including Home, Services, Our Team, News Feed, Blog, GST, and Contact Us.
Below, you will get a space where you can place your welcome banner with a contact us button. In the short space given below the welcome banner, you can allow your visitors to know about your firm. In Theme 4, you can showcase the various services you offer.
Allow your audience to consume some additional information whenever they come to your website through the news, blog, and due date reminders. Encourage communication with a convenient contact form. Essential links, such as "Contact Us" and "About Us," can be placed at the bottom of the theme.
#13. CA Theme is Designed in Dark Blue Colour for Professional
---
Elevate the professionalism of your CA website by implementing Theme 5, designed to impress and engage visitors. The header section features captivating tabs with a blue coloured background strip, granting easy navigation to important sections including Home, Services, ITR Filing, Regulatory, Licences, GST, Knowledge Base, Utilities, Blog, and Contact Us.
Beneath the header strip, a visually appealing sliding section with a stylish grey background, accompanied by two buttons. Following this, an about section allows you to articulate the roles and responsibilities of CA, CS, and Lawyers, showcasing your expertise and knowledge.
A separate form is provided to gather inquiries. In addition, offer valuable information to your audience through news updates, blog posts, and reminders for important deadlines. Implement a sliding display of client feedback for an enhanced user experience. The end strip features a prominently placed button, inviting visitors to easily contact you. Essential quick links such as Home, About Us, Our Team, and Newsfeed can be found, ensuring effortless navigation and access to key information.
#14. Tax Advisor & Financial Consultant Website Template
---
Our website poses a white and blue colour CA theme, on the upper left-hand side it poses the name of the firm. The website consists of the options which is been listed on the top of the website such as Home, team, services, GST, knowledge bank, news, query, contact us, blog etc.
We have multiple banners which automatically rotated for easy navigation of information. It also has a service section that gives some subjective information.
Below that it has a get in touch form that one can fill out and submit. At the bottom of the page, there is the information of the company in which about us, company address, contact information, email address and map are mentioned
If you have any queries relating to our CA portal themes, you can contact our professional experts,
#15. Professional Template for Tax Consultant Firm
Our website comprises a green, yellow, white, red, and black colour theme. On the top left-hand side of the page, the name of the company has been mentioned. On the heading bar the options like home, about us, services, GST, knowledge bank, FAQ, contact us, blog, and payments have been given. Next, we have a slider in which we have all the categories related to tax. Get expert services theme from our website where you can see all the information.
We have a section of Tax & Investment Compliance Experts which has income tax filing, investment and financial planning, retirement planning, GST registration, GST return filing, NRI income tax filing, company incorporation, and annual filings, bookkeeping and outsourcing, and TDS return filing. One can also find the category of online service marketplace on the website theme. Find Tax/Compliance Expert – The tax Consultants section is there on our website page. We have a news section below that where updates will be available for you.
We have a testimonial section from the clients. Below that it has a get in touch form that one can fill submit. At the bottom of the page, our company address and contact information have been given along with that some tax-related government website links has been given.

CA Portal provides several factors in website templates that would help in luring customers and making the website memorable. Some of the essential features in the top CA firms website templates are the responsive layout, compatibility with all major browsers like IE 8+, Firefox, Opera, Safari, and Chrome, high resolution, modern design, social media tabs, optimized for fast loading, and professional appearance. You have no need to work on CA template designing when you are using a ready-made professional website.