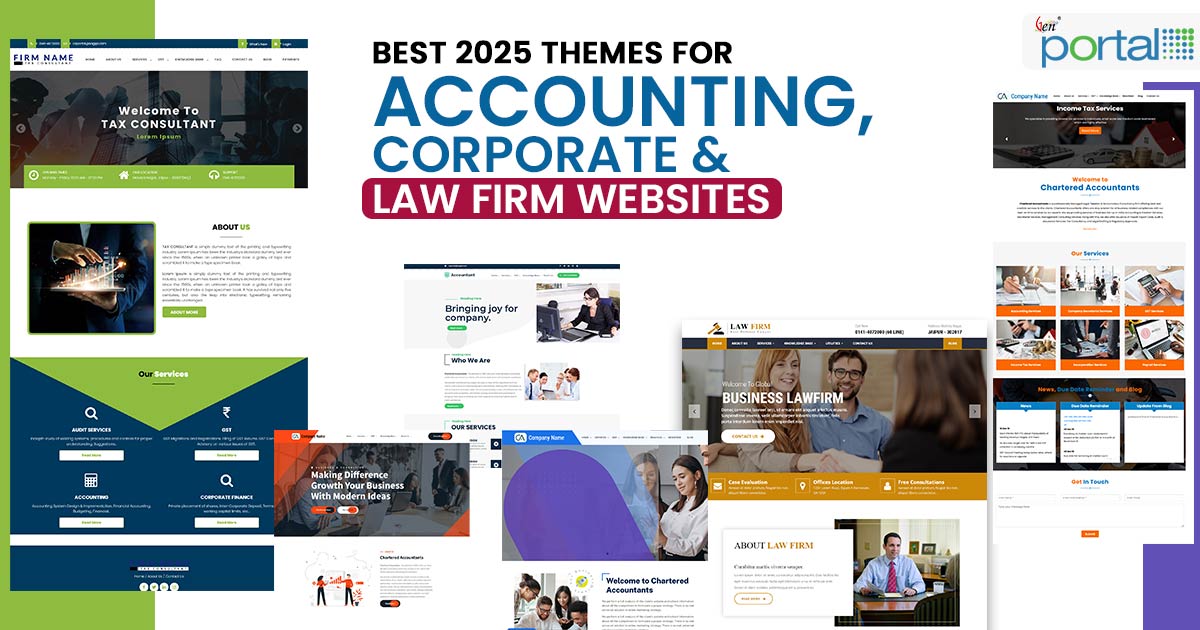 Having a great Accounting website is one of the toughest tasks for online businesses nowadays as everyone depends on the search engine giant to choose the right service providers.
Having a good website is a fundamental key for the online accounting business and it has several benefits such as it increases the revenue of the business, attract more and more audience, reach new customers tells about the company description and more.
An ample number of websites themes/templates are available for free on the internet wherein you don't require to develop the accounting firm website template.
A chartered accountant firm website is a way to advertise your business online to reach to the wider audience. Each and every designer put great efforts to develop a responsive, simple, flexible, elegant, great-looking website that has better navigation, advanced features, and a user-friendly interface.
From the marketing or the owner's point of view, make sure that you have placed each element in its perfect place whether you are working with a perfect theme or web hosting services. Everything is to be done in a perfect manner.
CA, CS Lawyer & Accounting Websites for Your Firm

CA Portal (A place for professional website theme) is one of the most renowned and widely used frameworks which especially deals in offering CA, CS and Lawyer professional themes or templates. The templates have been designed keeping in mind the guidelines of the ICAI & law and it is ready to use websites wherein the users have to put the content or some minor changes. If in case, the developer wants to design the website for its business he can develop it by using CA responsive websites.
Reasons To Choose Responsive Website Theme:
Why You Opt Responsive Website Theme as it offers a lot of great features to the user. It allows users to develop an astonishing website without putting too much effort and cost.
Simple: All professional templates have been designed in the simplest form that allows the user to access them easily. The templates are available in different design languages and styles.
Quickly: Website themes are ready to use solutions in case a particular person wants to create a website in a short period of time. The choice of website themes plays an important role in business.
Mobile-Friendly: Mobile Users have been increasing rapidly so we have understood the current scenario of the market and the CA professional website is a mobile-friendly
Customized: Whatever kind of online business you want to set up for your project. Lawyer Professional templates allow the users to pick up the features that they required.
If you are looking for a template for your website responsive website offers various templates/ themes relating to the CS, CA, and lawyer. Before choosing any of the templates must remember that you are delivering the best possible experience for your visitors.
Our teams have designed the templates keeping in mind the client requirements and come with various great features that are mentioned below:
Mobile-Friendly Layout
Google language converter
Online Chat (Live chat, Whatsapp chat)
Social Media Button
Visitors counter
Client Reviews and Testimonials
Enquiry form for Website
Google forms
Google Map on Website
Due Date Reminder
Fast and Reliable Hosting
Optimized Code for Speed Fast Loading
SEO Optimization
All of these features are available in our professional website builder which the user can as per its requirement. Here I am going to provide you with a list of responsive website themes which allows the users to develop a professional website for business.
Accounting Firm Website Template For CA Professional:
1. Aquatic Green (CA Professional Theme)
A beautiful Aquatic Green (CA professional Theme) has been designed keeping in mind the client requirements which comes with enticing features such as news, forums and important notifications relating to law. Furthermore, the theme also has a section on central excise, expenditure tax, income tax, calculator, blog and more.
The professional aquatic green professional theme is loaded with features that would be beneficial for chartered accountants. Let's purchase this theme and grow business your business online.
An Aquatic green comes with a host of enticing features that are as follows:-
CHAT
GALLERY
GST
LOGIN PANEL
CALCULATOR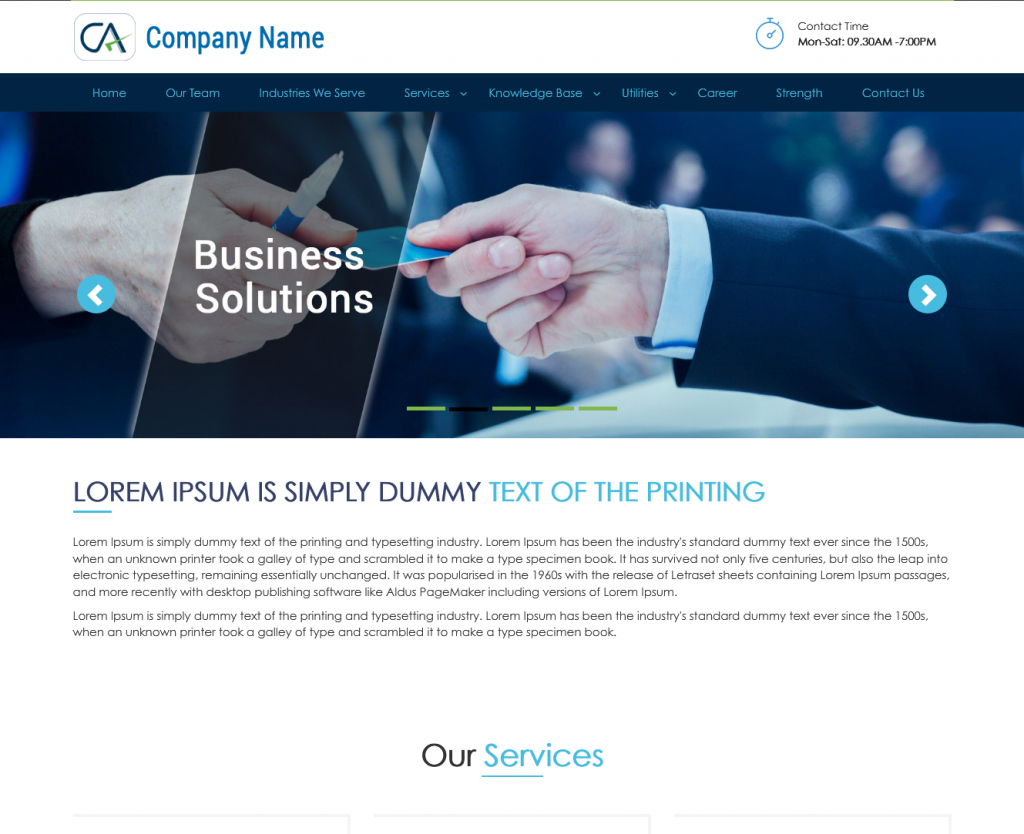 2. Colourful Rounded Tabs (CA Professional Theme)
This good looking theme is specifically an accounting website designed for CA professionals with the combination of colourful rounded tabs which attracts the users spontaneously.
It serves with all necessitate legal features from monthly return forms to filing annual returns.
The CA professional theme comes with features such as Due Date Reminder, Forums, Blog which allows clients to get connected with the latest news.
Furthermore, the query form, location map and contact us allows businesses to stay connected with their potential clients.
It gets a host of features that are as follows:-
Chat Option
Contact Us
Blogs
News
Calculator
Return Forms
Services
Acts/Rules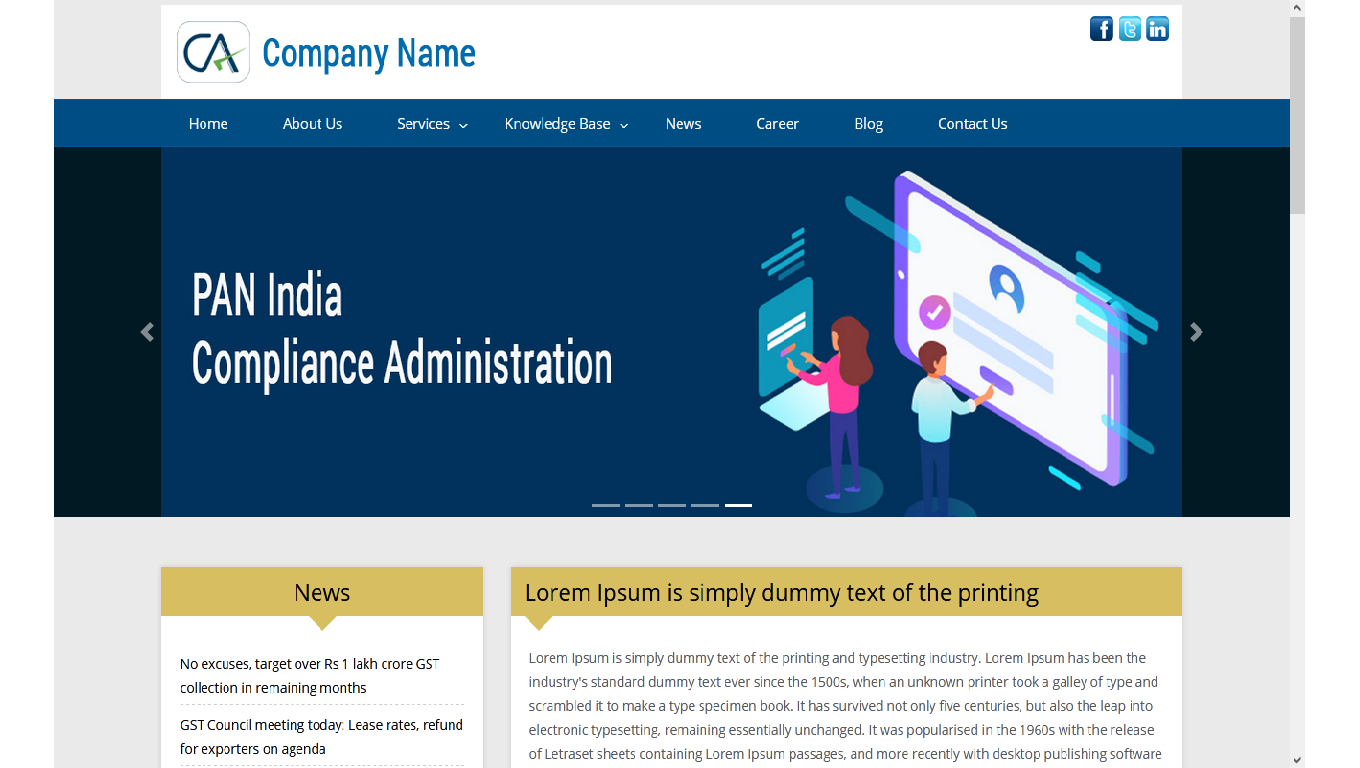 3. Mediterranean Blue (CA Professional Theme)
The Mediterranean Blue theme has an already inbuilt feature like direct Chat Option, Gallery, Mission, About us, Separate Login Panel, Firm Information, Utilities.
The Mediterranean Blue CA professional website theme gets an attractive front- page and the theme is being designed in a manner to attracts potential clients as well as informed them about the recent trend.
Due to the great features and functionalities of CA professional theme has been liked by most of the Chartered Accountants.
The CA professional website comes with great features such as social media tabs, important links (Query form, GST, etc), auto calculator, automatic updating of notifications and more.
Key Attractions of The Template Include:-
Direct Chat Option
GST
Gallery
LOGIN PANEL
SOCIAL MEDIA TABS
BLOG
Important Links
News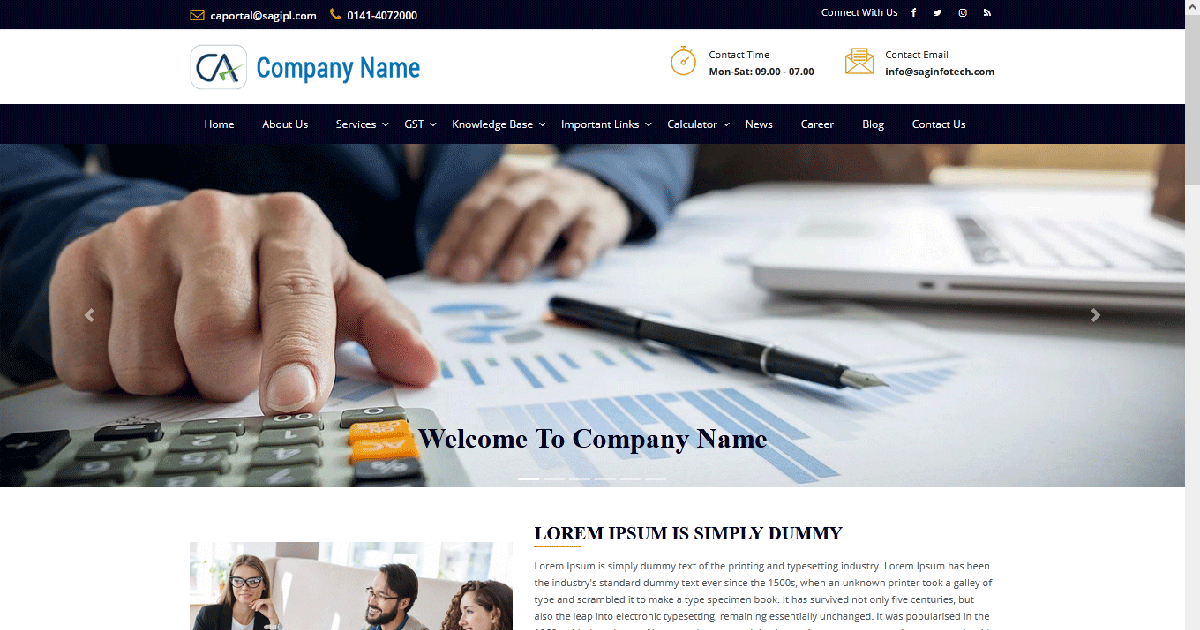 Read More:
11 Most Responsive & Trending Chartered Accountant Website Templates for 2019
Themes For Company Secretary Professional:
1. Sun Rise (CS Professional Theme)
Sunrise CS Professional theme grabs the attention of the clients instantly as it is designed with bright colours. The picturesque clearly predicts that the theme is particularly designed for finance and money. The black written text with orange layout would be apparent and could be visualized easily.
Interestingly, the theme gets all necessary features to keep in mind the client's requirements that are listed below:-
Home Page on the Top
Contact Us Button
Map
Blog
News
Important Links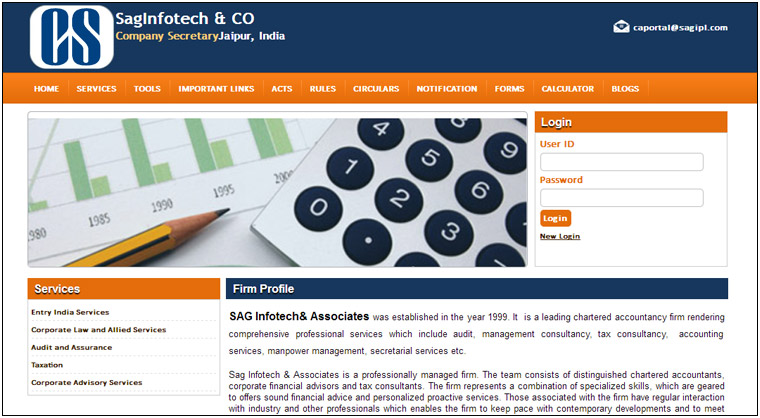 Furthermore, the CS professional theme also has a direct chat option, social media tabs, efficient links, calculator and more. If you are looking to start a professional website for CS, this responsive website is great for the online presence.
2. Working Corporates Theme with Executives
The attractive blue coloured theme will perfectly maintain the attraction of your clients with all the relevant features and tabs on the go. Clients will be able to reach any part of your website to gain your services. Some of the enticing features of the CS theme including Career (Job Vacancy), Enquiry, Chat Options, Blog Creativity, Mission, Vision, About Us, Social Media Tabs, Auto Calculator, and Separate Login Panel.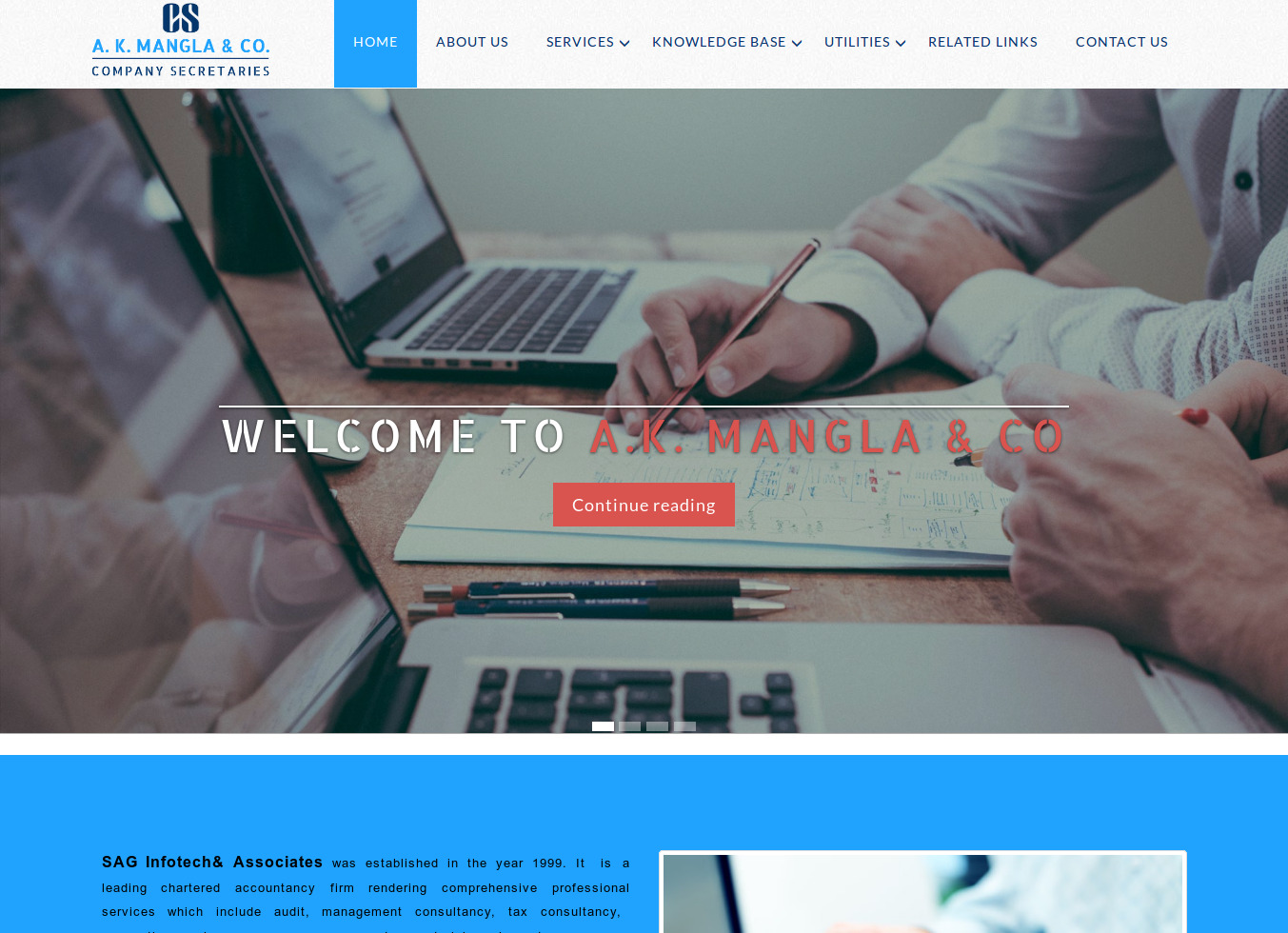 The top-end features such as home, services, tools, important links, rules, circular, notification are synchronized with green colour which could help to render a great impression on the audience. If you are dedicated to nature lovers than the sesame green theme is great for your online business.

3. Orange Haze (CS Professional Theme)
The layout of this theme is designed in the combination of white and orange colour which could enhance the visibility. Our orange and white colour will definitely speak for itself as it is a mix attractive colour, sober design and responsive tab allocation for better theme applicability. The template gets enticing features such as social media tabs, visitors counter, blog, automatic updating of notifications, circulars, acts gallery, rules gallery.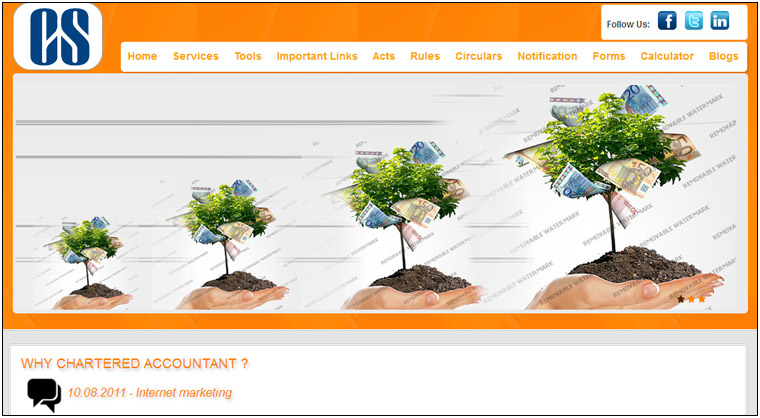 Other key features Return Forms, Circulars, Notifications, a calculator would the online business firms to keep interacting with clients.

1. LAW landing page Website (Lawyer Professional theme)
This professional lawyer theme is designed in ocean blue colour with black written enhances the visibility of the readers on a website.
The front logo of the theme is clearly indicating that it is particularly designed for the lawyers to attract the client's attention. Apart from the design, it gets enticing features such as important links, maps social media tabs, GST calculator, news, blogs and more.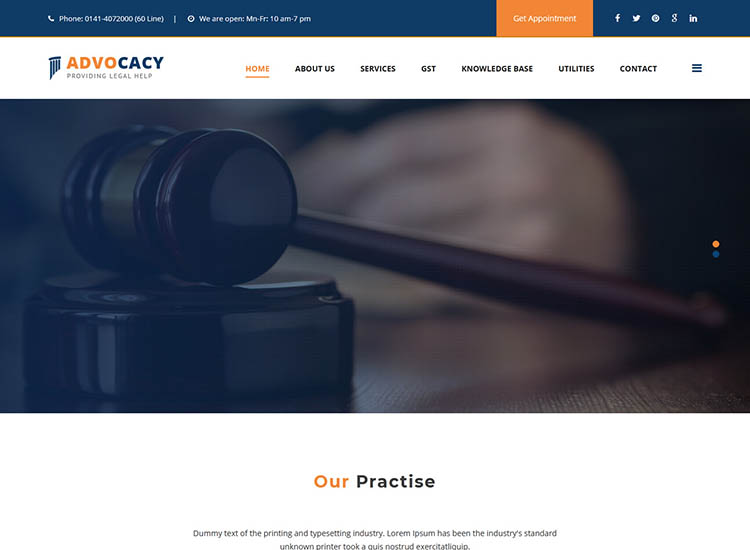 At the top of the template has all the attention-seeking Home, Services, Blog and Contact Us action-buttons are the place where the audience quickly go through.

2. black and Beige (Legal Professional theme)
The black and beige layout and white text were written over it clearly resemble the prompt nature of the lawyers. The lawyer's professional theme is being offered with great features including home, about us, blog, testimonial and contact us.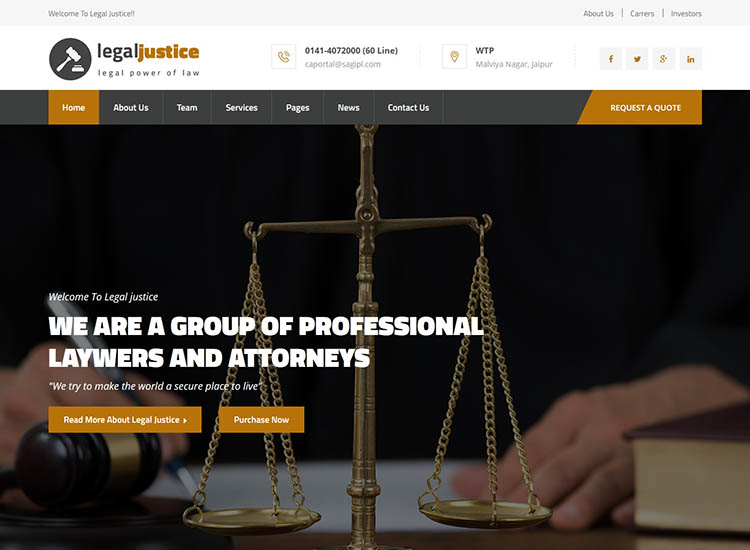 The other highlighting features of the theme are separate log in the panel, important links, firm information, social media tabs, automatic important notifications and more.

3. Light Blue and White (Lawyer Professional Theme)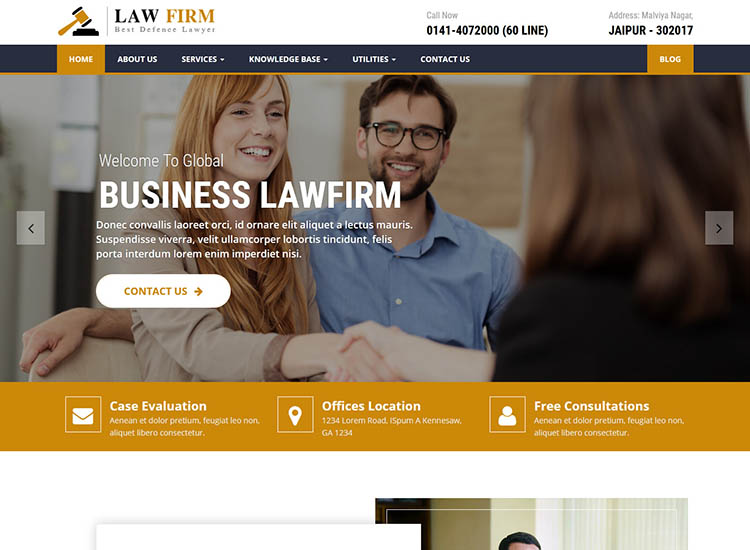 Lawyer Theme 3 is one of the best HTML based responsive and user-friendly website templates for lawyers. The template creates a very engaging feel with the unique colour combination, highlighting all the connecting kinds of stuff. The template can easily fit the personality of the lawyer and it features a Team detail page, Firm detail page, Admin login panel along with Email login panel. The template also features a Department Link Gallery, Visitor's Counter, Client Login Panel, Services, and many more.

The gracious professional lawyer theme is designed in such a manner that meets all client's requirements. The features of the theme include important links, blog, social media tabs, map, about, forms gallery, automatic notifications and more.