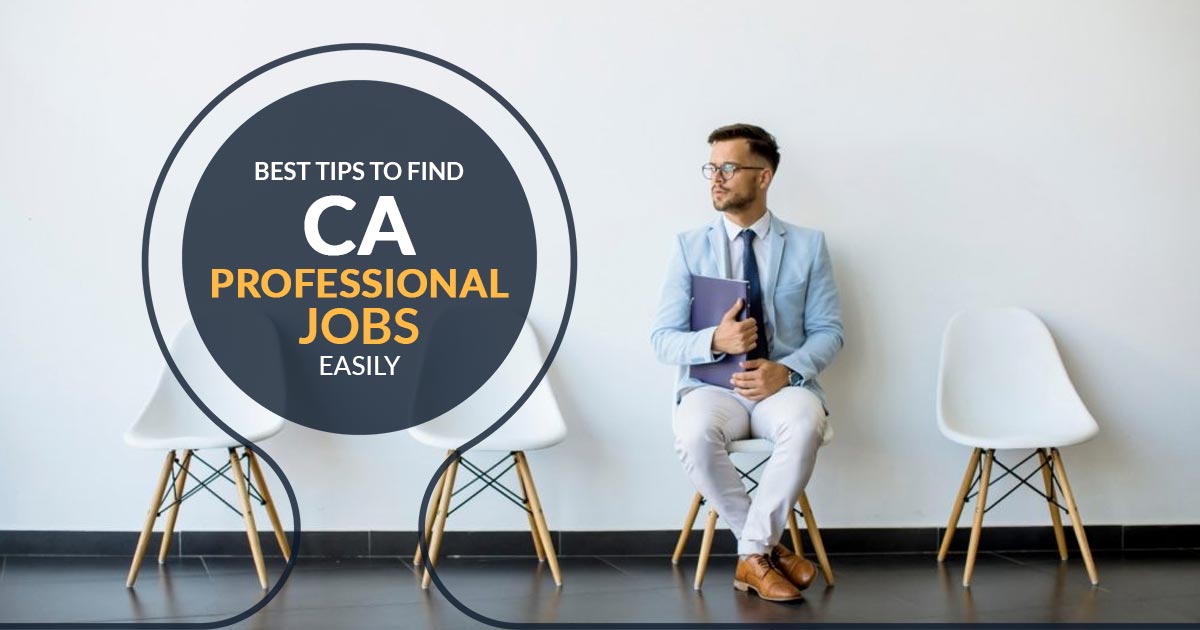 As a Chartered Accountant (CA), job searching can be a daunting task, especially in a highly competitive job market. Therefore, it's essential to have a solid job search strategy that helps you stand out from the crowd. This will enable you to secure your dream job. For commerce students, especially those aiming to become Chartered Accountants (CAs), the employment market can be challenging. It's critical for CA hopefuls to be organized and equipped with the appropriate job search techniques because competition is growing yearly.
Following are Some Pointers to aid CA Students in their Job search:
#1. Take Action Early
You should get your job hunt going as soon as possible. Start looking while you're still pursuing your CA course. This will give you plenty of time to consider your job possibilities and make the necessary preparations.
#2. Get your Resume and Cover Letter Up-to-Date
Your CV and cover letter serve as marketing tools for you. Make sure they're up-to-date, professional, and relevant to the position you're applying for. Spotlight your significant job-related abilities, accomplishments, and experiences. Make use of action verbs and measure your achievements.
#3. Networking Organizations
Networking is an important aspect of any job hunt. Attend job fairs, seminars, and conferences to network with industry leaders. Join CA organizations and clubs to meet other CAs and learn about career prospects. Maintain contact with professors, mentors, and alumni who can give useful advice and recommendations.
#4. Job Boards and Recruitment Agencies Can be Useful
In order to identify job opportunities, job boards like Indeed, Monster, and LinkedIn may be helpful. Matching job searchers and jobs is their area of expertise. Keep trustworthy organizations informed of your career choices by registering with them.
#5. Find out More About the Company
Before applying for a job, do extensive research on the company. Read about their products/services, mission, and values on their website. Understand their work culture and surroundings. This will assist you in customizing your application and preparing for the interview.
#6. Getting Ready For The Interview
Practice typical interview questions and look into the interviewer's background to get ready for the interview. Bring copies of your résumé and references, dress properly, and be on time for the appointment. During the interview, be enthusiastic, self-assured, and open to learning.
"Success in an interview is 90% preparation and 10% performance." – Julie Brush
#7. Contractual Salary Negotiations 
Negotiate your salary after receiving a job offer. Learn about local living expenses and industry norms. When you're bargaining, be confident, professional, and courteous. Keep in mind that the employer wants to recruit you and may be open to a compromise.
Here we discussed various job portals for Chartered Accountants (CA) to find employment. The article mentions that job portals such as Naukri, Indeed, and LinkedIn are popular among CAs. It also highlights some job portals specifically designed for finance professionals, such as CA Jobs by ICAI and CCI Online Coaching.
The article emphasizes the importance of creating a professional profile, optimizing resumes and cover letters, and networking with industry professionals to increase job search success. Overall, the article provides useful information for CAs looking for job opportunities in their field.