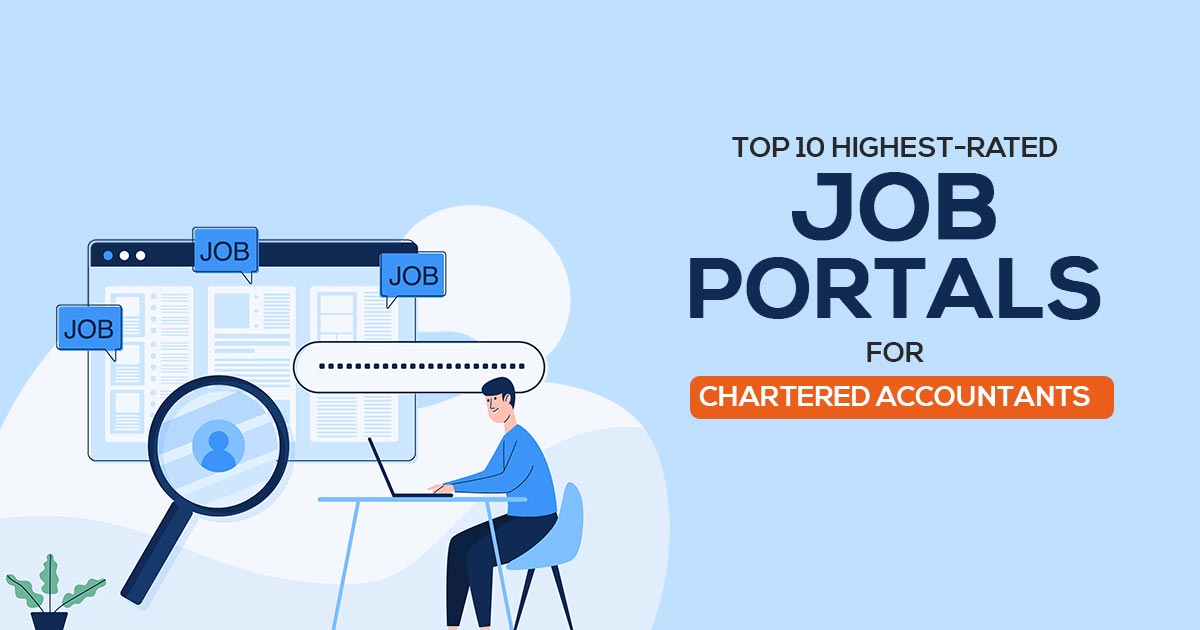 Chartered Accountancy(CA) is revered as one of the most productive and high-remunerative professional courses in India and for them here are the top 5 job portals on which they can search jobs. And because of this distant dream in their eyes, most of the students opt for commerce stream..
On the Chartered Accountancy path, success is no accident. It requires persistent efforts, hard work, studying, learning, patience, punctuality and above all perseverance of the vast number of facts and norms within a relatively short time.
However, the investments, made to make a hit in this rewarding career path, comes with infinite possibilities, ample opportunities, respect, revere, recognition and high package salary, provided you have good platform or job portal that is attuned with your proficiency and knowledge.
This career-oriented course guarantees a job but the platform that offers you tempering the heat of experience is a stair that will take you higher.
Today, we are highlighting five job portals that are exclusively invented for CAs:
#1. The CA JOBS Portal – Specialised Portal Developed by ICAI
The Institute of Chartered Accountants of India (ICAI) developed the CAJOBS portal that offers job opportunities only to the Chartered Accountants. It is an extended step by ICAI which provides the three-level CA program.
Candidates may register themselves, browse for CA jobs across various functions and apply for the one that best suits their skills and expertise. Features like job alerts, job recommendations and job tracks are embedded in the portal as well as a mobile application which is named as ICAI CA JOBS mobile app.
#2. CA Page – A Page That Displays CA Job Openings
CA Page is another leading online platform that serves job seekers with the latest job vacancies. Many financial professionals like CMA, CA and CS envision this page as an all-inclusive and most conducive job station as it comes with job alert on WhatsApp feature that keeps updating the interested jobseeker with the jobs most appropriate for them. The candidate may avail the services by downloading the CA Page mobile app.
Read Also : Career Opportunities For Chartered Accountants Under Business & Jobs
#3. CA Job Portal – One of The Most Chosen Portals
CA Job Portal is one of the most leading, known and chosen job portals among the Chartered Accountants professionals. CA Job Portal is the first recruitment website exclusively brought in for finance professionals in India.
Candidates can keep an eye on the latest job openings, apply for a suitable job very easily and hunt an appropriate PSU job over this portal. This job portal also has a mobile app to facilitate job seekers. Candidates may download the CA Job Portal mobile app and look for their dream job from anywhere at any time.
#4. CA Sansaar – Website For The Latest CA Job
CA Sansaar is a convenient and pragmatic website that notifies the latest CA job openings. Along with that, it caters CMAs, CS and other accounting & finance professionals with job vacancies. It helps job seekers search up-to-minute vacancies according to their location, experience, qualifications and salary expectations across different functions.
#5. CA Club India – Job Portal For CAs & Finance Experts
CA Club India is one of India's largest online networks for accounting and finance experts. It provides job openings for CA professionals by displaying information about the latest finance and accounting job openings. CA Club India offers articleship opportunities and online learning resources to CA students.
In addition to the job vacancies, the platform provides the latest updates & news about CA industry.
CA portal also brings the latest due dates of return filing forms and relevant information to the audiences by constantly updating the news section and bringing latest blogs on chartered accountant profession Along with it, we also update our latest notification and news directly from official institute of chartered accountants of India responsible for complete activities for the professionals.