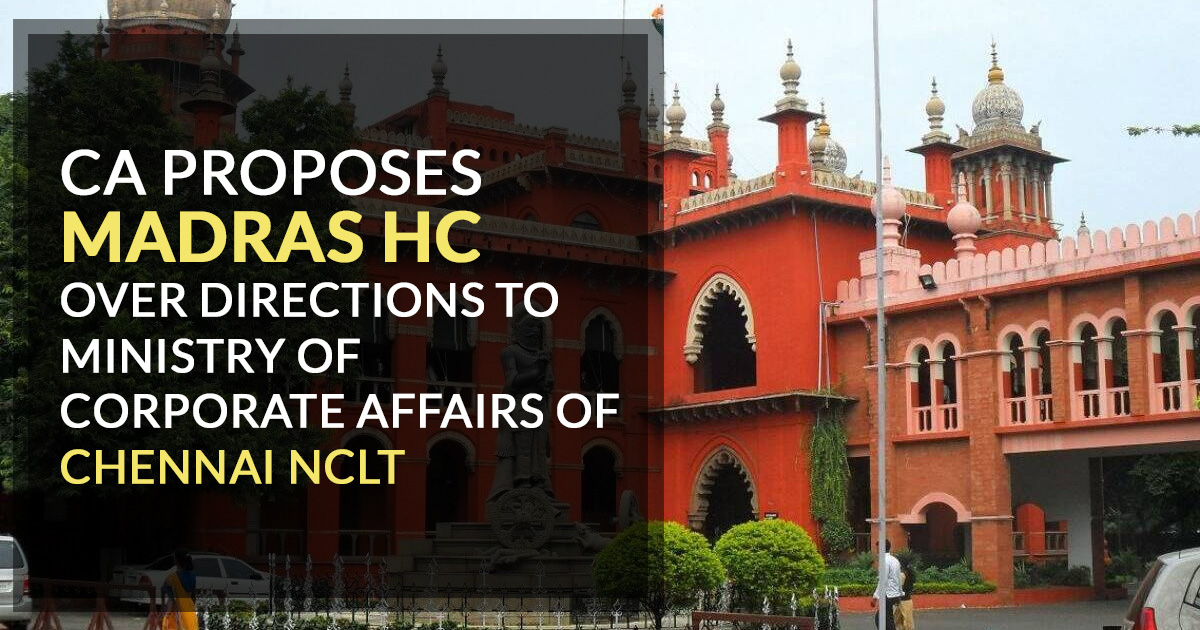 To make the third bench of the Chennai National Company Law Tribunal functional, Recently, a petition was filed in the Honourable Madras High Court seeking the directions to be given to the Ministry of Corporate Affairs so as to do the aforesaid function. The petition was filed by V. Venkata Siva Kumar, a chartered accountant by profession.
Curiously, at present there are exactly 27 division benches that are operational across the country that requires 54 Adjudicating Authorities. However, to date, there are just 42 Adjudicating authorities out of which 21 are the Judicial members and the other 21 of them are the technical members. Consequently, there is already a shortfall of the 12 judges and thus the benches are operating with the 20% shortage since the year August 2019. And it is expected that in the present year six to eight adjudicating authorities have either retired or are going to retire; thus, further increasing the shortage of eighteen authorities.
The petition reads, "important Economic Legislation has failed to achieve its objectives only because of wrong implementation by the Respondents who are not willing to recognize and address the loop holes in the system."
Adding further, the petitioner has contended that owing to a shortage in benches there has been judicial delays i.e. the sick companies that are admitted to the Resolution mechanism are stacked up thus affecting the entire revival process. The survival of workers of Micro, Small and Medium Enterprises and their families is entirely dependent upon the pending revival of companies that are not working due to a shortage of judges.
Read Also: ICAI has Announced The Date of the 'Information Systems Audit Course
Moreover, the further approaching of tribunals has gone beyond the reach of the common men because of the repeated adjournments and the expensive cost of engaging the senior lawyers, consequently resulting in the situation of justice at high cost that violates article 21 of our constitution.
Considering the aforesaid factors, the petitioner has prayed for a writ of Mandamus or any other apt writ to be issued to the respondents so as to immediately make operational the 3rd division bench at the Chennai NCLT. To meet this objective, the infrastructure has already been built in the year 2018. So it is requested in the petition to fill up vacant posts of the concerned Adjudicating Authorities in NCLT Benches as per notification that is dated August 26, 2019.
Read more at Madras high court to get the third bench of Chennai NCLT functional