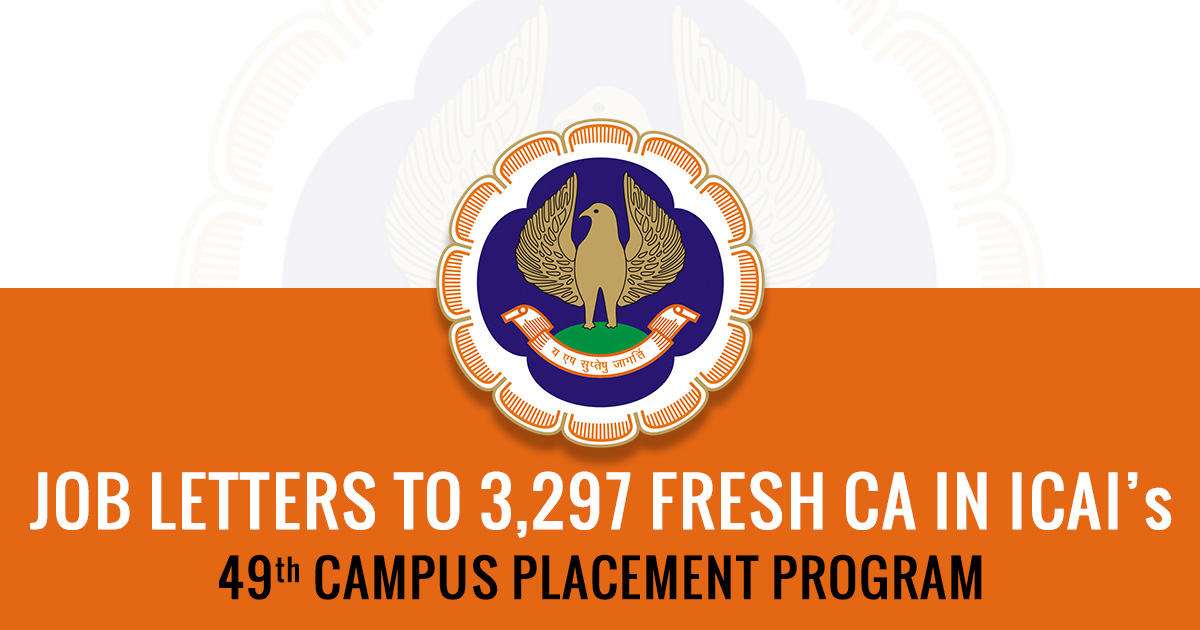 Various companies offered job letters to 3,297 freshly minted in the campus placement program organized by Institute of Chartered Accountants of India (ICAI) in the months of February and March.
It was a forty-ninth campus placement program which took place at 17 centers across the Nation. Out of 9,000 candidates who participated in the placement program, 3297 freshly prepared CAs were selected by the recruiters which were composed of 141 companies and 269 interview teams. This is the ever-enthralling response by recruiters in ICAI's placement drives when 3,297 offers have already been given and the number is anticipated to be upsurged to 5,000.
The demand for CA is increasing steadily with the establishment of more businesses and strict government policies and rules to monitor the market. And ICAI also has been taking many initiatives such as building and developing job news web portals to facilitate CAs get good jobs.
Read More Here: CA Course Have Numerous Opportunities at The Global Platform
A placement boosting program for CA students across the nation was also launched by ICAI. The eligibility for the same as fixed at the qualification of the intermediate level tests along with a 10-month articles experience.
ICAI Chief CA Naveen N D Gupta once told "ICAI also put in place an Optional Online Articles Placement Portal, to assist the eligible students in getting placement in CA firms for articles training as well facilitate the CA firms in shortlisting candidates and call them for interviews/ interaction at their offices, without any cost. ICAI has already commenced its Live Virtual Classes for the May and November 2019 examinations, enabling its students to access the classes along with a host of other resources such as recorded lectures, periodical tests and Q-A sessions, on their mobile phones and personal computers,"
Last year the placement program was conducted in the period of August-September and the job was offered to 1,593 CAs by 111 companies and 204 interview teams who participated in the placement.
22.62 lakh and 35 lakh were the highest packages witnessed during the drive for Indian posting and foreign placement respectively.
The Institute of Chartered Accountants of India (ICAI) keep working to assist the eligible Chartered Accountants students in getting placement in CA firms for which it also introduced a common Student Activity Portal to provide updates regarding the profession related events like conferences, seminars, talent hunt, mock tests, short-time courses, festivals and sport competitions to students.