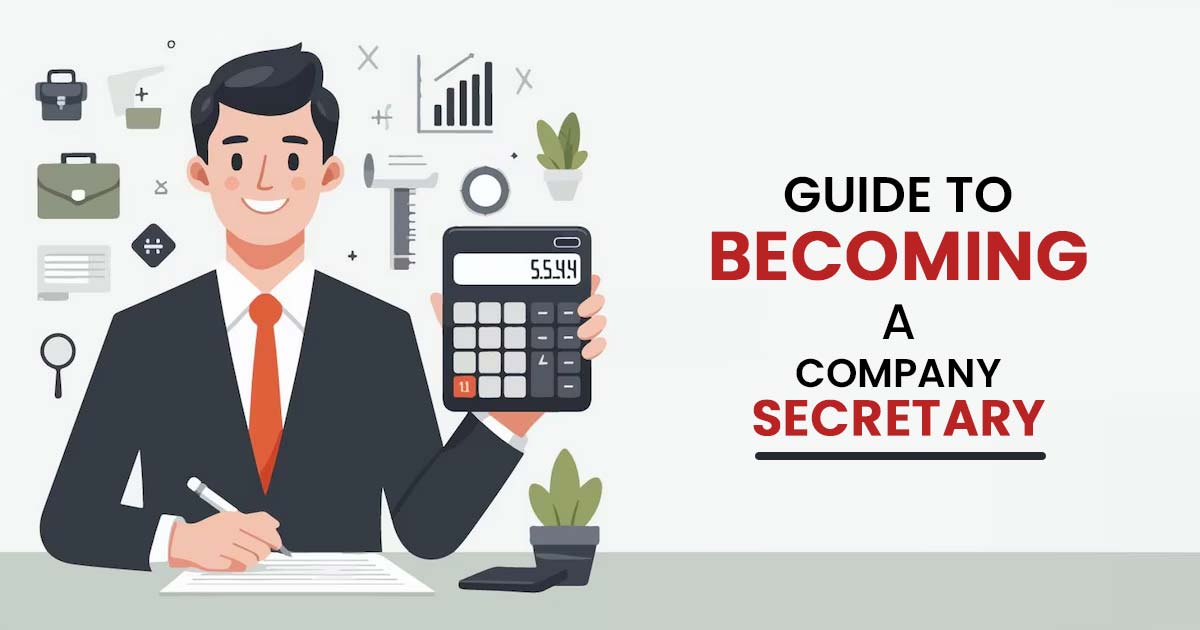 Becoming a company secretary is one of the most reputed, high-growth and rewarding career options for anyone. A company secretary is also known as a "corporate secretary" in some parts of the world. It is also a highly specialised and coveted career option that one can enter.
Who is a Company Secretary Exactly?
A company secretary is one of the key personnel in any company, placed at the top of the organizational hierarchy, i.e., management level and is also responsible for managing the legal, financial and statutory requirements of the company.
Some of the important Company Secretary duties and responsibilities include:
Creating company policies
Arranging meetings
Maintaining company financial records and accounts
Performing the intermediary role between the company and its Board of Directors
Keeping statutory record books
Ensuring proper payment of dividend and interest payments
Proper drafting and execution of agreements, contracts, and resolutions
Negotiating with regulators, lawyers and auditors over important company matters
In India, the profession of Company Secretary is governed and managed by The Institute of Company Secretaries of India (ICSI). This prestigious and reputed statuary Institute was established in 1980, under the Company Secretaries Act.
According to the Companies Act, a company secretary is "a person who is a member of the Institute of Company Secretaries of India," highlighted in section 2(1)(c). A company secretary is appointed to perform the key functions of a company as per the Companies Act, which includes performing ministerial and administrative duties.
Company Secretary as a Career Option
Having a career as a Company Secretary is an extremely rewarding India. As per the Economic Times Report 2019, large corporate firms are ready to pay salary packages up to INR 1.5 million for company secretary profile.
The demand for CS profile is exponential in India due to the increasing popularity among large corporate houses, who are willing to pay higher to CS personnel for managing important functions of their company.
It is also highly anticipated that companies in India will recruit CS in heavy numbers in future to position themselves as leading corporate entities on the world map.

Popular Recruiters of CS in India
India's Companies Act 2013 lays down the important roles, responsibilities, duties and liability of a company secretary in India. Some of the key entities involved in the hiring of company secretaries in India include:
Private sector firms having a paid capital up to 5 crores
Union and state governments
Banks and public sector firms
Large corporate houses
Central government
How to Become a CS in India
The aspirants looking to become a certified CS in India needs to undergo a three-year CS course. If you are looking to make a career in CS, you must enrol under the Institute of Company Secretaries of India (ICSI), the statutory professional body of India regulating CA/CS profession.
Higher Secondary Certificate (10+2) from any recognized board of education or its equivalent from the Central Board of Secondary Examinations (CBSE) or Council for Indian Certificate of Secondary Examination (ICSE) are eligible for higher studies as CS.
A CS aspirant should pass Higher Secondary Examination (10+2) from any recognized board of education or its equivalent from the Central Board of Secondary Examinations (CBSE) in India.
Apart from this, graduates having a Bachelor of Commerce (B.Com) and Master of Commerce (M.Com) degree along with Chartered Accountancy professionals can also become CS in India, considering they clear the exam conducted by ICSI.
Several reputed business schools (B-schools), government-run universities and Indian educational institutes also offer professional courses to clear CA examination.
Admission in Company Secretary Course
Only online registrations for Company Secretary course are accepted by ICSI through its web portal. For successful registration, you will need soft-copies or scanned images of the following documents:
Latest photograph
Signature
Secondary School Certificate or it's equivalent from CBSE/ ICSE highlighting your date of birth
Consolidated mark sheet of Higher Secondary Examination or its CBSE/ ICSE equivalent
Attested copies of passing certificate and mark-sheets for B.Com, M.Com and CA students
Caste certificate if belongs to Scheduled Caste/ Scheduled Tribe/ Other Backward Castes categories
Medical certificate from any government hospital, in case of specially-abled applicants
Valid ID Proof, i.e., Aadhar card, PAN card, driving license or passport
Valid address proof such as Aadhar card, driving license or passport or any legal document indicating the geographic location to the candidate
Read Also: 6 Important Factors to Building a Successful Company Secretary Career
CS Course Details/Stages
#1. Foundation Course
CS beginners in India should register for the Foundation Course. Applicants who have cleared HSC or its equivalent are required to register for the Foundation Course of ICSI under its three-year program.
Point to Remember
Graduates and professionals having B.Com, M.Com and Chartered Accountant (CA) certifications are not required to enrol for Foundation
Students cleaning CAT, XAT, GMAT, SNAT, MH-CET, NMAT and ATMA can also skip Foundation Course, subject to approval from ICSI
#2. Executive Program
Upon successful completion of the Foundation Course, ICSI selects a limited number of students to take admission in the Executive Program. Admissions are not based solely upon the candidate's performance in the written exam.
Points to Remember:
Candidates cleaning Foundation Exam are required to appear for a personal interview round at ICSI head office in New Delhi or one of the regional offices in Mumbai, Chennai and Kolkata or its chapters located at 38 different locations in India.
Group discussions for students clearing the Foundation Course are held at ICSI and its chapters.
Analytical and problem-solving skills are also checked via test.
Syllabus for Company Secretary Executive Program
As per ICSI's guidelines 2017, CS Executive program has a total of seven subjects. All these subjects are categorised into two broad modules -Module-1 (four subjects) and Module-2 (three subjects).
Exams for Executive Program are generally held in the month of November and January. For accurate details about Executive Program exam, visit the official ICSI website at https://www.icsi.edu/home/
#3. Professional Program
Students, passing the Executive Program move ahead into the final stage of Company Secretary three-year professional exam.
Professional Program is the toughest among all three stages as it has a very complex syllabus, which is broadly divided into three modules.
Each module has three distinct subjects. Although, the third subject needs to be chosen from a list of electives offered by ICSI.
Points to Remember:
Passing the CS Professional Program is most difficult for any student.
It is also highly recommended for CS aspirants to study for the Executive Program and Professional Program through any ICSI-recognised university, offering CS courses.
Incumbents cleaning all three stages of the CS program get membership of ICSI to become certified Company Secretary.
CS Course in Hindi
Most of the universities along with Institute of Company Secretaries of India (ICSI) in India has chosen the English language as a preferred mode of instruction for offering Company Secretary course.
Although with increased demand for qualified Company Secretaries from the state and Centre government bodies, universities in India now do offer coaching in Hindi and selected regional languages.
ICSI Universities Recognized for CA/CS Course
As of writing this article, there are around 55 ICSI-recognised and government-owned universities who offer Company Secretary course to students in India.
Thousands of private coaching classes are also running in India to deliver coaching for CS courses. You must enrol at these coaching centres as per your sole discretion and knowledge.
ICAI also provide online coaching through classroom studies at select locations in India for students.
Company Secretary Course Fees
The total cost of doing Company Secretary or CS course from recognized universities in India somewhere between INR 100,000 and INR 400,000. It also includes fees paid to ICSI and classroom training.
Generally, the fee is paid online by candidates for the CS course. In some cases, ICSI also accepts fees in the form of bank receipts in a nationalized bank.
Concessions and exemptions are available to those students who come under specific categories.
Company Secretary Salary
According to Payscale report, a company secretary in India gets an average INR 3,00,000 per year as salary with a small and medium scale enterprise, With larger organisations, this salary goes up to INR 5,00,000 per annum.
Although when it comes to large corporate houses and multinational firms, company secretaries easily get around a salary between INR 8,00,000 to INR 1.5 million per annum.