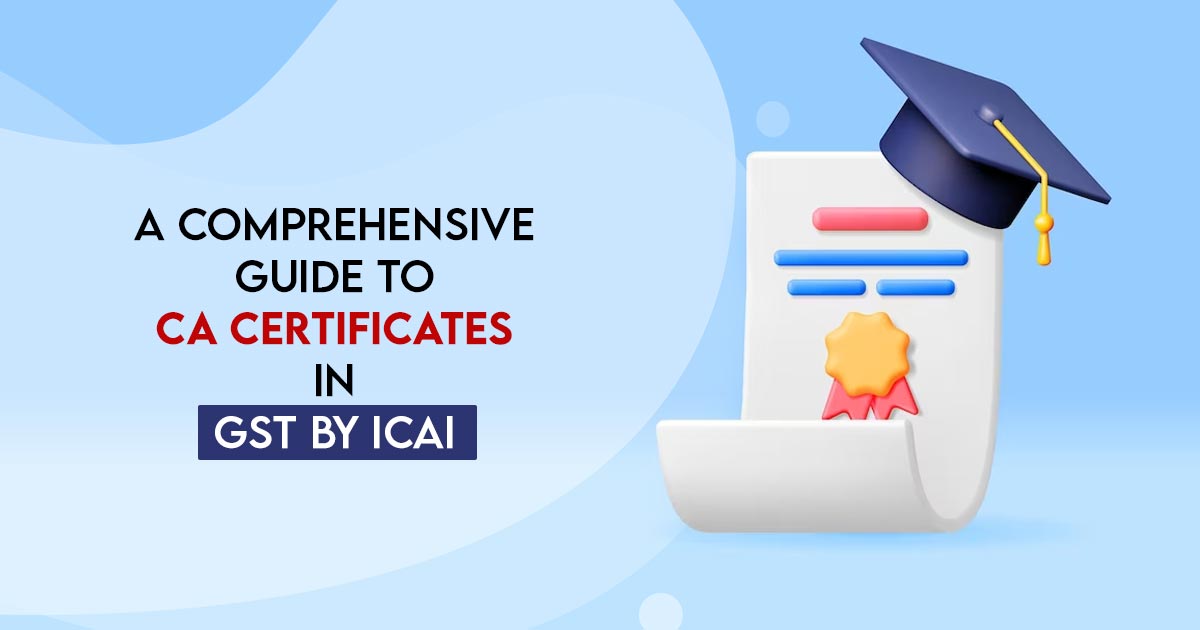 A guide has been furnished to the CA certificates in the GST by the Institute of Chartered Accountants of India (ICAI). The Goods and Services Tax (GST), considered one of the most pivotal indirect tax reforms in India, has undergone a significant journey in the years following its introduction. Celebrating its sixth anniversary on July 1, 2023, GST in India has experienced numerous amendments and continual enhancements driven by feedback from diverse stakeholders. Its primary objectives were to streamline tax structures, alleviate compliance burdens, eliminate tax cascading, and introduce clarity and transparency to the indirect tax system.
Chartered Accountants hold a fiduciary role, entrusted by both the Government and various stakeholders, particularly in issuing certificates for specific purposes. Under GST law, independent Chartered Accountant practitioners are mandated to issue certificates on certain defined matters.
The Institute of Chartered Accountants of India (ICAI) has consistently been proactive in supporting its members and refining their skills to facilitate the issuance of such certifications. The "Guide to CA Certificates in GST" publication was specifically crafted by the GST & Indirect Taxes Committee to aid members in fulfilling the certifications outlined in the GST law.
Read Also: ICAI Shares Suggestions on SCN Issue by GST Department
Initially developed in 2020, the GST and Indirect Taxes Committee of ICAI created the "Guide to CA Certificates in GST" to assist members in meeting their statutory certification responsibilities under the GST law. Subsequently, the Committee has revised this publication to offer updated guidance to its members.
The formats provided in the publication serve as a guiding resource for members when issuing the specified certificates, although they are not obligatory. Should a situation arise that is not explicitly covered in the publication, members are encouraged to exercise discretion thoughtfully, aligning with the intent and spirit of the law. These certificates have been prepared following the Guidance Note on Reports and Certificates for Special Purposes (Revised 2016) issued by the Auditing and Assurance Standards Board.
The information has been drawn by referring to the GST Law and Rules thereunder. Its first edition was launched in February 2020, and its second edition was incorporated in October 2023.
Learn more Second Edition October 2023 Guide to CA Certificates in the GST official announcement. https://caportal.saginfotech.com/wp-content/uploads/2023/11/Guide-to-CA-Certificates-in-GST.pdf