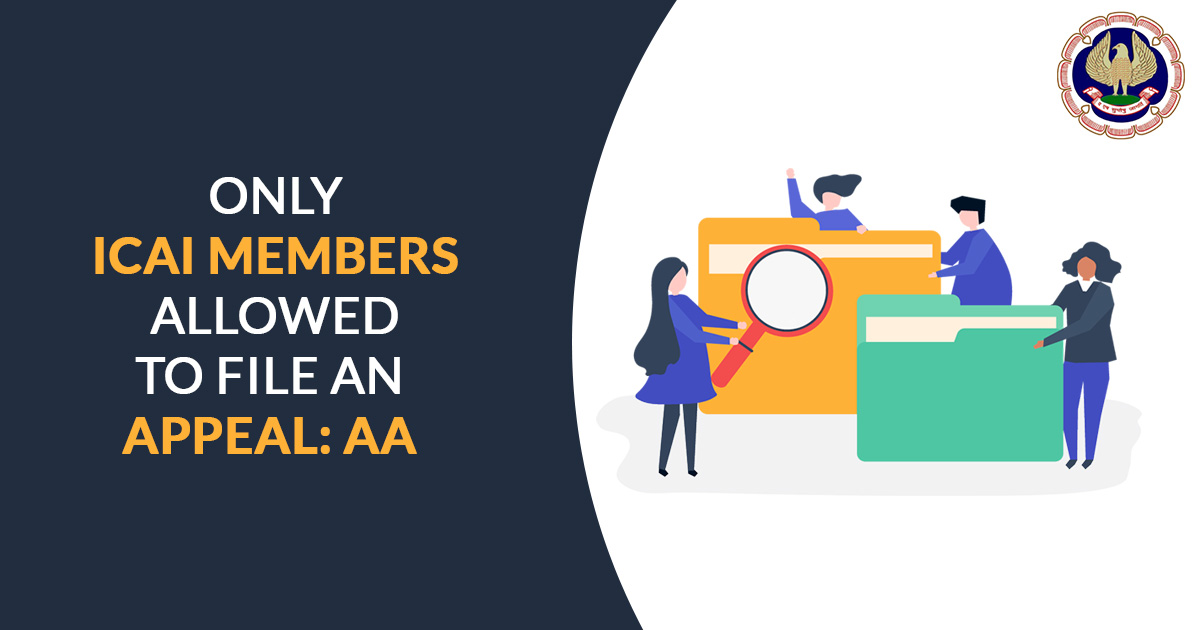 The Appellate Authority announced that from now on, only the members of the Institute of Chartered Accountants of India (ICAI) will be able to file an appeal before the Appellate Authority.
The Appellate Authority also said that only ICAI has the power to listen to the disciplinary cases against any Chartered Accountants.
The decision was made after the appeal filed by Neville Nadar Mistry, challenging the correctness and legality of the decision taken on the order dated 28 June 2018 by the Board of Discipline of Institute of Chartered Accountants of India as the complaint filed by him was dismissed by the board.
Read Also: Huge Scope for CAs: WIRC Chairman
The respondents were provided the notice of appeal of the order dated 12 December 2019. The Institue was directed to file a response to the appeal. Additionally, the Institute was also ordered to provide a reply to the allegations made by the complainant. However, the Institute did not respond to the appeal.
In the appeal, Mistry said that he was not given a fair chance of being heard and his complaint was dismissed immediately under Rule 12 of the Chartered Accountants (Procedure of Investigations of Professional and Other Misconduct and Conduct of Cases) Rules 2007.
Mistry blamed the ICAI for not providing any proper response to the e-mail seeking the status of the complaint filed by him for the same. He said that he got a reply to his e-mail stating that the complaint was under consideration by the appropriate authorities and when he enquired any further, his e-mails were unanswered.
The Coram had a total of 4 persons, The Chairman Justice SP Garg, and three other members, Anand Mohan Bajaj, Pankaj Tyagee and Praveen Garg.
Keeping in mind the observations under the case of High Court of Delhi in Wholesale Trading Services Private Limited vs The Institute of Chartered Accountants of India and Others, the Coram decided that the decision taken by the ICAI authorities stands corrected and the appeal filed by Mr. Mistry was hereby dismissed.
The Coram stated that the Board of Discipline was constituted by ICAI for the proceedings of similar cases to motivate the CAs and the ICAI members in maintaining professional standards.
The authority said that the complainant, undoubtedly, is allowed to attend the proceedings of the cases but these meetings are merely between ICAI and its members. The complainant is just a provider of information related to the proceedings.
The authority also said that the disciplinary proceedings should not be viewed as a dispute between the CA and the authority but is only a way of maintaining professionalism in the department.
Dismissing the appeal, the Coram said that the disciplinary cases of ICAI members will only be heard by the concerned authorities of ICAI to ensure professionalism among the members and the outsiders.