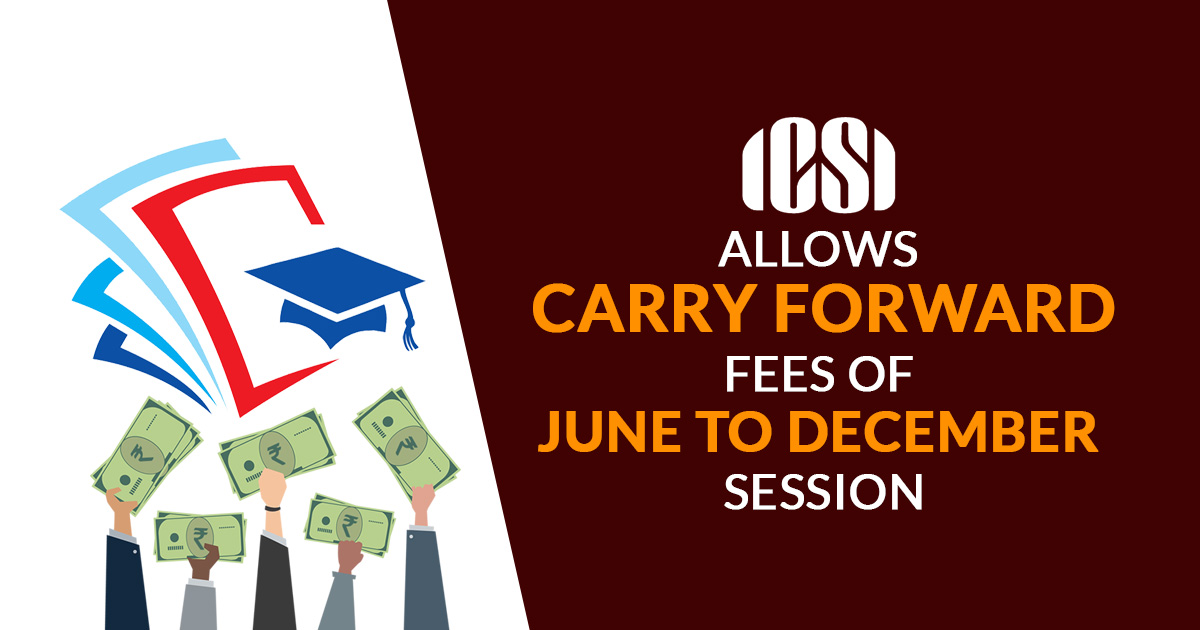 The Institute of Chartered Accountants of India (ICAI) recently Issued FAQs and clarified that in some cases the benefits such as fee will be carried forward for the November session exam and now the Institute of Company Secretaries of India ( ICSI ) also taking the step to allows Carry Forward the Fees of June 2020 session to December 2020 Session. ICSI also adjusted the CS exam of June 2020 in the August 2020 session due to the COVID 19 Pandemic.

---
The ICSI also made some clarification on the same matter and the same are listed below.
Allowing such students to opt for the December 2020 examination session instead of the June 2020 examination session.
Sifting the examination fee already paid for the module by the students for which they were enrolled in the June 2020 session.
Students interested in taking enrollment for additional modules in the December 2020 examination session will be required to enroll for the respective modules and pay the additional exam fees separately for such modules through the online mode when the enrollment process for the December 2020 examination session will begin in the future.
Meanwhile, it needs to be noted that the Partial carry forward of exam fees is not allowed. So, If any student has applied for two modules in June 2020 exam session, but he/ she appeared in only one module and he now wants to carry forward fees for appearing in another module of Dec 2020 exam session, it is not permitted.
Read Also : Action against Students prefixing 'CS' in their name: ICSI
Students can avail the benefit by following the below steps:
Open http://support.icsi.edu in the browser.
Find and click on  "Registered User", In the login form Enter User name (ICSI Registration Number) and password then solve the captcha and submit.
Look for "Carry forward exam fees" in the dropdown menu under "Topic" and click on it.
Click on "From June 2020 to Dec 2020" from the dropdown list under "Sub-topic".
In the text box of "Complaint Description" type, "Please cancel my enrolment for June 2020 exam session", 
Now, printout the declaration form (appended below). Save it in computer storage however a handwritten copy will also be accepted if the printout is not possible.
Fill all the asked details carefully and sign it.