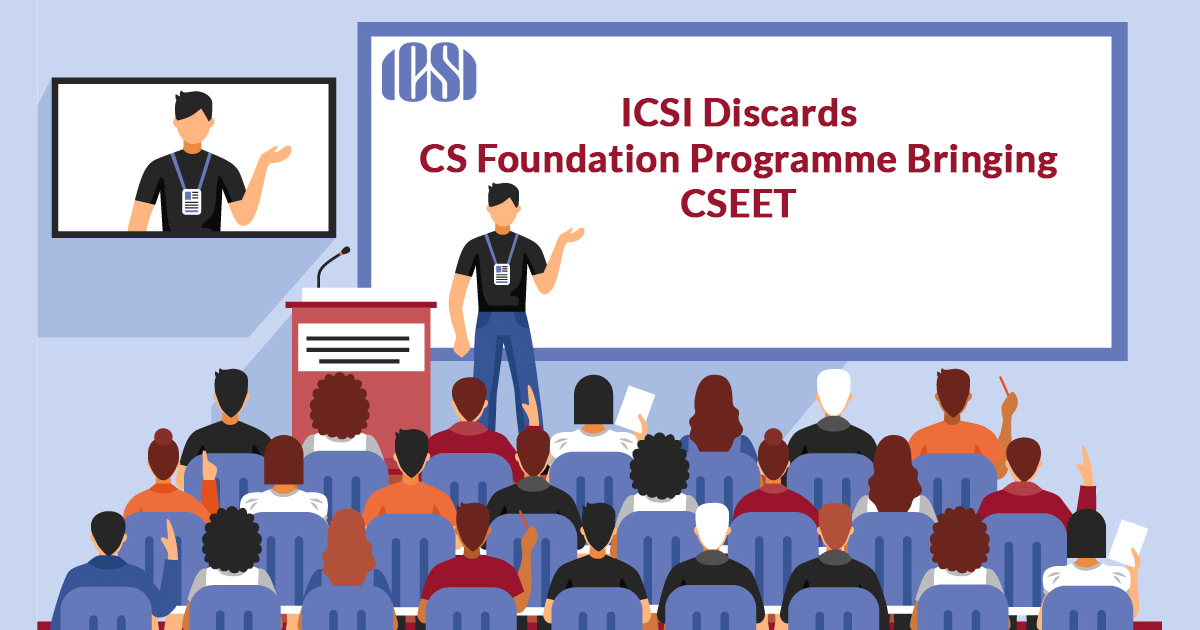 Institute of Company Secretary India (ICSI) has currently introduced a drastic change in its Company Secretary course structure. As per the notification released by the CS institute, the Foundation Programme for students (with eligibility 10+2) will discontinue and instead CS Executive Entrance Test (CSEET) will commence duly replacing the entire Foundation Course. Now on qualifying in CSEET test is a mandatory requirement for any aspirant who wishes to pursue CS Executive Training. Except for certain exempted categories of students rest everyone is obliged to pass the CS Executive Entrance Test in order to continue with the training of CS Executive.
Whether the aspirants are Graduates and Post Graduates (who are eligible for direct registration to Executive Programme) are required to appear and qualify the said CSEET in order to get an entry in the Executive level.
Read Also: ICSI: CS in Practice Now Also Authorized Collection Centre for E-Stamping
As the provision is new, the students who have already cleared their CS Foundation Examination are immune from this entrance test and may directly apply for the CS Executive Programme without any exemption fees. Ones who were qualified in ICAI Final Course and ICMAI can pursue CS Executive Programme without CSEET following the submission of Rs. 5,000 as exemption fees to the institute.
As conveyed by ICSI in September (while introducing the change), CSEET is commenced with the aim of testing the students' calibre, aptitude level and their potential to become successful CS professionals in the near future so that they prove to be an asset to whichever business or company they join.
Format of CSEET Question Paper
CSEET is a computer-based qualification test consisting of questions from Paper 1 (Business Communication), Paper 2 (Legal Aptitude & Logical Reasoning), Paper 3 (Economic and Business Environment) and Paper 4 (Current Affairs, Presentation and Communication Skills).
The first examination following the commencement of CSEET will be held in May 2020 and the consecutive tests are declared to be held in July, November and January.
Candidates scoring minimum 50% marks in total and 40% marks in each paper will be qualified.