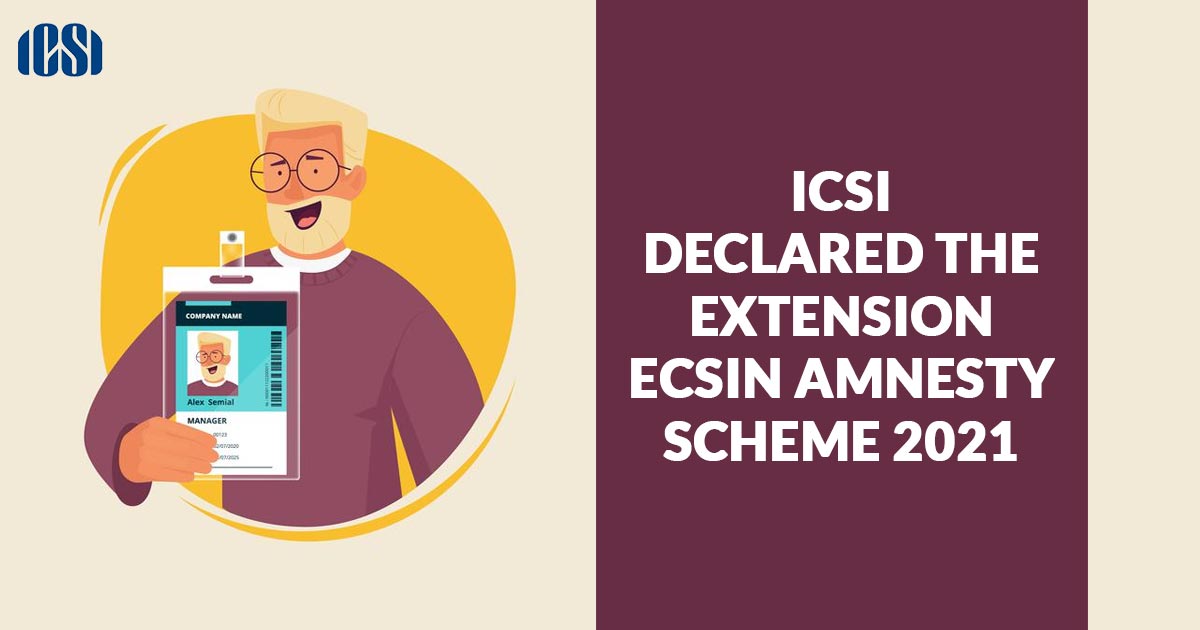 On Monday the Institute of Company Secretaries of India (ICSI) declared the extension of the  ICSI eCSIN (Employee Company Secretaries Identification Number) Amnesty Scheme 2021 till June 15, 2021.
ICSI ECSIN Guidelines, 2019 effective from October 1, 2019, is provided by the institute so as to access the institute to find the company secretary employed in a specific company and draws more clarity. 
From April 20, 2021, to May 15, 2021, the institute has launched the ECSIN Amnesty Scheme, 2021 acknowledging the issues and other hurdles faced through the members which led to default for the specific cases in generation/rectification/revocation of ECSIN and finally in view of the second wave of Covid-19 extended the Amnesty Scheme upto May 31, 2021.
"In view of the persisting situation in the Country due to Covid-19 whereby members may themselves got affected or some of their family member/close associates may be requiring attention in this difficult time, it has been noticed by the Institute that the members were not in a position to avail the benefit under the Amnesty Scheme, 2021 by the last date i.e. May 31, 2021, i.e. today," the ICSI announced.
Towards unprecedented conditions, the institute has decided to prolong the ICSI ECSIN Amnesty Scheme 2021 till June 15, 2021.
ICSI moreover stated that all active ECSIN formed from the effective date of ECSIN rules is 1st October 2019 and to be made upto the validity of the policy i.e. June 15, 2021 will be liable for the intention of the policy. Additional conditions will be the same as before.
Read Also : ICSI: Annual Membership Fee and Certificate of practice (CoP) Fee
The intention of the eCSIN Amnesty Scheme, 2021 is that the Company Secretaries Act, 1980 gives the guidelines and development of the profession of Company Secretaries. It is to convey that the goal of that the purpose of the Company Secretaries Act, 1980 is to reach, the requirement for Guidelines is important when the companies act 2013 and rules provided are specific provisions beneath Section 203 and Rule 8 and Rule 8A of the Companies (Appointment and Remuneration of Managerial Personnel) Rules, 2014 for the appointment of the Company Secretary. From that, the institute will be enabled to determine the company secretary employed in the specific company and provides more clarity. It is not essential to show that this shall implement the members to update their professional address in the Register of Members which is maintained through the Institute in terms of Regulation 3 of the Company Secretaries Regulations, 1982.
Read more official Announcement : Click here