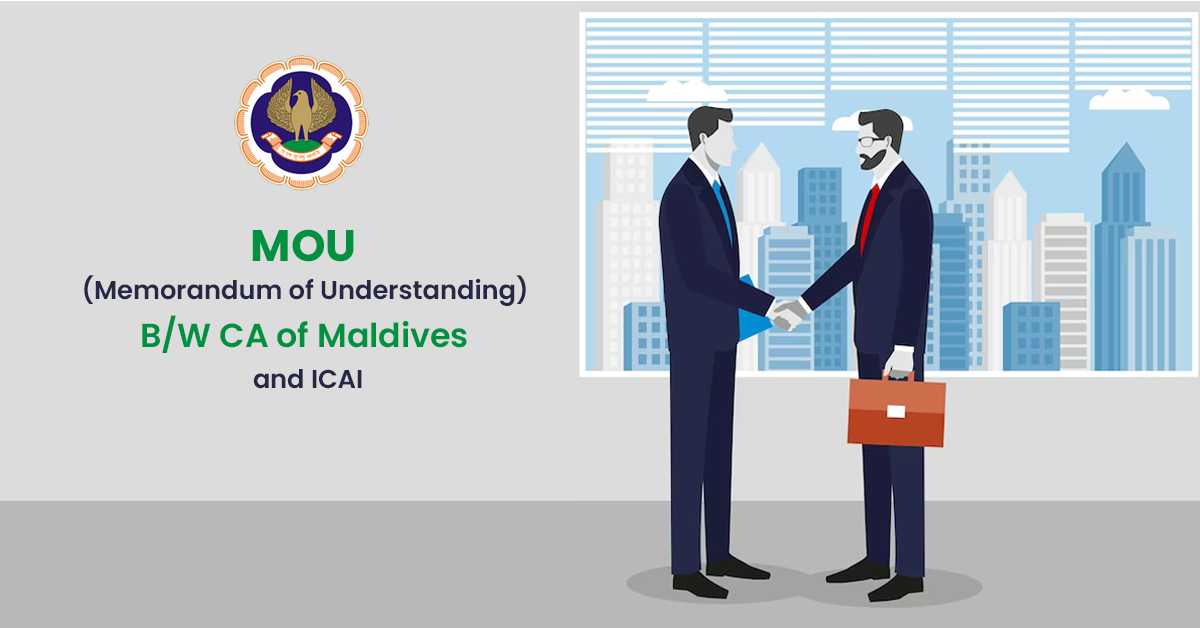 Cabinet approves Memorandum of Understanding (MOU) between the Institute of Chartered Accountants of India (ICAI) and The Chartered Accountants of the Maldives The Union Cabinet, chaired by the Hon'ble Prime Minister Shri Narendra Modi, approved the signing of the Memorandum of Understanding between the Institute of Chartered Accountants of India (ICAI) and The Chartered Accountants of the Maldives (CA Maldives).
Details of Accountancy Profession –
ICAI and CA Maldives would have the objective to establish mutual cooperation for the advancement of Accounting Knowledge, Professional, and Intellectual Development, Promoting the interests of their separate members and thoroughly contributing to the growth of the Accountancy Profession in the Maldives and India.
Impact Services in the Accountancy Profession:
Beyond helping CA Maldives the same MoU would furnish other impetus to the possibilities of the ICAI members to obtain the professional chance in Maldives in the short to long term future. Through the same MoU, ICAI is enabled to support making the partnership stronger with the Maldives via furnishing the export of services in the accountancy profession, the ICAI members would be carrying the middle to higher levels of the positions in different companies all over the countries and might motivate the policies making procedures of respective organizations of a country.
Read Also: Peer Review Mandate is Postponed for Second Phase by ICAI
Advantages of New professional
The MoU will provide ICAI members with the chance to broaden their professional horizons and will encourage ICAI to support the development of local nationals' capabilities. The MoU will promote effective business ties between India and the Maldives. The agreement would promote professional mobility on both ends and usher in a new era of global commerce.
Execution Strategy and Targets:
The MoU intends to improve collaboration between ICAI and CA Maldives in the accounting profession via the sharing of opinions and information on Professional Accountancy Training, Professional Ethics, Technical Research, and Accountant Professional Development. It is also designed to foster mutual cooperation through links among individual, websites, seminars, conferences, student exchange programs, and other combined initiatives that benefit both institutes. This Memorandum of Understanding will also offer updates on the progress of the accounting profession in India and the Maldives in order to promote the profession globally. CA Maldives also plans to join the International Federation of Accountants (IFAC), the worldwide voice of the accounting profession with over 180 members in 135 countries. In order to make CA Maldives a member of IFAC, the ICAI shall do the technical due diligence.
Background:
Under the Chartered Accountants Act of 1949, the Institute of Chartered Accountants of India (ICAI) is been made which is a statutory entity to oversees the regulation of the chartered accounting profession in India. In order to advance the Chartered Accountants profession, which is respected internationally, ICAI has made significant contributions in the areas of education, professional development, preservation of high accounting, auditing, and ethical standards.