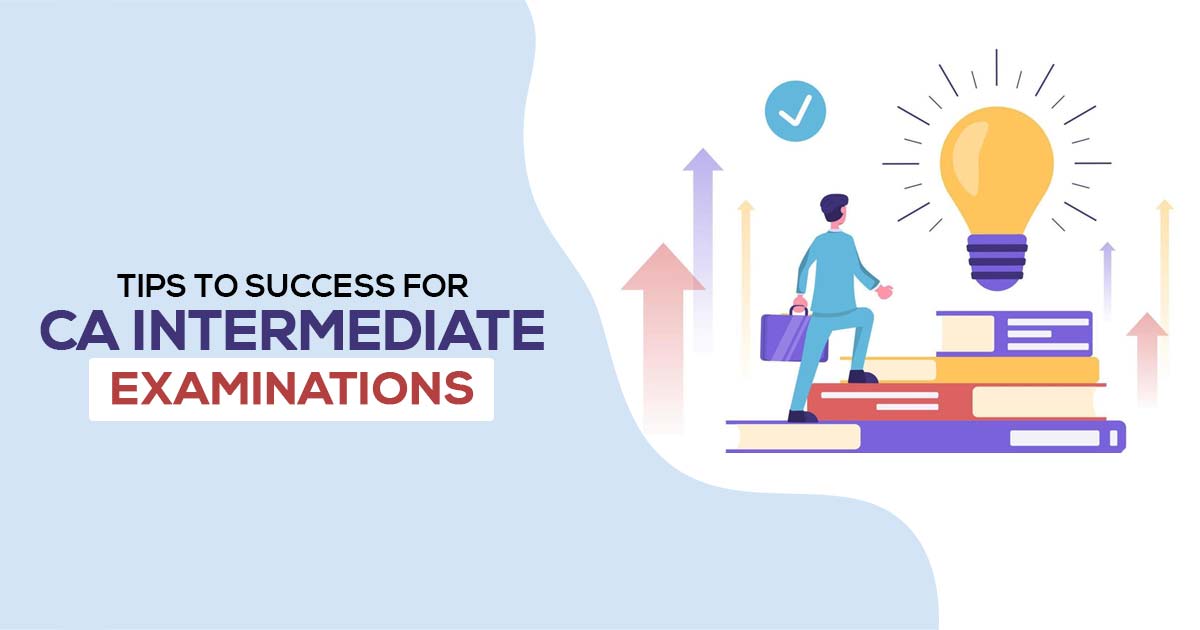 The CA Intermediate examinations are a critical step towards becoming a Chartered Accountant. To be successful, this stage necessitates a high level of devotion, discipline, and strategic planning. While the path to becoming a CA is difficult, you can conquer any hurdle with the appropriate attitude and mindset. In this blog article, we will go over some vital secrets to succeed in CA Intermediate examinations and help you on your way to success.
If you're reading this, you've probably completed the CA foundation exam, which is the first level of the Chartered Accountancy course, and progressed on to the CA Intermediate level. Congrats!
Now is the time to start getting ready for the CA intermediate exams. You need to have a well-thought-out study strategy in place if you want to ace this level. Why? Because if you don't approach your CA inter-preparation methodically, you'll struggle to organize your time well and wind up spending too much (or too little) time on certain areas.
Let us provide you with some helpful advice for preparing for the CA Inter exam that you can put into practice. They can also assist you in achieving your objective.
Because the mindset and preparation techniques needed in the two situations are highly different, we will provide CA Interstudy plan ideas for first-time and repeat students individually in this article.
Before we get into the advice for first-time CA Inter students, let's briefly go over some CA Intermediate fundamentals to help you start preparing for the CA Inter exam. Please feel free to go on to the next part if this is not your first try.
The CA intermediate course comprises 8 papers, of which 4 are further split into two sections each. Papers 2, 4, 6, and 7 have both descriptive and objective or MCQ-type questions. The objective questions hold 30% weightage and the rest 70% is descriptive.
It is crucial to comprehend the nature of every paper, whether it is theoretical or practical, for a number of reasons. While some students excel in theory topics, others find it simpler to manage practical subjects. Knowing your strong and weak areas in the curriculum can help you better arrange your study, even if both practical and theoretical papers require equal attention.
Make Your Best CA, Accounting & Tax Consultant Firm Website
Indeed learn that there are no negative marks for the MCQs. Hence for getting good scores preparing and practising much more MCQs proved to be effective.
The Practical And Theory Papers are Presented Below-
| | |
| --- | --- |
| Practical (Numerical based) | Theoretical |
| Paper 1: Accounting | Paper 2: Corporate Laws and Other Laws |
| Paper 3: Cost and Management Accounting | Paper 4: Taxation |
| Paper 5: Advanced Accounting | Paper 6: Auditing and Assurance |
| Paper 8: Financial Management and Economics for Finance | Paper 7: Enterprise Information System and Strategic Management |
The practical papers might comprise some theory-based questions however the majority of the paper would be practical. Similar to that it has goods for the theory papers.
Read Also: Effective Tips to Find CA Professional Jobs for Students
These Tips will Help students Prepare for CA Intermediate more Easily.
Learn to Complete Properly Syllabus:
The first step towards success is to properly study the CA Intermediate examination syllabus. Learn about the subjects, topics, and weightage allocated to each area. This will assist you in developing a study plan that assures full coverage of the whole curriculum within the time limit given.
Prepare Study Plan
To maximize your study time, you must have a well-organized study schedule. Your syllabus should be divided up into manageable sections, with each topic should be given a certain amount of time. Make a realistic schedule that takes into account your abilities and limitations. To prevent burnout, don't forget to incorporate breaks. You'll be able to focus and stay organized by continuously following your study plan.
Effective Time Management:
When studying for the CA Intermediate examinations, time management is essential. Recognize the significance of balancing your study schedule with other commitments. Set realistic goals, prioritize your duties, and schedule time to review and modify what you have learned. If you manage your time well, you can complete the full course and still have time for revision.
Practice Complicated Questions :
Regular and thorough practice is one of the keys to success in the CA Intermediate examinations. Solve previous exam papers, take mock examinations, and practice sample questions. Practising will not only make you more comfortable with the exam structure, but it will also increase your speed, accuracy, and problem-solving abilities. The more you practice, the more confident you will be able to answer the complicated questions.
Seek Guidance and Mentorship:
Seeking advice from experienced mentors and faculty members will help you prepare much better. Join a renowned coaching institute or look into online courses that offer complete advice. Regular contact with mentors, clearing concerns, and debating difficult subjects can provide you with better knowledge and enhance your confidence.
Modifications are Updated Regularly:
The CA Intermediate curriculum is updated on a regular basis. It is critical to remain current on changes in the curriculum, tax legislation, and accounting standards. Keep track of professional bodies' alerts, circulars, and announcements. To keep updated, visit important websites on a regular basis and participate in discussion forums. Being current will offer you an advantage in the exams.
Stay Healthy Mentally and Physically
To excel in the CA Intermediate exams, it's not only about studying hard. Your physical and mental well-being also play a significant role in your preparation to get success in CA exams. It's important to lead a healthy lifestyle which includes getting sufficient sleep, consuming nutritious meals, engaging in regular physical activity, and enjoying social life as well. Additionally, taking breaks, pursuing hobbies, and spending time with your family is essential for relaxation and revitalization. When you have a healthy body and mind, your focus and overall productivity will improve. More importantly, by doing all these activities you can evade yourself from unnecessary things.
Positive Thinking
The ability to keep yourself self-motivated will help you throughout your CA preparation journey. It may not be helpful to rely on external sources to get motivated so a positive mindset is very important when preparing for the CA Intermediate exam as a negative mindset may compel you to quit sometimes. Stay motivated by setting achievable goals, acknowledging your accomplishments, and learning from your mistakes so you can find out what strategy works and what does not for you. Surround yourself with supportive friends and family who can help you deal with challenging times. Always remember that perseverance and self-confidence are essential for overcoming any obstacles that come your way.
Conclusion –
In conclusion, according to the toppers, achieving success in the CA Intermediate exams requires a combination of hard work, discipline, and a strategic perspective. It's important to understand the syllabus, create a study plan, manage your time efficiently, practice rigorously, seek guidance, stay updated, adopt a healthy lifestyle, and maintain a positive attitude. Keep in mind that the journey towards becoming a Chartered Accountant is not solely about passing exams, but also about establishing a strong foundation for a fulfilling career. Stay focused, believe in yourself, and embrace the coming challenges. Best of luck!