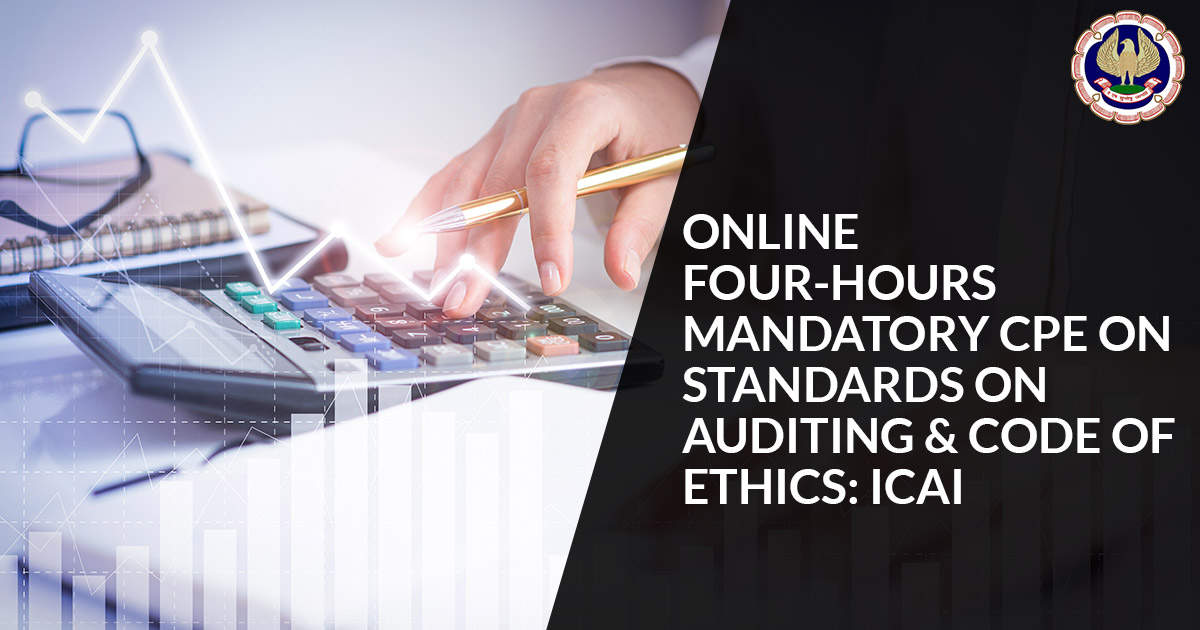 Completion of 2 Structured CPE Hours, each on the topics of Standards on Auditing and Code of Ethics,'(total 4 Structured CPE Hours) is required mandatory in every Calendar year, but now from the Year 2020 onwards there is some change, CPE through the Online or Virtual mode for COP holders and also allowance of conducting structured CPE hours through Virtual CPE Meetings. The ICAI recently made clear that Four Mandatory hours for CPE on Standards on Auditing as well as Code of Ethics can be also done through online mode.
The ICAI President In an E-mail Communication to Members said that "Considering the interest and well-being of the members and other stakeholders during the crisis brought in by the global pandemic Covid-19, it was decided by the Council of the Institute to completely restrict conduction of any program/class by any Regional Council/Branch/Central Level Committee, Students Association, Branches of Student Associations, CPE Study Circle of ICAI or any other Programme Organising Units (POUs), requiring the physical presence of Members and Students till 15th April 2020 or any further direction in the matter.
Read Also : ICAI Highlighted its Activities Undertaken during Lockdowns
It was also decided that 20 hours structured CPE learning which is mandated to be completed by Members below 60 years holding COP, in each calendar year, wherein 04 hours of structured learning could be through e-Learning Videos available on ICAI Digital Learning Hub, conducted and monitored by ICAI and its Central Committees (on MCQ and result basis), has been extended to 10 hours till 30th June 2020".
The CPE Directorate & CDS also allowed the Regional Councils, Branches, and Foreign Chapters apart from Central Committees to conduct webinars following the unstructured learning activities.
After it, the CPE Directorate along with CDS of ICAI talked in a recent meeting about the problems being faced by members to compliance of mandatory CPE hours due to inorganization structured CPE hours programs and hence decided to permit Virtual CPE Meeting to be arranged by Central Committees/ CPE Study Circles/ Foreign Chapters/ Branches/ Regional Councils/ CMI & B Study Circles with the aim that more members will be benefited from these virtual meetings. Meanwhile, indeed to be noted that Webinars will continue to be organized only by Central Committees. For more details, visit the official website or click here.

The Directorate is going to implement Council's decision to conduct the 2 Structured CPE Hours, each on the topics of Standards on Auditing and Code of Ethics,'(total 4 Structured CPE Hours) through Online/Virtual mode from the calendar Year 2020 onwards for the COP holder who needs to complete minimum 20 Structured CPE Hours in a Calendar year. They also make it easier because this can be completed any time during the year through the Online mode.
According to it now out of 20 hours Structured CPE hours,10 Structured CPE hours could be granted through online mode it will be conducted till 30th June 2020 either on Digital Learning Hub or through the Virtual CPE meetings which include mandatory CPE hours. More details can be found at CPE Portal i.e. www.cpeicai.org/all-upcoming-programs.