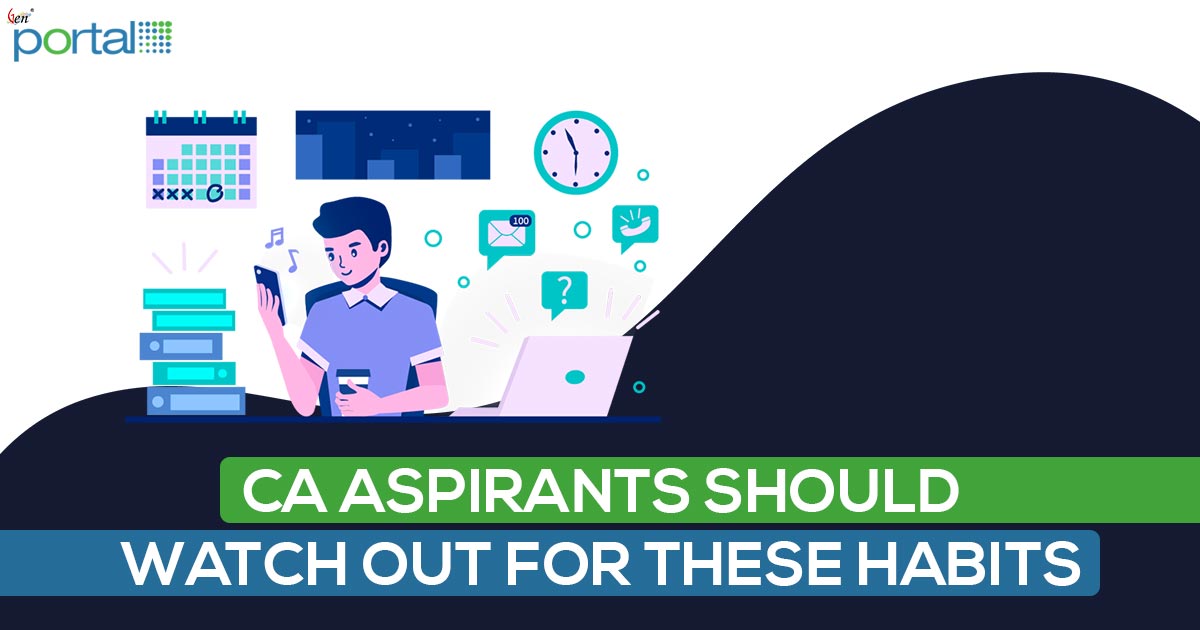 Planning is the process of thinking about and organizing the activities required to achieve a desired goal. It involves the creation and maintenance of a plan. Planning always has a purpose – the achievement of the CA aspirant's goal or target looks at the basic skills and requirements for becoming a CA. Apart from increasing efficiency, it reduces the risks attached to not achieving your goal. It leads us in the right direction. An important, albeit often ignored aspect of planning, is the relationship it holds with forecasting. The two terms, 'planning' and 'forecasting', have different meanings. Forecasting can be described as predicting what the future will look like, whereas, planning predicts what the future should look like.
Chartered Accountants (CA) is one of the most prestigious choices of career for commerce students. Students who have completed higher secondary education or a degree in commerce can opt for this career path. CA profession revolves around the finance part of an organisation. The profession deals with business strategy, budget management, financial accounts, taxation, etc. Every organisation needs a CA who can audit and manage accounts and taxation. Hence, the career opportunities for CA are immense before learning about the various career options available.
No of the size of the business, government organisations, accounting firms, and international financial centres all require certified accountants. Becoming a chartered accountant is your ticket to success, thus while pursuing the CA programme, one must cultivate some advantageous behaviours. No matter what, if starting your own business is your passion, chartered accounting provides the perfect foundation.
In both India and the U.K., being a chartered accountant is one of the finest career options and a recession-proof job, but the road from CA Foundation to CA Final is not without its hurdles.
In order to pass the CA exams, it takes a combination of hard effort, dedication, and rigorous preparation, as well as a certain set of habits.
Here are some habits a CA aspirant should include in his or her daily schedule:
#1. Appropriate Intervals
This demanding vocation requires constant work, study, and revision in addition to a hefty course load encompassing many disciplines. But, pushing through the course without breaks will make it boring, repetitive, and confusing.
In order to be as refreshed as needed for the new topic, CA candidates should take brief pauses between study sessions.
The right breaks between sessions will allow you time to absorb the information you have read and will offer you room to learn more.
Read Also: What Chartered Accountants Have To Do?
#2. Establish and Achieve your goals
Aspiring CAs should set clear study objectives and work tirelessly to accomplish them. The study objectives should be divided into two categories: short-term and long-term study objectives. The timely completion of short-term objectives will encourage the achievement of long-term ones, and the achievement of long-term goals will make one well-prepared for tests, free from anxiety and uncertainty.
You may keep yourself motivated by regularly tracking your performance on your own.
#3. The Use Of Time Management And Prompt Action
Another behaviour that is common among CA high performers is time management. This behaviour is crucial to your success in any endeavour. CA Candidates should learn to manage and utilise their time correctly in the preparation.
You're right: Tomorrow never comes. CA Candidates should avoid procrastinating and carefully adhere to their established schedules. If you keep pushing your studying off, you'll wind up bearing the load for upcoming events and, as a result, you won't have the confidence to revise.
#4. Constant Revision
Passing through the course simply once or twice is not merely enough, we all know. Continuous review of the course at regular intervals is needed to crack the test effectively. CA applicants should make notes and properly record all pertinent information for quick and simple review. Once the concepts have been studied and learned, they should be reviewed often to ensure that the student's comprehension becomes ingrained in his or her memory. Because only you can identify and address your deficiencies and develop methods to improve your performance, previous question papers and mock exams should be an essential component of your revision.
You may be guaranteed to have a secure job with a high demand for your CA abilities if you include these behaviours in your daily life.