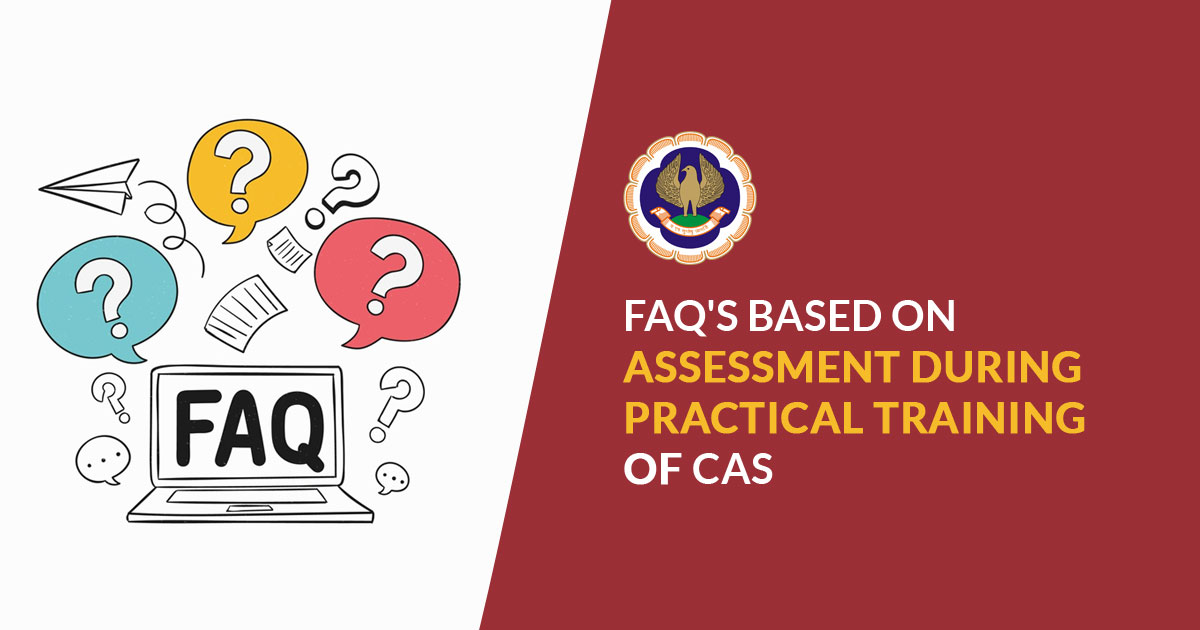 Chartered accountants are required go through the assessment in their practical training session to pass out criteria of becoming official CA as per the code of conduct. These assessment are done to check the proficiency of CA as per his studies conducted. These frequently asked questions are generally based upon these assessment and are solved for the readers.
FAQs Related to Assessment Tests conducted by ICAI for the student during Practical Training
FAQs answered by General Guidance
Q.1 – What is the objective behind conducting the practical training assessment?
Ans.1 –The assessments will help students to self-evaluate their experiences and their knowledge in the field.
Q.2 – What is the duration and maximum marks for 1st level exam?
Ans.2 – Duration – 2 hrs and Maximum marks – 75
Q.3 – What is the duration and maximum marks for 2nd level exam?
Ans.3 – Duration – 2 hrs and Maximum marks – 100
Q.4 – How the tests will be held (online/offline) and what will be the format of the paper?
Ans.4 – Online tests will be held but in the center allotted to the applicants. The paper will be MCQ based.
Q.5 – What are the dates for 1st and 2nd level examination?
Ans.5 – Both the tests will be on the same date. Students will get the question paper based on the level they applied for.
Q.6 – Is there any negative marking in the test?
Q.7 – Are these tests mandatory before appearing for CA Finals?
Ans.7 – It is not mandatory to appear for the test before the CA Finals. Students can apply after their 1st or 2nd year or practical training is over. It is advised to apply for the test before the Finals as the grades will be included in the finals.
Q.8 – Is there any direct helpline if I have any queries related to the examination?
Ans.8 – For Further Queries either call on 0120-3876870/ 3045927 or mail to PTassessment@icai.in or raise a ticket to the helpdesk on the link given in the portal.

Frequently Asked questions answered by Eligibility
Q.1 – Who is eligible to give the tests?
Ans.1 – Students who have completed either 1st or 2nd or both the years of their practical training. If someone has given their CA Finals, then they are allowed to apply until the results of CA Finals are declared. As the mark sheet will have the grades of the tests.
Q.2 – Is it mandatory to give the tests if I have completed 1st year or 2nd year of CA Practical Training before 1st April 2018?
Ans.2 – NO. Since you have already completed your 1st or 2nd year of practical training before 1 April 2018, then this assessment marks will not be visible in your CA Final mark sheet.
Q.3 – I switched to my articleship training and again came back with new Principal after a break, due to which my first/ second year training finished after 1 April 2018. Do I need to give the tests?
Ans.3 – Practically your 1st or 2nd year training is complete after 1 April 2018, you are eligible and advised to appear for both the levels.
Frequently Asked Questions Answered by Eligibility
Q1. What is the course for these tests?
Ans; There is no defined syllabus for the tests as this assessment test for practical training is to judge your practical knowledge and how you will apply it correctly to the subject.
Q2. How to prepare for these tests?
Ans: Make sure you are thorough with your practical knowledge. Above that, sample papers for the tests will be uploaded on the link:https://www.icai.org/post.html?post_id=14836. Questions will be updated from time to time.
Q3. My Intermediate level is not yet clear and I am in 2nd year of articleship. Will my test include the final level syllabus?
Ans: Tests are no way related to the theoretical attempts. It is simply to test the knowledge you gained during your practical training.