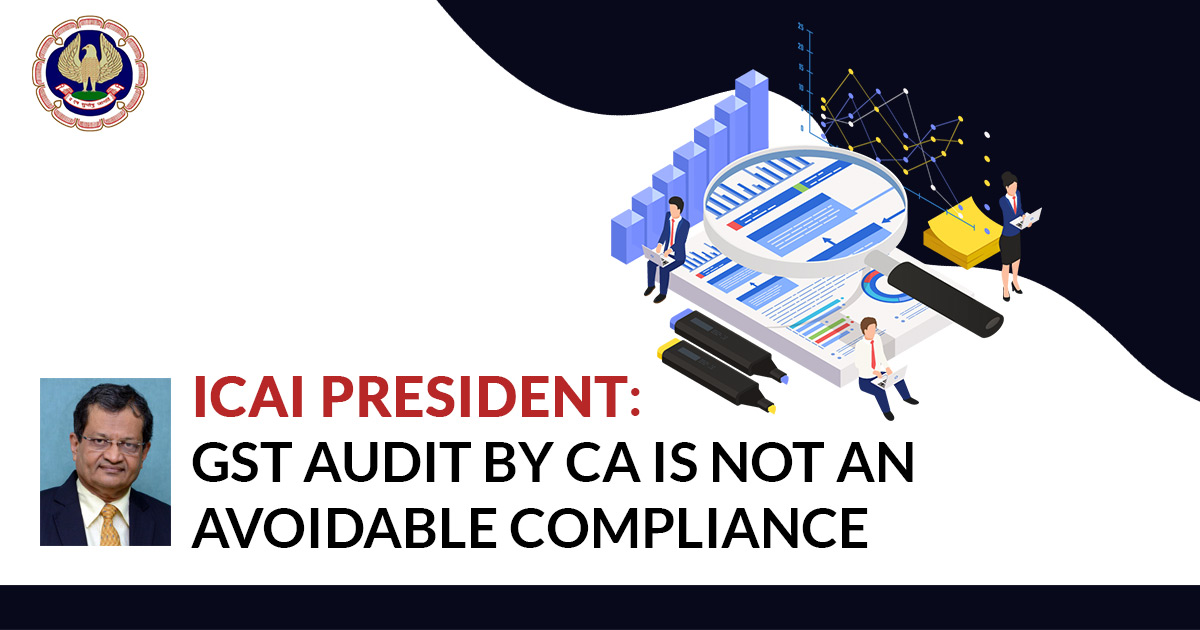 Institute of Chartered Accountants of India (ICAI) President CA. Nihar N. Jambusaria said in a meeting held yesterday that GST Audit by the chartered accountant is not avoidable compliance as it ensures check and balances thus detecting the inconsistencies, errors, lapses and ambiguities that creep in and rectifying the same.
Moreover, ICAI submitted that Audit should be perceived as an investment rather than a cost. Furthermore, it saves the cost of litigation as it ensures a fool-proof mechanism.
The ICAI President also met with the key government functionaries for discussing the issues related to the contribution that the accounting profession makes and its increasing role in the economy was also emphasized. He also met Smt.
Nirmala Sitharaman, Hon'ble Union Finance and Corporate Affairs Minister to discuss on the issue of removal of the requirement of audit and also on "certifying the reconciliation statement" done by a chartered accountant as per CGST Act.
He added that the GST audit by a chartered accountant also ensures checks and balances thereby identifying and removing inconsistencies, errors, lapses and ambiguities, if any, while complying with the provisions of the GST law.
Read Also: Benefits of Business Accountants And The Criterion To Choose Them
Adding further, ICAI also consented that Audit should not be perceived as an expenditure. Rather it should be seen as an investment as it removes errors which if later recognised leads to heavier hidden costs like interest and penalties imposed. After an Audit by a chartered accountant, the taxpayer is in a position to take remedial action. So its benefits reap over a period of time.
Moreover, an Audit by a chartered accountant saves litigation expenses which may creep in as a result of unaudited accounts of GST and may lead to incurring of litigation expenses.
CA Rajendra Kumar, Chairman, GST and Indirect Taxes Committee also attended the aforesaid meeting. Furthermore, CA Babu Abraham Kallivayalil, Chairman, Professional Development Committee also met Finance Minister and Members in Parliament CA. Narain Dass Gupt, CA. Thomas Chazhikadan, and CA. Suresh Prabhu.
Finally, he added that these meetings provide us with the opportunity to meet and discuss professional matters with the dignitaries and consequently; this reinstates our position as partnering in nation-building. Lastly, Two virtual meetings were also held with the Secretary MCA and Jt. Secretary MCA to evaluate the proposed amendments in the Industrial Training framework and the networking guidelines.