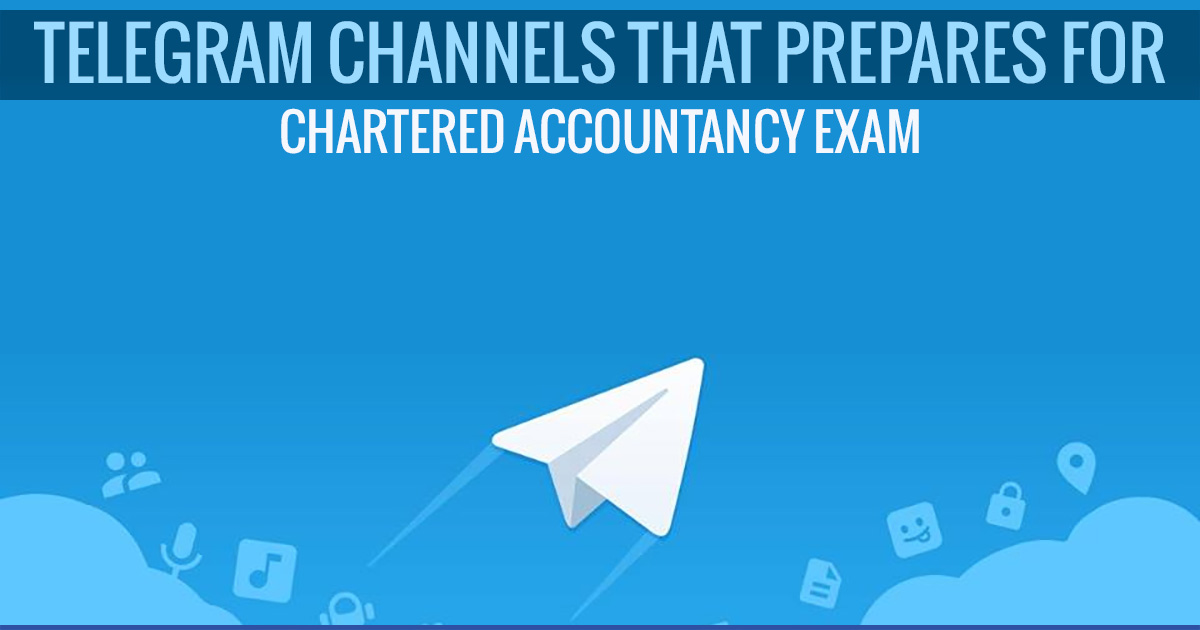 The Chartered Accountant is one of the most esteemed and gruelling career fields. CA is a most-sought option for higher education in India. In India, the CA course is conducted by the ICAI (Indian Chartered Accountants Institute) in a three-level CA program.
Since it is one of the most demanding & most rewarding professions in India, many apps and websites have been developed to enable the CA aspirants to avail good study material easily online. Here, we will discuss the Telegram Channels and Groups that are benefiting candidates in preparing for CA three-level program consisting of entry-level exam, intermediate and final exam.
Telegram Channels & Groups for CA Aspirants:
Numerous Telegram Channels or Groups offer materials for CA entry-level preparation. The study material includes notes, videos & updates along with tips & tricks.
Some of the popular Telegram channels/groups are ICAI Students – The Institution of Chartered Accountants of India, CA Notes & Updates, Swapnil Patni Classes, CA- Born To Fight and CA Students.
Eligibility for the first level program is 10+2 qualification. After the qualification, one can start the preparation through these channels and crack the Foundation, the entry-level CA program. Aspirants may follow Zeroinfy – CA Important Updates, CA MCQ, WisdomCA and CATestseries.org for the latest updates & good study stuff.
Telegram Channels & Groups for CA Intermediate or IPCC Students
Next level after the qualification of CA foundation is Intermediate or IPCC. An aspirant can simultaneously start preparing for this level program while pursuing B.com. Many Telegram Channels & Groups provide study material & notes to prepare the candidates for CA Intermediate (New Syllabus) and IPCC (Old Syllabus) exams.
Some of the popular ones include CA IPCC & Inter, Neeraj Arora Classes, MCQ CA INTER IPCC (Empires Academy), GST For CA INTER and NotesCA IPCC/INTER (CAB2F)CA IPCC Updates.
Read Also: Ideas to Kickstart Your Own Online Business with Less Investment
Telegram Channels & Groups for CA Final
This is the Final and the toughest level that gives you a badge of CA – Member of ICAI and opens up opportunities for you to work as an auditor, cost accountant, tax manager and financial expert, etc.
To prepare for this level, a candidate must grab as much study material of Old & New Syllabus as he/she can from different sources. At the same time, the candidate must ensure that the source is reliable enough. Some of the reliable telegram channels include CA FINAL (CAB2F), CA Final Notes, Kedar Junnarkar CA Final Tax Updates, MCQ CA FINAL (Empires Academy) and CA FINAL UPDATES.
Telegram – One Stop Platform for CA Preparation
Telegram is a one-stop platform with different channels & groups that offer study content for all the three-level program of CA journey.
Joining the suitable one will always help you instead of joining too many channels because it may end up bewildering you. So, make sure to choose the most relevant for you and access all the content in one place. Given above are some good options, you may check & choose among them.