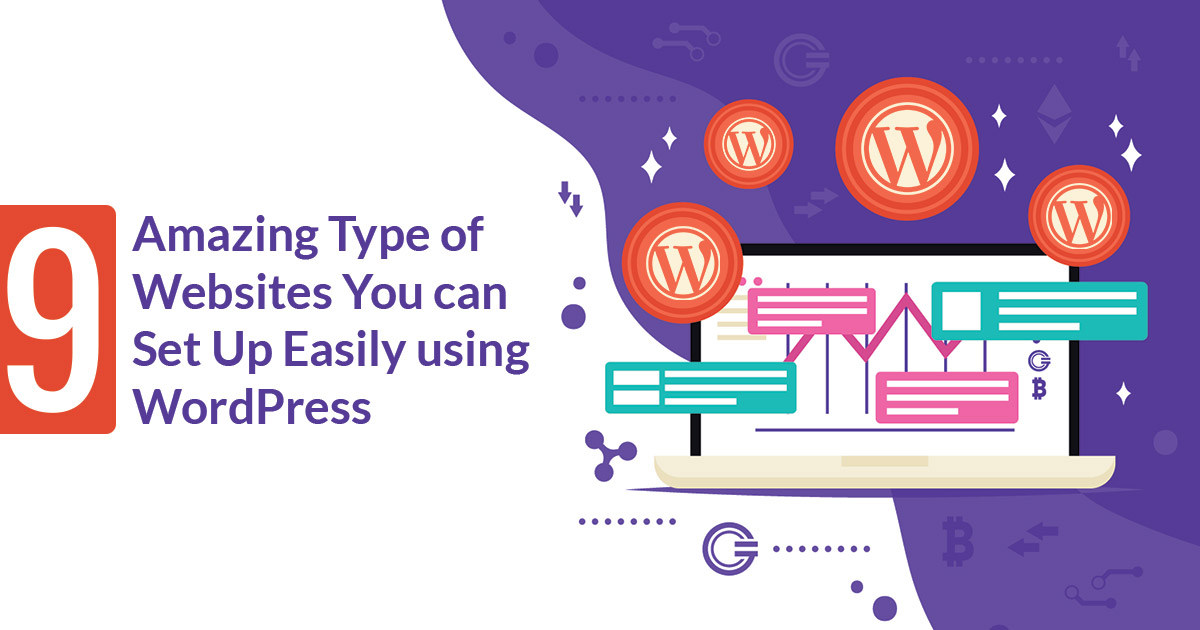 Over the past 15 years, WordPress has emerged as one of the biggest Content Management System (CMS), thanks to its massive theme catalogue and various plugins tools that provide flexibility and the endless possibilities of what you can create.
Over 409 million users have developed approx 75 million websites using WordPress as of now. Also, more than 30% of all the websites today on the internet are powered by WordPress.
However, WordPress is not easy to use at your very first attempt, but the constant use of it will surely grease the wheels for you.
Among the unbounded and infinite possibilities, We are highlighting the top 9 mesmerising kinds of websites which you can easily create with WordPress:
#1) Blogs Websites Using WordPress
Starting with the basic and highly used type of website – The blogging station, we retake your attention to the fact that WordPress started its journey being a blogging port. Although it diversified its branches with digital advancements yet the roots (blogging station) has not lost its star quality. It is top-rated CMS among leading sites like Joomla, Blogger, Tumblr, etc.
With many revamped and sophisticated features, SEO tools and blogging themes & tools, this is perfect to go for your professional as well as informal blogs.
#2) Business or Corporate WordPress Websites
WordPress is also one of the best CMS when it comes to designing business or corporate websites. No matter the firm size or scale, having a professional-looking and well-designed corporate website is a must for any businesses to share their vision and ideas with customers and stakeholders.
The wide category of themes, widgets and plugins also helps you to improve the overall look & feel and performance of the business website. You can also create a fully effective and functional business directory websites with WordPress.

#3) E-Commerce Websites using WordPress
WordPress, without a doubt, is the best CMS for ones who are looking to build a powerful and fully-functional e-commerce website for running their business online.
Tons of ECommerce template variation, niche-based concepts, and plugins are available in WordPress that one can use to build an e-commerce site. An online shop with WordPress is a great idea to grow your online sales, no matter the niche of products and business you deal with.
#4) Portfolios Websites using WordPress
Using WordPress, you can also create a good-looking portfolio website for yourself no matter your profession – designer, developer or a creative individual looking to showcase your art to the outside world.
You can add stunning galleries, sliders, hero sections, etc. in your portfolio site to show the best of what you have as a working professional using WordPress. Also, the ecommerce features can also be added to your portfolio site using WordPress, if you're looking to sell any of your product or service.
#5) Podcast Websites using WordPress
Podcast refers to a series of audio or video files that are shared by someone to share these ideas, stories or visions with the audiences. Creating a podcast website using WordProcess is a great idea to share your knowledge with the masses.
Through, your WordPress podcast site, you can create as well increase your social presence, provide subscription services to your followers, and grow your audience. Sharing your work is also way to easy with WordPress. All this can be done by using a variety of WordPress podcast plugins.
Read Also : Why CA, CS & Lawyer Professionals Need Their Own Website?
#6) Jobs Board WordPress Websites
Searching a job online today is as easy as 1-2-3. You just turn your internet-enabled device, open web browser and search the relevant job category you are looking for, hundreds of job portal will come up in search results to help you get your dream job.
So, if you are someone interested in building online job boards or listing sites, then you can do it easily with WordPress.
#7) Knowledge Base Websites using WordPress
WordPress also gives you the option to create a knowledge-base site. In general, knowledge-base sites are used for documentation purpose, but you can also use such websites to share useful data information with a mass audience on the internet.
#8) News and Magazine Websites using WordPress
In this fast-paced digital age today, more people are interested in surfing news and other information online. This is why most popular newspapers and magazines are now available online for people to read and download.
You can also create a news or magazine website with the help of WordPress with complete ease. Using WordPress tools or plugins, you can incorporate relevant photos and videos on your website for the larger audience. You can also pick among thousand of WordPress Magazine and News themes to help you get started!

#9) Online Communities and Forum Websites using WordPress
Facebook Newsroom is a popular example of an online forum website that is built using WordPress. Similar to this, you can also create online communities and forum websites using WordPress easily. On your WordPress forum website, you can easily post any topic, display queries, get answers and much more. WordPress lets you do it all with ease.
Final Thoughts…!
Well, the above-listed sites are the topmost website types that can be easily crafted using WordPress. In practicality, there are infinite possibilities when it comes to building a unique and eyecatching website using WordPress. You can create almost any kind of website using WordPress.
Building such amazing WordPress sites enables you to share your outstanding work, ideas and knowledge with other people online. Increasing social presence, followers, starting a community, charity and creating beautiful & amusing websites is way to easy with WordPress with unlimited future possibilities.
Now here is the Solution!
Here we also present the best way to have a digital presence in this world of the technically advanced audience. CA Portal offers unlimited sources of clients for your websites through the input of best in industry marketing and website development which will further expand your customer base. Try CA Portal today with dozens of attractive themes and templates for your own business website.