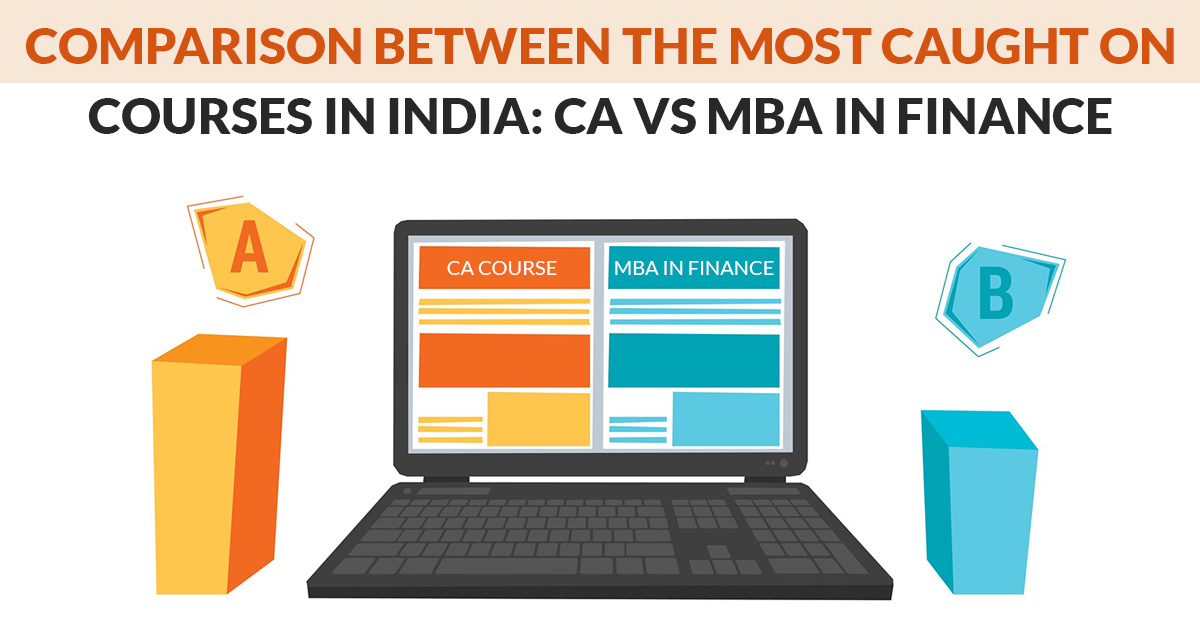 In today's ambitious aeon, having a graduate degree is generic. To get triumph in the cut-throat competition, a postgraduate degree or a professional qualification is an ad hoc. It is like an eligibility to begin the journey to the crest of success, to become a part of esteemed organisations, to work under big names, to seize the opportunities for your own business.
For the commerce students, Chartered Accountancy (CA) and Master of Business Administration (MBA) in Finance are two of the most rewarding career paths that grow aspirants intellectually, financially & theoretically while breaking the ice for exemplary opportunities with high-income packages.
Where Chartered Accountancy is one of the most sought after and prestigious professional stream for graduate and under-graduate commerce students, Finance is also one of the most coveted options by young professionals and graduates. Both are the most demanding courses which assist in getting an edge in the industry.
Now lets us compare both the courses in terms of duration, scopes, packages etc.
Colleges and Entrance Exams:
CA is three-stage program – the Foundation course, Intermediate course, and the Final course, which is offered by the Institute of Chartered Accountants of India (ICAI) and C.P.T is the entrance exam for it. MBA in finance can be done from government universities, private colleges as well as from Foreign universities. The entrance exam for the same is the Common Aptitude Test (CAT), SNAP, MAT, CMAT, XAT, etc. Some private colleges may have different admission criteria which include their own entrance exams, management quota and merit-based admissions.
Eligibility Criteria:
For a CA aspirant, the minimum eligibility for pursuing the course is 10+2 examination (or equivalent) from an accredited board while for pursuing an MBA in Finance, the minimum eligibility is Graduation.
This means one may inaugurate the avenue to become a CA professional just after his/her schools. But M.B.A can be done only after graduation.
Duration:
If one starts his/her CA journey just after the school then it will take an average duration of 4.5 years to become a CA professional while if it begins after graduation than it takes three years of time frame. However, the time span for completing full-time MBA in Finances varies from 18 to 24 months i.e. a maximum of 2 years.
Subjects Covered:
Financial accounting and reporting, law, taxation, audit, finance, business environment and concepts, are the main subjects of CA course. Business Finance, investment banking, credit risk management, asset management, etc. are the pivotal subjects for MBA in Finance course.
Read Also : Top Online Courses for Chartered Accountancy (CA) Preparation
Career Opportunities:
A Chartered Accountants can work in accounts and finance departments of eminent firms. The wide array of career options for CA includes financial and accounting management, internal audit, taxation, statutory audit, investment decisions, banking and so on. A well-versed CA can practice the profession privately also and can impart freelancing services to the organisations.
MBA in Finance unplugs career opportunities and infinite possibilities for candidates in private as well as government sectors that include financial bodies, financial consultancies and banks.
Most promising and popular career scopes for MBA in Finance are accounts and finance management, investment banking, business analyst, credit management, insurance & risk management, financial analyst, etc.
Salary Packages:
An average earning of a fresher CA is approx INR 6-7 lakh per year. While an average salary package of MBA Finance graduates from top universities/colleges is around INR 10-15 lakh.
Both the courses requires diligent hard work, dedication & continuous efforts which in turn open global opportunities to work in diverse industries and MNCs.